Everything You Need to Know About Auto Insurance in Washington
Located in the prestigious Yakima Valley (central Washington state), Yakima is one of Washington's most underrated cities. It boasts more than 300 days of sunshine annually and is well-known as a thriving wine destination, home to more than 90 wineries. It is also known for its strong hops tradition, a favorite destination amongst craft beer lovers.
Some of Yakima's most popular attractions include the Yakima Valley Museum, Johnson's Orchards, the Bale Breaker Brewing Company, the Yakima Area Arboretum and Botanical Garden, and the Cowiche Canyon Trail.
If you live and drive in Yakima, you must be properly insured. Failure to provide proof of insurance at a traffic stop will result in a driver's license and/or registration suspension, fines, and plenty of headaches. Keep reading to learn more about car insurance in Washington, including average premiums paid by age/gender, types of auto insurance discounts, penalties for driving without insurance, and a word on road and traffic infrastructure in the region.
Get a Quote for Car Insurance in Oregon Today!
How Much Does Car Insurance Cost in Yakima, WA?
Yakima residents pay an average monthly premium of $123 for full coverage, which is lower than the state average of $109 and significantly lower than the national average of $140. The state-minimum liability coverage averages $40 per month, the same as the state and lower than the national average of $47.
What is the Difference Between Full Coverage and Minimum Liability in Washington?
One offers much more protection if you are involved in a wreck or if your car is damaged even when you aren't driving. The other provides basic third-party liability if you cause an accident. Let's take a closer look.
With full coverage, you get the benefit of adding collision and comprehensive to your liability policy. This means if your car is damaged in an accident and the other driver's insurance isn't enough to cover all your repairs, your collision will kick in to take care of the remainder. If your vehicle is stolen, damaged in a hail or wind storm, vandalized or otherwise harmed when you aren't behind the wheel, your comprehensive will help pay for the costs.
If you finance your vehicle, it technically still belongs to the lender until it is paid off. This is why many lenders require you to carry full coverage.
Liability only is a combination of bodily injury/death coverage (BI) and property damage insurance (PD). You'll never see your liability kick in unless you are found to be at fault in an accident. Then your liability will help pay for the other drivers' injuries and damages. Your liability will never pay anything toward your own injuries and damages.
If you choose to carry only the minimum, it's a good idea to increase the amounts so that you won't be sued if you total someone's new car in a wreck. Consult with an independent agent to find the best coverage for you.
Affordable Car Insurance Rates Comparison by Cities in Yakima
For the average monthly premium paid in cities in Washington, check out our breakdown below:
| City | Full Coverage Insurance | Liability Insurance Coverage |
| --- | --- | --- |
| Yakima | $123 | $40 |
| Auburn | $170 | $60 |
| Bellevue | $147 | $53 |
| Spokane | $135 | $45 |
| Tacoma | $172 | $61 |
Affordable Car Insurance Rates by Zip Code in Yakima, WA
Not all zip codes in Yakima are created equal. Residents of one zip code may pay significantly higher premiums than others thanks to the demographic skew, urban density, number of thefts in the region, or other similar factors.
For the average monthly premium paid by Yakima residents by zip code, see our breakdown below:
| Zip Code | Full Coverage Insurance | Liability Insurance Coverage |
| --- | --- | --- |
| 98901 | $123 | $40 |
| 98902 | $127 | $42 |
| 98903 | $122 | $40 |
| 98908 | $123 | $40 |
| 98909 | $127 | $42 |
Low-Cost Car Insurance Rates by Age in Yakima, WA
One of the most significant deciding factors of how much you pay in premiums is your age. Younger drivers almost always pay higher premiums than older drivers, thanks to a less established driving record, higher claims rate, and other risk factors.
For the average monthly premium paid by Yakima residents by age, see our breakdown below:
| Age | Full Coverage Insurance | Liability Insurance Coverage |
| --- | --- | --- |
| Teenagers | $442 | $166 |
| 20s | $144 | $48 |
| 30s | $122 | $39 |
| 40s | $117 | $38 |
| 50s | $111 | $36 |
| 60s | $117 | $38 |
| 70s | $137 | $49 |
Unless otherwise specified, we use the following methodology to arrive at our average cost: male, age 30, lowest possible legal coverage allowed by Washington. Your rates will be determined by several factors, including your age, your gender and the amount of coverage you want to purchase.
Driving Conditions in Yakima, WA
How Many Fatal Accidents Happen in Yakima?
In 2019, there was a single fatal road traffic accident in Yakima involving two vehicles and three people.
How Are the Road Infrastructure and Bridges in Yakima, Washington?
The city of Yakima has an active Public Works department that covers all aspects of street and traffic operations. Responsibilities include street service preservation, sidewalk repairs, snow/ice control, and similar endeavors to cover roughly 400 miles of city streets.
Another critical component of Yakima's Public Works programs is its traffic operations, which work around the clock to maintain all street lighting, signs, pavement markings, and other pedestrian and traffic flow elements for safer streets.
Minimum Car Insurance Requirements in Yakima, Washington
To drive legally in the state of Washington, you must carry the following minimum liability limits:
Increasing these liability limits will protect your finances if you are at fault for an accident. With the average price of a new vehicle now over $40,000, only $10,000 in minimum property damage liability probably won't be enough.
What Are the Penalties for Driving Without Insurance in Yakima, WA?
All Washington drivers must have an active auto insurance policy to drive legally.
Failure to provide proof of insurance at a traffic stop will result in a traffic citation and a minimum $450 fine. Failure to pay the $450 fine will result in your driver's license and registration being suspended. You may also be convicted of a misdemeanor.
Driving without insurance may result in a requirement to file an SR-22 certificate of financial responsibility with the state's DMV. This process may label you as a high-risk driver and cause your premiums to rise substantially.
Find an office near you to help with your auto insurance
What's the Best Car Insurance for Teenagers and Their Family in Yakima, Washington?
Finding the best and most affordable insurance for teen drivers in Washington is a challenge. The best insurance consists of a policy that will protect the new driver without causing a huge dent in the family finances. There are several things you can do to help lessen the burden of new driver insurance costs.
Incorporate into your existing policy: Yes, it is going to hurt, but maybe a little less if the teen driver is part of your existing policy (which hopefully has a great driving history). Buying a young driver policy as a stand alone will cost more. Perhaps you can require your youngster to help pay for the cost with money earned at a job or doing chores.
Look into discounts: Some insurers offer a Good Student discount. If your child is attending high school full time and keeps a "B" or higher grade point average, you could get a discount. The thinking is that good students make more responsible drivers.
Have your teen drive an older, safer car: If you are helping to pay for their insurance, get them into an older, safer, reliable vehicle. Insurance will be cheaper than a sports car.
Remind your teen that their insurance rates will go down as they age – if they keep a clean driving history. Their driving record will literally drive their future premium.
Car Insurance Factors Allowed in Yakima, WA
Auto insurance companies use the following factors to determine your premiums. Note — this is not an all-inclusive list.
Education
Occupation
Driving record
Type of vehicle
Zip code
Insurance underwriters examine your specific circumstances to determine your rate. Some of these, such as your age and gender, you cannot change. However, a clean driving history goes a long way towards getting the best premium.
Discounts for Car Insurance in Yakima, Washington
There are many auto insurance discounts available to Washington drivers.
One of the most popular auto insurance discounts is the "Good Driver" discount, awarded to drivers who have maintained a clean driving record for the past three to five years. This means no claims or traffic violations.
Other discounts available to Washington drivers include:
As your life circumstances change, so do your premiums. For example, enrolling in a defensive driving course or switching to an older make and model vehicle could cut a few dollars off your monthly premium. Reducing your number of annual miles driven from 15,000 to 7,500 may also pay immediate dividends.
If you are still determining if a recent life change will help you pay less, we recommend calling your auto insurance provider. One phone call could help you save enough money for a steak dinner next month.
Get an Online Quote for Low-Cost Car Insurance in Yakima, WA Today!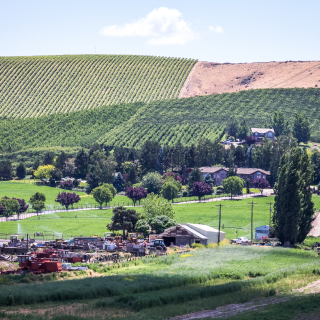 Freeway Insurance is ready to help you explore all your options regarding auto insurance coverage.
There are three ways to get in touch with Freeway Insurance. Visit us online, visit a Yakima office near you, or call 800-777-5620 to speak with one of our agents. We will be more than glad to help you.
Select a Product or Service to request a quote
Ready to Get a Quick Quote?