The city of Bellingham in Washington state offers a nice mix of waterfront living and a thriving downtown area. It also features some of the best breweries around. Rated the "Best Paddling Destination in the United States" by Outside Magazine, it is home to Squalicum Harbor — the base for daily treks to the nearby San Juan Islands with its breathtaking sunsets.
Some of Bellingham's most popular attractions include Whatcom Falls Park, the Fairhaven Historic District, Chuckanut Drive, Nooksack Falls, Lake Padden Park, and the SPARK Museum of Electrical Invention.
All Bellingham drivers must have an active car insurance policy to drive in the state. Keep reading and learn more about car insurance in Washington, including average rates paid by age group, zip code, and nearby cities.
Quick Facts
Bellingham is the northernmost city in the United States, with a population of over 90,000.
Bellingham is named after Sir William Bellingham, a former Royal Navy sailor.
The cost of living in Bellingham is roughly 19% higher than the U.S. average.
Bellingham is 89 miles north of Seattle and 269 miles from Portland, Oregon.
How Much Does Car Insurance Cost in Bellingham, WA?
Bellingham drivers pay an average monthly premium of $115 for full coverage, which is higher than the Washington average of $98 and well below the national average of $140.
For the minimum required coverage, drivers average $39 monthly with a spotless record, which compares to $38 for Washington and $47 in the nation.
How do rates in Bellingham compare with other cities in the state? Here is a breakdown of average monthly car insurance costs for other cities in the state.
| City | Full Coverage Insurance | Liability Insurance Coverag |
| --- | --- | --- |
| Bellingham | $115 | $39 |
| Bellevue | $147 | $53 |
| Olympia | $131 | $46 |
| Seattle | $158 | $57 |
Affordable Car Insurance Rates by Zip Code in Bellingham, Wash
Your zip code is a major deciding factor when auto insurers determine how much in premiums you pay.
Zip codes with a higher rate of theft, acts of vandalism, and risky driving behaviors are more likely to pay higher rates than zip codes with fewer claims and moving violations.
See below for average monthly auto insurance premiums in each of Bellingham's four zip codes.
| Zip Code | Full Coverage Insurance | Liability Insurance Coverage |
| --- | --- | --- |
| 98225 | $115 | $39 |
| 98226 | $115 | $39 |
| 98228 | $116 | $40 |
| 98229 | $116 | $40 |
Low-Cost Car Insurance Rates by Age in Bellingham, WA
Generally, younger age groups pay higher premiums than drivers in their 40s, 50s, and 60s, thanks to a riskier driving profile and limited driving history. This age group is also more likely to file claims.
See below for average monthly auto insurance premiums by age in Bellingham.
| Age | Full Coverage Insurance | Liability Insurance Coverage |
| --- | --- | --- |
| Teenagers | $398 | $152 |
| 20s | $158 | $57 |
| 30s | $115 | $39 |
| 40s | $106 | $35 |
| 50s | $101 | $34 |
| 60s | $106 | $36 |
| 70s | $124 | $46 |
Unless otherwise specified, we use the following methodology to arrive at our average cost: male, age 30, lowest possible legal coverage allowed by Washington. Your rates will be determined by several factors, including your age, your gender and the amount of coverage you want to purchase. 
Driving Conditions in Bellingham, Washington
How Many Fatal Accidents Happen in Bellingham, WA?
In 2019, Bellingham saw three fatal vehicle accidents, resulting in three fatalities. There were a total of four people involved, including one pedestrian.
How Are the Road Infrastructure and Bridges in Bellingham?
The city of Bellingham has an active Public Works department that provides a wide range of services, such as bridge maintenance, sidewalk repair, snow/ice control, and street repairs.
All bridges are checked every two years for foundational integrity in the region, undertaken by city management and private bridge inspection engineers.
Other areas falling under Bellingham's Public Works department also focus on traffic, with signal, sign, and pavement markings a top priority.
Minimum Car Insurance Requirements in Bellingham, Wash
All Washington state drivers are required to carry the following bodily injury liability coverage and property damage coverage:
Bodily Injury Coverage per Person: $25,000
Bodily Injury Coverage per Accident: $50,000
Property Damage Per Accident: $10,000
These minimum liability limits do not include full coverage, which adds comprehensive and collision to cover damages to your vehicle.
Higher liability limits are strongly recommended. For example, Washington only requires $10,000 in property damage liability, which barely covers the cost of a new, totaled vehicle. A full coverage policy with collision/comprehensive and high liability limits offers the greatest peace of mind.
What Are the Penalties for Driving Without Insurance in Bellingham, WA?
If you are caught driving without insurance in Washington state, expect stiff penalties and administrative hassles.
First-time offenders can expect to pay a minimum $450 fine and a $15 community restitution fine that may be paid as part of an installment plan at a court's discretion. You may also be asked to complete community service.
Any accident that causes property damage exceeding $1000 will also revoke your driver's license for up to three years. To lift your driver's license suspension, a $75 fee is also required. You may also be required to file an SR-22 certificate, which labels you a high-risk driver to insurers, causing your rates to increase significantly.
As a reminder, the law states that you must carry a minimum 25/50/10 policy.
Factors Allowed in Bellingham Car Insurance Rates
Factors considered by insurance companies to determine your rates include:
Education
Occupation
Driving record
Type of vehicle
Zip code
Credit score
Remember, a single life event could cut down premiums drastically. For example, switching to an older make and model vehicle can cut your premiums by 20%, thanks to the cheaper cost of parts and labor. Less driving can also have an impact, as will raising your deductible.
If you doubt a recent life change will impact your policy, it doesn't hurt to call your auto insurance carrier to confirm.
Discounts for Car Insurance in Bellingham, Washington
There are many discounts Bellingham drivers can take advantage of to lower their premiums.
Discounts available to Bellingham drivers include:
Remember, maintaining a clean driving record free of claims and moving violations for the last three to five years is your safest bet towards the lowest premiums possible.
Do not forget to stay on top of the latest discounts by calling your insurance provider every six months to learn what discounts are available.
Get an Online Quote for Low-Cost Car Insurance in Bellingham, Washington Today!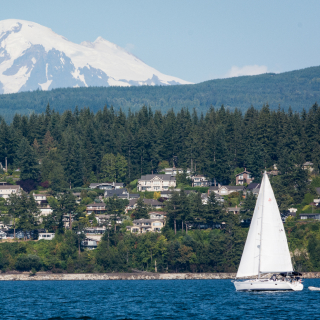 Freeway Insurance is ready to help you find an affordable auto insurance policy. We have you covered, whether it's the state minimum required or full coverage insurance. Get started by requesting a car insurance quote online, visiting a Bellingham office near you, or call 800-777-5620 for a no-obligation consultation with one of our friendly agents.
Select a Product or Service to request a quote
Ready to Get a Quick Quote?