How Much is Car Insurance for the Mercury Grand Marquis?
Mercury no longer makes or sells the Grand Marquis, but that doesn't mean no one drives it anymore. Some still do, and if you're one of those drivers, your annual car insurance rates are $1,224 for minimum coverage and $1,824 for full coverage. That's much cheaper than annual premiums for newer full-size sedans.
Freeway Insurance offers cheap auto insurance plans that meet your needs and budget. Our agents are ready to help you find the best policy for your Grand Marquis at the best possible rate.
Getting a Free Auto Insurance quote with Freeway is easy!
Comparing Insurance Costs for the Mercury Grand Marquis to Other Vehicles
Full coverage premiums for a Grand Marquis are cheaper than newer full-size sedans, like the Volkswagen Arteon. While all the cars listed here are similar in size and style, remember that how much you'll have to pay to insure one usually depends on its make, model, and safety features, along with other factors.
Types of Car Insurance Coverage for the Grand Marquis
If you're looking to insure your car, you have multiple policy options to choose from including minimum liability insurance or full coverage.
A minimum liability policy is the cheapest of the two and meets auto insurance requirements mandated by your state. So, if you're driving your sedan and cause a crash, your policy helps pay for any injuries of others and property damage. And that's all it covers. If the medical bills and property damage exceed the amounts on your policy, you'll have to pay the remaining balances out of pocket.
Full coverage policies cost more, but you get more than just liability insurance. These policies also include collision coverage and comprehensive coverage. Collision pays your medical bills if someone crashes into you, while comprehensive pays for repairs if your car is vandalized or damaged in a weather event.
Full Coverage
With a full coverage policy, you have liability protection, collision, and comprehensive insurance, protecting you financially across three dimensions.
Like a basic policy, the liability part takes care of any medical bills or damage claims filed by others involved in a crash you cause. This aspect of the policy won't cover your losses, but your collision coverage will.
Collision also covers expenses caused in all other types of crashes — from bumping into a neighbor's fence to getting rear-ended by the driver of another vehicle.
The comprehensive part takes care of damages brought on by vandalism or weather events. If a tree falls on your sedan during a bad storm and you have comprehensive coverage, your insurer will pay to repair the car.
State Minimum Liability
Every state has minimum liability requirements regarding auto insurance policies. These requirements specify the amounts your policy must cover if you cause a crash that seriously hurts or kills others involved. It also specifies how much needs to be included to pay for property damage.
Minimum liability mandates vary by state. In Colorado, for example, the thresholds are 25/50/15 — or $25,000 if one person is hurt or killed, up to $50,000 if two or more are hurt or killed, and $15,000 to pay for property damage.
Individual Factors That Influence Pricing for a Mercury Sedan
Several factors influence how much you'll pay to insure your car. Here's a closer look at some of the most common ones.
Loss Probability
Crash statistics are what insurers use to calculate loss probability — or the chances your vehicle will end up in a crash where you live and drive, and if a crash does happen, what the damage will likely be. To make this determination, insurers look at how often the same make and model of your sedan has crashed in your area and how much damage this type of car typically experiences.
Vehicle Safety Features and Ratings
The Grand Marquis never received a safety rating from the National Highway Traffic Safety Administration. Instead, the agency shows that the 2011 model was recalled twice, which can have a negative effect on premiums. Also, because the latest model of this car is more than a decade old, its built-in safety features are outdated compared to newer sedans.
Vehicle Age
The 2011 Grand Marquis was the final model produced by Mercury. That means it will likely cost more to repair because replacement parts are harder to find. This is one reason older vehicles usually cost more to insure.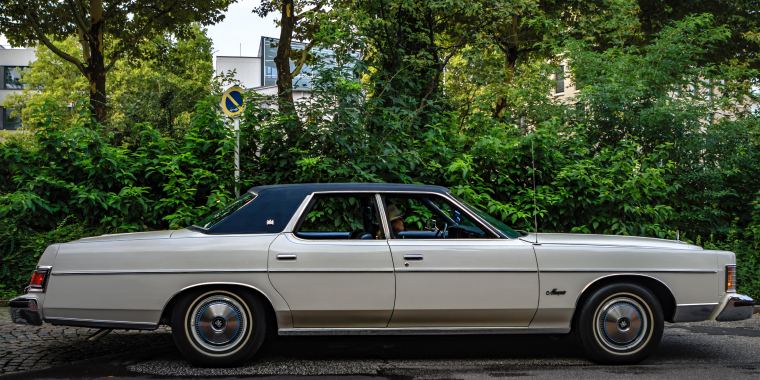 How Does a DUI Affect Insurance Rates?
To insurers, driving under the influence of drugs or alcohol is reckless behavior that makes you a high risk on the road. It's the reason why a DUI conviction will make your premium skyrocket.
If you're convicted of this infraction during a traffic stop or after causing a crash, for example, you will see your $1,136 annual premium increase by a significant amount. The higher rate will hold for at least three to five years — or the time it takes for traffic violations to clear from a driving record.
What Are Some Car Insurance Discounts for Older Sedans?
Having a clean driving record and bundling coverage are the best ways to get a discount on your premium. If you have never had a traffic ticket or if it's been years since you've gotten one, for example, insurers consider you a good driver, making you eligible for a premium rate reduction of 10% or more. If you bundle your auto policy with your homeowners insurance, you'll save more, with rate reductions of up to 25%.
With insurers, you aren't limited to one discount. You can take advantage of as many as you're eligible to receive. As a Grand Marquis driver, you may be eligible for:
An 8% to 25% multi-car discount if you insure more than one vehicle on the same policy.
Up to 15% off if you work in a specific occupation, like teaching, or are a military service member.
A 4% to 12% discount if you sign up for a policy after getting an online quote from the insurer.
Freeway Insurance can help you find the best coverage for your sedan at the right price. Contact us today for an online quote, and we can get you on the road with a great rate.
Find an office near you to help with your auto insurance
What Are Some of the Characteristics of the Mercury Grand Marquis?
Introduced in 1975 as the sub-model of the Marquis, the Grand Marquis remained a showroom staple for 36 years until it was discontinued in 2011 by Mercury, a brand owned by Ford. During that time span, this six-passenger sedan underwent several interior and exterior style transformations, with its long, 1970s-cut frame becoming more sleek and curved in later models.
It received several mechanical updates, too, over the years. The first-generation model, produced between 1979 and 1991, had a 5.0-liter or a 5.8-liter Windsor V8 engine with a range of 130 to 159 horsepower. By the time the fourth generation was released, between 2003 and 2011, all models had a Modular V8 engine, with horsepower ranging between 224 and 239.
Find the Best Car Insurance Rates Online for the Mercury Grand Marquis Today
A Freeway Insurance agent can help you find the best coverage for your sedan at an affordable rate. Contact us today to find auto insurance that fits your needs and budget.
We can hook you up with the cheapest car insurance for your Mercury Grand Marquis so you and your family are protected. Call us at 800-777-5620, come get a fast and free quote for car insurance online, or stop by one of our locations.