How Much is Car Insurance for a Nissan Maxima?
The average annual premium for a Nissan Maxima is $1,910 for full coverage and $610 for the state-required minimum liability.
There are many ways to structure your auto insurance policy. You may apply for liability-only, which only provides third-party benefits paying for injuries and damages sustained by other drivers, vehicles and property. For more money, you may decide upon a full policy with first-party benefits like comprehensive and collision. This type of policy may also be required by your leasing or finance company, which has a vested interest in preserving its vehicle's value.
Whichever choice you make, Freeway Insurance is ready to help you explore all of your options.
Getting a Free Auto Insurance quote with Freeway is easy!
Comparing Insurance Costs for Maxima to Other Vehicles
Drivers pay a higher or lower premium than drivers of competing makes and models like the Honda Accord and the Toyota Camry. This is due to several factors, including the cost of parts and labor, safety features, powertrain options, body style, brand, and similar variables that create more or less risk to the insurer.
Types of Car Insurance Coverage for the Nissan Maxima
Nissan owners can choose from the bare minimum of liability only to more protection with added benefits, such as collision and/or comprehensive, to even more coverage with optional add-ons such as gap and roadside assistance.
Full Coverage 
Any auto insurance policy that includes liability, collision, and comprehensive may be classified as full coverage.
However, full coverage can also include options such as medical payments (MedPay), uninsured/underinsured motorist, roadside assistance, and rental car reimbursement.
In the event of an accident, full coverage will provide substantially greater protections than state minimum liability. Remember, state minimum liability is the minimum amount required by state law and only covers third-party benefits. In contrast, full coverage provides first-party benefits like collision and comprehensive, which pays for damages to one's vehicle due to collision and non-collision related events.
One of the best ways to save on full coverage is by taking advantage of many discount programs through your insurer.
State Minimum Liability 
All states require that drivers carry minimum liability insurance, as required by law. This requirement helps cover the cost of damages or injuries to third parties in an at-fault accident you cause.
For example, Colorado law requires all drivers to carry minimum liability requirements of $25,000 bodily injury liability per person, $50,000 bodily injury liability per accident, and $15,000 property damage liability coverage per accident.
In turn, Delaware drivers must adhere to a minimum 25/50/10 policy, translating to $25,000 bodily injury liability coverage per person, $50,000 bodily injury liability per accident, and $10,000 property damage liability per accident.
It is highly recommended that you carry liability limits above what your state requires. For example, if you are a Delaware-based driver in an at-fault accident resulting in $120,000 worth of medical expenses and lost wages to third parties, expect to pay high out-of-pocket costs with the possibility of lawsuits if you do not have enough insurance.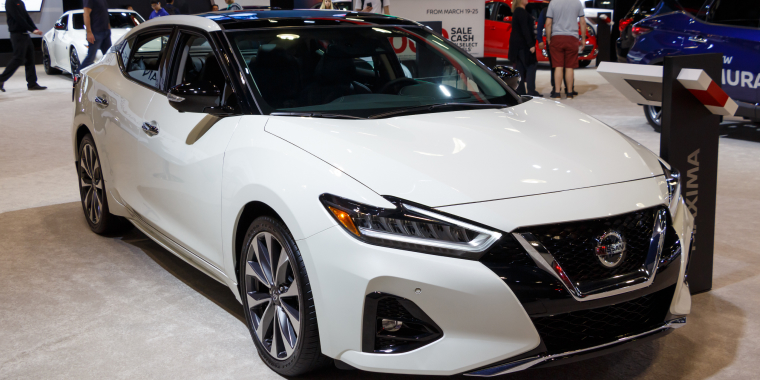 Individual Factors that Influence Pricing for the Nissan Maxima
Many factors influence the pricing of your policy.
These factors include but are not limited to age, gender, state and city of residence, and vehicle make and model.
Not surprisingly, younger drivers pay higher premiums (on average) than older drivers, thanks to being less experienced with a higher likelihood of getting into an accident. So expect premiums to level down in your 30s and 40s before eventually ticking up past 65, as older drivers are also more likely to get into vehicle accidents.
Your city of residence also matters when determining premiums. For example, heavily populated urban areas like New York City have a higher incidence rate than sparsely populated suburbs and towns, with premiums adjusted.
Lastly, vehicle models are also a heavy deciding factor when determining premiums. Some vehicles are much cheaper to insure than others, thanks to varying powertrain options, safety ratings, and the likelihood of being stolen relative to other cars.
How Does a DUI Affect Insurance Rates for a Nissan?
Unfortunately, a single DUI conviction for a Nissan Maxima driver can result in severe consequences regarding rates and penalties. In many states, you'll be required to file an SR-22, which alerts insurers that you are a high-risk driver.
For starters, expect your premiums to be double or triple, depending on the severity of the offence and the time since your last conviction. In more severe cases, your policy may even be rejected or outright canceled, especially with a history of multiple driving violations.
The exact percentage of your premium increase will depend on factors such as your age/gender, driving record, insurance company, and any applicable state laws. Only expect your premiums to drop if you have maintained a clean driving record for at least three years.
Fortunately, convicted drivers can obtain cheaper DUI insurance in some ways. However, it will require shopping around. Not all insurance companies treat DUI-convicted drivers the same.
Find an office near you to help with your auto insurance
What Are Some Car Insurance Discounts for the Nissan Maxima?
Fortunately, drivers can save on their auto insurance in many ways. One of the best ways to do so is by applying for or being eligible for discounts.
If you have had no accidents or traffic violations within the past three to five years, expect to be eligible for a "Good Driver" discount. In addition, insuring two or more vehicles/policies with the same insurers may also make you eligible for multi-vehicle and bundling discounts, rewarding you in exchange for being a loyal customer.
Here are three popular discount programs you may want to consider:
Autopay discount: Awarded for setting up automatic payments directly from your bank account or credit card every billing cycle. This encourages policyholders to make on-time payments and reduces the likelihood of insurance lapses. Expect to save up to 10% off your premium this way, depending on the insurance provider.
Defensive driving discount: Enrolling in a defensive driving course and learning the rules of the road (e.g., navigating icy weather conditions or cornering techniques) is a sign to insurers you're willing to reduce the likelihood of an accident by improving your driving skills.
Multi-vehicle discount: Awarded to policyholders who insure more than one vehicle under the same policy. Expect to save anywhere from 10% to 25% off each vehicle's premium (depending on the insurer), offering substantial savings versus purchasing each policy individually.
Actual discount percentages depend on the insurance company and the number of vehicles/policies insured, but it is common to save up to 30% off your premium.
What Are Some of the Characteristics of the Nissan Maxima?
It is a vehicle in the large car segment.
It is available in three trims: SV, SR, and Platinum, as well as a single engine option, a 300-horsepower V6 with front-wheel drive, and continuously variable automatic transmission (CVT).
Standard features include an 8-inch touch screen, Apple CarPlay/Android Auto compatibility, an eight-speaker stereo, and two USB ports. Upgrading to the highest level trim, Platinum, includes leather upholstery, illuminated plates, and a rear window sunshade.
Main competitors are the Honda Accord, Toyota Camry, Honda Civic, and Mazda 3.
Find the Best Car Insurance Rates Online for Nissan Maxima Today
Freeway Insurance will help you find an affordable auto insurance policy, including state minimum liability and full.
Getting started with Freeway Insurance is easy. You may request a free online quote, visit an office near you, or call 800-777-5620 to speak with one of our friendly agents. Savings on your following policy is only a phone call away.