How Much Is Auto Insurance for a Kia K5 or Kia Optima?
The average annual premium for a Kia K5 is $348 for minimum coverage and $1,500 for full coverage. So, whether your vehicle is pre-2019 (Optima) or post-2019 (K5), car insurance rates for this mid-size sedan are reasonable.
In 2019, Kia revamped the Kia Optima and this 5th generation vehicle is now known as the K5.
In most states, the minimum consists of liability that offers financial help to other parties if you are at fault in a covered event. In no-fault states, this liability is extended to you, regardless of who caused the accident. However, no-fault states (and some at-fault) require additional coverage in the form of uninsured motorist coverage and personal injury protection (PIP) for additional financial help. Your rates will depend heavily on your driving history, your age and where you live.
Full coverage is an enhanced level of protection. In many cases, drivers choose to add this additional financial security, however, those who finance or lease may be required to carry it. It typically consists of liability, plus comprehensive and collision.
Don't pay too much for your car insurance. Freeway can help you research all of your options based on your needs and budget to find the best coverage for you.
Getting a Free Auto Insurance quote with Freeway is easy!
Comparing Insurance Costs for Your Optima to Other Vehicles
If you drive a Kia Optima, expect to pay a different average monthly premium than other vehicles in the same class, e.g., Honda Accord and Toyota Camry. This is because every make and model has its own cost for parts/labor, safety features, and other attributes that raise or lower its risk profile in the eyes of insurers.
| Make/Model | Annual Full Coverage Insurance |
| --- | --- |
| Kia Optima | $2,220 |
| Mazda 3 | $1,668 |
| Nissan Altima | $1,788 |
| Toyota Camry | $1,655 |
| Honda Accord | $1,733 |
Types of Car Insurance Coverage for Your Optima
Freeway Insurance can provide you with several cheap car insurance options, including minimum liability and full coverage, plus more.
Full Coverage
This is a policy that includes liability, comprehensive, and collision insurance. Collision pays for damages to your vehicle resulting from collisions with another car or object, including the cost of repairs minus your deductible.
In turn, comprehensive coverage covers damage to things outside your control, such as broken windshields, vehicle theft, falling objects, and vandalism. Given the risk comprehensive coverage typically costs much less than collision coverage.
We highly recommend a full coverage policy over a state minimum liability policy. If leasing your vehicle, your finance company may also require you to have a full coverage policy with minimum liability limits to better preserve the value of their cars post-lease.
State Minimum Liability
All drivers must carry minimum liability limits in adherence to each state's laws.
Also referred to as liability coverage, this policy helps pay for costs incurred by other drivers to pay for injuries and property damage up to its limits. It consists of bodily injury liability coverage and property damage liability coverage.
Bodily injury liability coverage pays for medical expenses, lost income, and potential funeral arrangements. In contrast, property damage liability pays for vehicle repairs, court defense costs, and other damages which you were determined to be at fault for.
We strongly recommend carrying higher coverage limits than your state requires. If the damages you are responsible for exceed your policy's liability limits, expect to pay out-of-pocket costs or be sued. Defaulting on out-of-pocket expenses could lead to garnished wages and asset liens.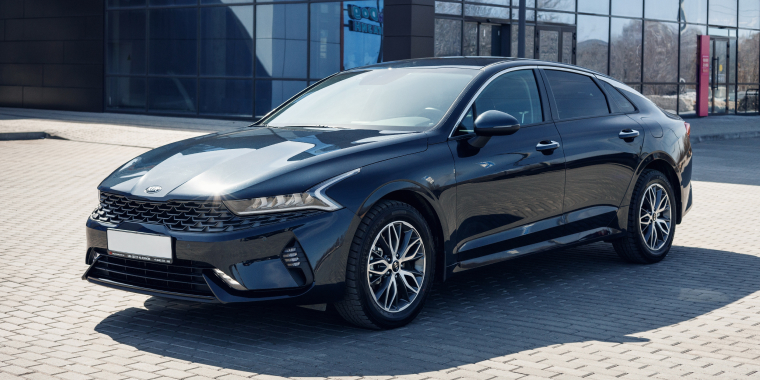 How Does a DUI Affect Insurance Rates for a Kia Optima?
DUIs have a highly adverse effect on your driving record and your premiums.
A DUI conviction can stay on your record for many years. Every state has its look-back window, or the amount of time it will remain on your record before it is removed (calculated from the violation date, not the court conviction date). For example, California's DUI look-back period is ten years versus a lifetime for Texas drivers. Expect a suspension of your registration and driver's license on top of fines, reinstatement fees, and possible jail time.
Another consideration is increased premiums. After the first DUI conviction, insurance rates can triple in some cases depending on your insurer, your state, and the severity of the offense. That said, if you shop around you can find affordable DUI solutions.
Finding an affordable policy after a DUI includes shopping around and obtaining quotes from several auto insurance providers. Freeway can help you with that. You may also consider non-owner auto insurance to meet your state's liability limits.
In some states, you may be required to file an SR-22 certificate. This may stay on your driving record for 3-5 years. Not all insurers will handle drivers with an SR-22 requirements, but there are some that specialize in helping out after a DUI.
What Are Some Auto Insurance Discounts?
Whether you own a state minimum liability or full coverage policy, Kia Optima drivers will be pleased to know they may be eligible for all types of auto insurance discounts.
One of the most popular types of discounts is the multi-policy discount. Bundling your auto insurance with homeowner's, renters, motorcycles, condos or any other type of insurance may qualify you for modest savings from each policy. Each policy will be cheaper than purchasing them individually.
Another popular discount is the accident-free discount. Also referred to as "good driver" or "safe driving" discounts, companies award this discount to drivers with a certain number of years of no claims or moving violations.
Do not forget about policy-related discounts. Structuring your policy in a certain way could pay immediate dividends. Policy-related discounts include enrolling in autopay/paperless billing, paying your annual premium upfront, or adding a second vehicle to your policy. Ensuring two or more vehicles together may secure a lower rate for each versus providing each one individually.
Calling your insurance company every six months (or as your life circumstances change) is highly recommended, regardless of whether you are a new or veteran policyholder. Unfortunately, not all discounts are awarded automatically and need a little push to obtain.
Find an office near you to help with your auto insurance
What Are Some of the Characteristics Of the Optima or K5?
This is a vehicle in the midsize car segment.
It has four trims: LX, S, EX, and SX. It also comes with two engines: a 2.4-liter four-cylinder and a turbocharged 1.6-liter inline-four with a seven-speed dual-clutch automatic.
Standard features on the base LX including an 8-inch touch screen, Apple CarPlay/Android Auto compatibility, and Kia Drive Wise, a suite of driver-assist features that include forward automatic emergency braking, driver attention monitoring, rear cross-traffic alert, and rear parking sensors.
Upgrading to the higher level EX and SX adds additional USB ports, 10-speaker Harman Kardon stereo, and a flat bottom steering wheel.
Main competitors are the Mazda 3, Nissan Altima, Toyota Camry, and Honda Accord.
Find the Best Car Insurance Rates Online for Your Optima or K5 Today
If you drive a Kia Optima or a Kia K5, you may qualify for a lower-cost auto insurance policy from Freeway Insurance.
To explore your options, we encourage you to visit us in one of our offices, request a quote through the website, or call 800-777-5620 to speak with one of our friendly agents. We look forward to reviewing your coverage.