How Much Is Auto Insurance for a Hyundai Accent?
The yearly cost of your car insurance for a Hyundai Accent varies depending on the type of auto insurance coverage you select. The average you will pay is $760 for minimum coverage and $1,537 for full coverage.
Beyond the average cost of your car insurance, what you pay each month will depend on the type of coverage you choose. You could select the minimum amount of liability insurance required under the law. Alternatively, you could purchase full coverage that includes collision, comprehensive, and liability coverage.
Regardless of your choice, you can get the help you need by selecting a policy from Freeway Insurance. Our team is ready to help you review your options with your budget in mind.
Getting a Free Auto Insurance quote with Freeway is easy!
Comparing Insurance Costs for Your Accent to Other Vehicles
The expenses related to car insurance premiums each month for a Hyundai Accent can vary from what it costs to insure other vehicles. The cost of coverage for competitors to the Accent includes:
| Make/Model | Annual Full Coverage Insurance |
| --- | --- |
| Hyundai Accent | $1,537 |
| Kia Rio | $1,578 |
| Nissan Versa | $1,578 |
| Honda HR-V | $1,422 |
| Mitsubishi Mirage | $1,686 |
Types of Car Insurance Coverage for Your Accent
Every state has some form of required minimum insurance. Even though these requirements are only for liability coverage, you have the option to purchase additional protection. This could come in the form of more liability coverage than what is required or even a full coverage auto policy.
Full Coverage
There is no doubt that full coverage offers you the most financial protection when you are involved in an accident. Purchasing full coverage car insurance not only pays for your medical bills and vehicle damage after a crash, but it also covers any third-party claims against you as well.
Full coverage insurance includes collision insurance. This type of policy pays for your losses in an accident. This could be a collision with another car, a commercial truck, or even a fixed object like a building.
Full coverage also offers comprehensive coverage. This coverage pays for any damage that occurs outside of collision. You might rely on comprehensive coverage when your vehicle is vandalized or struck by a falling limb. Finally, full coverage also includes liability insurance. This coverage pays for any damage you cause to others when you are responsible for an accident.
State Minimum Liability
While states generally require auto insurance, the law only mandates a minimum level of liability coverage. State minimum liability coverage can pay for the damages to another driver when you are at fault for a crash. You have the right to purchase more liability insurance than what is required under the law.
Individual Facts that Influence Pricing for the Hyundai Accent
The cost of insuring your vehicle is impacted by several important factors. These factors go beyond the type of insurance coverage you have selected, and include the following examples:
Age
The age of a driver is a major factor in the cost of their car insurance. If you are a teenager or in your 20s, you can expect to pay more due to the higher likelihood of an accident among younger drivers. Older drivers generally see their costs go down, on average.
Accident History
Your history of insurance claims can also have an impact on what your policy costs. If you have made multiple auto claims in the past, it could increase the cost of your premiums going forward.
Vehicle Value
The cost of your car is another obvious factor in what you will pay for auto insurance. The higher the value of the vehicle, the more you can expect your premiums to be each month.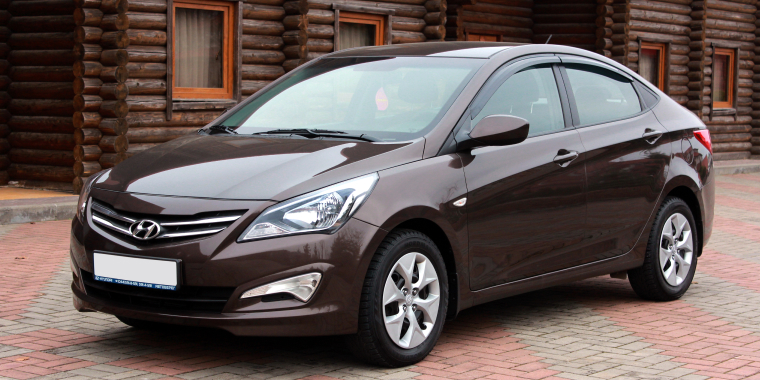 How Does a DUI Affect Insurance Rates for a Hyundai Accent?
An arrest and conviction for driving under the influence (DUI) can cost you in several ways. In addition to the potential for jail time or fines, you can also expect to pay more for your car insurance after a DUI conviction.
On top of higher premiums, you will likely also need to comply with SR-22 requirements. This makes it necessary to provide the state with certification testifying you have at least the minimum insurance requirements. This is required because you are considered a high-risk driver due to your conviction.
What Are Some Auto Insurance Discounts?
There are many different ways to lower the cost of your car insurance, and most of them involve using available discounts to your advantage. For example, you could save money thanks to a clean driving record by taking advantage of a good driver discount. Other examples of available discounts include the following:
There are other options for saving money on your car insurance, including bundling your policies. Bundling involves purchasing your auto insurance policy from the same company that provides other types of coverage, like homeowner's insurance. This can bring down the total cost of your insurance bill.
Find an office near you to help with your auto insurance
What Are Some of the Characteristics of the Accent?
The Hyundai Accent—also known as the Hyundai Verna—has been in production since 1994. This subcompact sedan is a popular front-engine, front-wheel drive vehicle that typically comes with four doors. In total, there have been five generations of the Accent with the last major change coming in 2017.
The modern version of the Accent is marketed as a small car for the entire family. It includes a lot of bells and whistles, like a smart trunk and convenient flat-folding rear seats. This model offers a lot of options despite its small stature.
Find the Best Car Insurance Rates Online Today for Hyundai Accent
If you are in the market for car insurance for your Hyundai Accent, Freeway Insurance is ready to help. Our agents can review your situation and advise you of your options. We are always conscious of your budget, and we can help you secure cheap car insurance that will serve you and your family.
Contact us right away to talk about your insurance policy options. Call us at (800) 777-5620, come get a fast and free quote for car insurance online or stop by one of our locations.