How Much Is Auto Insurance for a Nissan Versa?
The average annual premium for a Nissan Versa is $550 for minimum coverage and $1,372 for full coverage. Since all states require car insurance, drivers will need to choose their coverage amounts. Full coverage offers much more protection that the state minimum liability. However, it is more expensive.
You can talk to a Freeway Insurance agent who can help you choose the option that's best for you and most affordable. It doesn't have to be one or the other – your agent can help you mix and match to come up with the perfect plan for your situation.
Getting a Free Auto Insurance quote with Freeway is easy!
Comparing Insurance Costs for Your Versa to Other Vehicles
Nissan drivers can expect to pay a different premium than drivers of competing makes and models like the Honda Civic and Honda Accord, thanks to several variables, including the cost of parts and labor, safety features, body style, and recall record.
| Make/Model | Annual Full Coverage Insurance |
| --- | --- |
| Nissan Versa | $1,372 |
| Chevrolet Cruze | $1,642 |
| Honda Civic | $1,733 |
| Toyota Corolla | $1,695 |
| Honda Accord | $1,733 |
Types of Car Insurance Coverage for Your Versa
Nissan Versa drivers can benefit from a variety of auto policies, including state minimum liability and full coverage, plus many optional packages for better financial protection.
Full Coverage
This coverage has liability and also includes collision and comprehensive. Collision covers the cost of repairing or replacing your vehicle due to an accident (regardless of who is responsible). In turn, comprehensive pays for damages to your car caused by non-collision-related events such as natural disasters, fire, and theft.
Both collision and comprehensive are not required by state law. However, they have first-party benefits that can be of great assistance financially. Other benefits include reducing the likelihood of going out of pocket to pay for damages.
Optional full coverage selections include rental car reimbursement, roadside assistance, and uninsured/underinsured motorist coverage.
State Minimum Liability
State minimum liability includes bodily injury, and property damage coverage.
Every state requires that all drivers carry minimum liability limits. For example, all Texas drivers must have 30/60/25 limits, translating to $30,000 in bodily injury liability per person, $60,000 in bodily injury liability per accident, and $25,000 in property damage liability.
Bodily injury pays for medical expenses, pain, suffering, and lost wages for third parties affected by an at-fault accident you cause. Property damage liability pays for repairing or replacing damaged vehicles, light posts, houses, or any other property affected. Note bodily injury and property damage extend third-party benefits, not first-party benefits.
For first-party benefits, you need to take out collision and comprehensive, which covers damages to your vehicle/injuries to you and your passengers.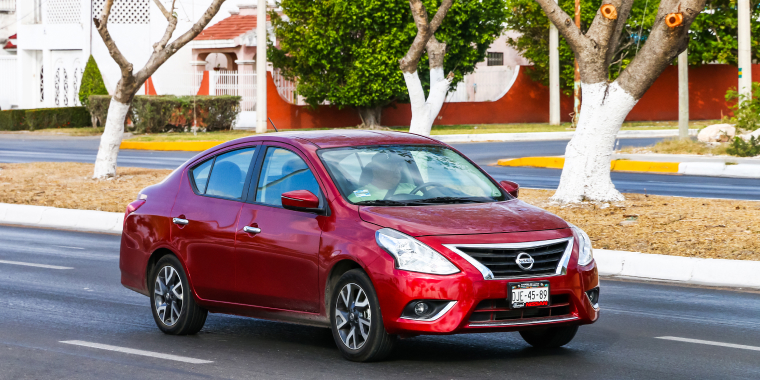 How Does a DUI Affect Insurance Rates for a Nissan Versa?
Regrettably, a DUI conviction is one of the worst things any driver can experience.
With a DUI conviction, you will be newly classified as a high-risk driver, so you will be subject to rate increases. The amount your premium will increase depends on several factors, such as the state you live in, the severity of the offense, and how your provider underwrites and assesses risk for high-risk drivers. However, you can expect to pay a minimum of 30% higher premiums.
On top of increased premiums, DUI convictions will remain on your record for at least three years, keeping premiums elevated. In addition, you may be required to file an SR-22, an add-on to your existing policy serving as proof of financial responsibility, letting the state know you are carrying the minimum required coverage.
If you have been recently convicted of a DUI, we encourage you to shop around and compare rates from at least three providers, as not all companies treat DUI insurance the same.
What Are Some Auto Insurance Discounts?
If you are looking to save on auto insurance, one of the best ways to do it is via discounts.
Versa drivers can qualify for all kinds of discounts, including but not limited to a safe driver, multi-vehicle, multi-policy (bundling), defensive driving, and autopay/paperless billing discounts.
Arguably the ideal discount you can be eligible for is a

good driver

discount, awarded to drivers who maintain a clean driving record free of at-fault accidents, moving violations, and claims for the past three to five years. Others include a multi-car (ensuring two or more vehicles with the same provider) and

multi-policy discounts

( e.g., multiple policy types, e.g., home and auto) with the same provider.

Another way to save on your policy is with policy-related discounts. For example, expect savings for enrolling in

autopay/paperless billing

, staying with the same company for several years, and paying your entire premium upfront (pay-in-full).

Lastly, remember defensive driving discounts and risk-proofing your vehicle. If you complete an approved

defensive driving course, you may be eligible for additional savings now that you post less risk to the insurer. The same applies to installing safety features in your vehicle, such as daytime running lights, anti-lock brakes, and anti-theft devices like steering wheel locks.
Find an office near you to help with your auto insurance
What Are Some of the Characteristics Of the Versa?
It is a vehicle in the subcompact sedan segment.
It is available in three trims: S, SV, and SR, along with a single engine option, a 122-horsepower four-cylinder with front-wheel drive.
Standard features include a 7-inch touch screen, a four-speaker sound system, three USB ports, and a suite of driver assistance features such as lane departure warning, reverse collision warning, and automatic high beam headlights.
Upgrading to the highest level trim, SR, increase the screen size to 8 inches with a six-speaker stereo, heated front seats, Wi-Fi hot spot, and adaptive cruise control.
Main competitors are the Chevrolet Cruze, Honda Civic, Toyota Corolla, and Honda Accord.
Find the Best Car Insurance Rates for Your Nissan Versa Online Today
The process of requesting a quote through Freeway Insurance is easy. Let us help you explore your options, including state minimum liability and full coverage.
To get started, request a quote online, visit us in person, or call 800-777-5620 to speak with one of our friendly representatives. We look forward to hearing from you soon.