How Much Is Car Insurance for the GMC Terrain?
If you own or plan to buy a GMC Terrain, the amount you'll pay depends on the model you drive. The SL, AT4, and Denali models have an annual premium of around $948 for minimum liability coverage and around $1,932 for full auto insurance coverage. The SLT and SLE models cost a little more, with an annual premium of around $1,176 and $1,080 for minimum liability coverage and around $2,040 and $2,064 for full coverage, respectively.
Freeway Insurance offers affordable car insurance plans that fit your needs and budget. Our agents are ready to help you find the right policy for your GMC Terrain at the best possible rate.
Getting a Free Auto Insurance quote with Freeway is easy!
Comparing Insurance Costs for the GMC Terrain to Other Vehicles
Someone who drives a standard GMC Terrain may pay a little less than someone who drives a luxury model. Your rate may also vary compared to those who drive a Chevrolet Equinox or a Mazda CX-5. Even though these compact crossover SUVs are all similar in style, the cost of insuring a vehicle varies by make and model and by the safety features they include.
| Make/Model | Annual Full Coverage Insurance |
| --- | --- |
| GMC Terrain SL | $1,932 |
| GMC Terrain AT4 | $1,932 |
| GMC Terrain Denali | $1,932 |
| GMC Terrain SLT | $2,040 |
| GMC Terrain SLE | $2,064 |
| Chevrolet Equinox LT | $1,956 |
| Mazda CX-5 | $1,932 |
| Volkswagen Tiguan | $1,992 |
| Kia Sportage | $1,920 |
Types of Coverage for the GMC Terrain
If you drive a GMC Terrain, you can choose to buy full coverage or state-required minimum liability. A full coverage policy is more expensive because it includes liability, comprehensive and collision coverages.
If your GMC Terrain is totaled in an accident and you have a full coverage policy, for example, you won't have to pay out-of-pocket costs. With a minimum liability policy, you will.
Aside from coverage plans, other factors also influence how much you will pay to insure your GMC Terrain, like the model year of the SUV. Many drivers think an older vehicle is cheaper to insure, but that's not entirely true.
Full Coverage
Full coverage auto insurance combines liability protection with comprehensive and collision coverages and protects a GMC Terrain owner financially if a crash occurs.
If you're found responsible for a wreck, your liability coverage will help pay for any damage claims filed by the other parties involved. In most states, it won't cover any losses you experience in the crash, though. In a no-fault state, your liability covers you, while the other driver will use their policy for their injuries and damages. In this situation, it doesn't matter who is at fault.
Collision coverage for your GMC Terrain protects you in any kind of crash — whether with a car, another SUV, a commercial truck, or property like a fence or a building.
The comprehensive aspect takes care of damages unrelated to a crash. If your GMC Terrain gets vandalized, stolen or is damaged by a weather event, for example, your policy's comprehensive coverage helps pay for the SUV's repairs.
State Minimum Liability
Every state requires all drivers to have some form of auto insurance coverage in case a crash happens. This ensures that every driver is responsible for an accident they cause and any damages that result.
At a minimum, basic liability insurance must help pay for damages that involve bodily injury caused to those involved in the crash and to their property. Requirements vary by state, though.
For example, a minimum liability policy in Florida must include $10,000 in personal injury protection and $10,000 in property damage coverage. By contrast, Connecticut state law requires $25,000/$50,000 to cover bodily injury or death for one person/all persons involved in a crash and $25,000 to cover property damage.
Individual Factors That Influence Pricing for the GMC SUV
Several factors influence how much a GMC SUV driver will pay for insurance coverage. Here's a closer look at some of the most common ones.
Loss Probability
Insurance agencies calculate loss probability based on the number of crashes that involved a GMC Terrain in the city or region they cover and the extent of the damages this SUV usually experiences. How this influences a driver's annual premium depends on where they live, how congested the streets and highways typically are, and how often this specific make and model is involved in area crashes.
Vehicle Safety Features and Ratings
Both the front-wheel and all-wheel drive versions of the GMC Terrain have a five-star safety rating from the National Highway Traffic Safety Administration. That means it's a sturdy SUV that protects its driver and passengers from a crash.
Vehicle Value
Despite being more expensive, the 2024 GMC Terrain AT4 and Denali models, which cost $35,495 and $38,600, respectively, are cheaper to insure than the SLT and SLE models, which are priced at $28,700 and $32,700, respectively. This may be because the SLT and SLE lack certain safety features that the other models have or are prone to more accidents.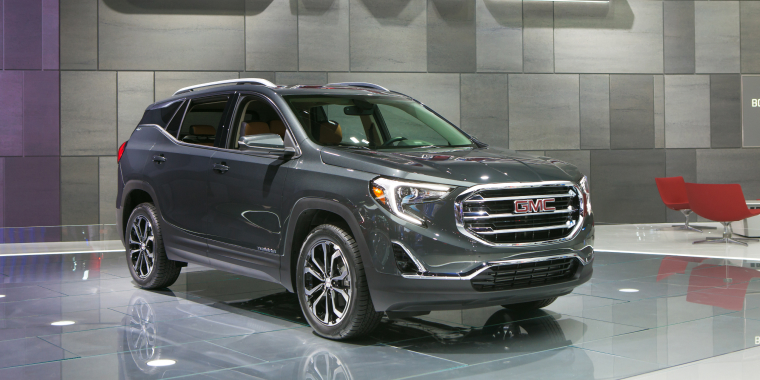 How Does a DUI Affect Insurance Rates?
A DUI arrest or conviction always impacts auto insurance premiums, and it's no different if you drive a GMC Terrain.
Conviction of a DUI makes you a high-risk driver to insurance companies. That means if you're arrested and convicted of driving under the influence of alcohol or drugs, your $2,064 annual premium will likely increase by almost double or more.
Some insurers will not offer coverage for high-risk drivers. You may need to shop around and find some cheap DUI insurance solutions.
What Are Some Car Insurance Discounts for the GMC Terrain?
Good drivers are safe drivers, and insurance agencies reward them for their spotless driving records by offering the best car insurance discounts. These discounts typically cut annual premiums from 10% to 30% on average.
Policyholders who bundle coverage — like combining home and auto — also receive some of the best discount rates available, with insurers decreasing their multi-policy premiums between 5% and 25%.
As a GMC driver, you may also get:
An 8% to 25% multi-car discount if you insure more than one vehicle on the same policy.
A 10% to 15% new car discount if your GMC Terrain is less than three years old.
A vehicle safety discount of up to 40% because the GMC Terrain has several built-in safety features, including a following distance indicator, a forward collision alert, a rear vision camera and cross-traffic alert, and a lane change and blind side zone alert.
Most insurance carriers offer several discounts to drivers looking for affordable coverage. Your friendly neighborhood agent can help you find the best coverage and additional discounts that can lower your premium.
Find an office near you to help with your auto insurance
What Are Some of the Characteristics of the GMC Terrain?
Launched in 2009 as a mid-size crossover SUV, the GMC Terrain is now sold as a compact vehicle with room for five passengers. Available in five trims, this SUV has a 1.5-liter, turbo 4-cylinder engine and 9-speed automatic transmission. It's also available in front-wheel and all-wheel drive.
It has heated front seats and fold-flat passenger seating, allowing you to pull the backseats down to transport items that are up to 8 feet long. Some models include heated seating for backseat passengers, a heated steering wheel, a Skyscape sunroof, and other accents, like French-stitched front seats.
Find Affordable Car Insurance Online for the GMC Terrain Today
Freeway Insurance is here to help you get cheap coverage at a great rate for your GMC Terrain. Talk to us today to find cheap car insurance that fits your coverage needs.
We can hook you up with the cheapest car insurance for your GMC Terrain so you and your family are protected. Call us at (800) 777-5620, come get a fast and free quote for car insurance online or stop by one of our locations.