How Much is Car Insurance for a Ford Ranger?
The average annual premium for a Ford Ranger is $1,566 for full coverage and $625 for minimum liability.
In most states, a liability-only car insurance policy consisting of bodily injury and property damage liability is required. This pays for injury and damages incurred by other drivers when you cause a crash. Additionally, depending on what state you live in, your policy may require uninsured/underinsured motorist coverage and Personal Injury Protection (PIP) to cover your costs of medical bills and vehicle repairs.
If you would like to explore all of your options, Freeway Insurance agents are ready to lend a hand. We'll present several options, including state minimum liability and full coverage policies that meet your budget.
Getting a Free Auto Insurance quote with Freeway is easy!
Comparing Insurance Costs for a Ranger to Other Vehicles
Not all Ranger drivers pay the same premiums and insurance prices across similar vehicles differ, too. It's not surprising to pay lower or higher premiums within the same class, like the Honda Ridgeline, Chevrolet Colorado, Hyundai Santa Cruz, and Jeep Gladiator. This is due thanks to varying safety records, body styles, cost of parts/labor, and other variables for each make and model.
| Make/Model | Annual Full Coverage Insurance |
| --- | --- |
| Ford Ranger | $1,566 |
| Honda Ridgeline | $1,752 |
| Chevrolet Colorado | $1,470 |
| Hyundai Santa Cruz | $1,640 |
| Jeep Gladiator | $1,834 |
Types of Car Insurance Coverage for Mid-Sized Ford Trucks
Many affordable auto insurance options are available for Ford Ranger drivers, starting with basic liability-only packages and full coverage with add-ons like roadside assistance and rental car reimbursement.
Full Coverage 
Full coverage insurance typically packages liability, collision, and comprehensive. These offer first and third-party benefits for broader protections in the event of an at-fault accident. 
Liability provides third-party benefits, paying for the cost of damages and injuries sustained by other people or property in an accident you cause. In turn, collision pays for the cost of repairs to your vehicle, no matter who is at fault.
Comprehensive pays for non-collision-related damages caused by natural disasters, falling tree limbs, theft, vandalism, and similar situations.
A full policy offers greater protection than a state minimum liability policy. Even if it costs several hundred dollars more per year, it is well worth it for most people, as a single car accident could easily cause more damage to your vehicle and your passengers than to third parties.
State Minimum Liability 
All states require that drivers carry minimum liability for bodily injury and property damage.
For example, Idaho drivers must carry $25,000 in bodily injury per person, $50,000 in total bodily injury per accident, and $15,000 in property damage per accident.
It is highly recommended to opt for the highest liability limits, e.g., 100/300/100. A single accident could be responsible for $120,000 worth of medical bills, lost wages, and close to the same amount of property damage, so Idaho's liability minimums would be barely enough to cover.
Remember, the higher your liability limits, the less likely you will have to pay for damages and injuries out of pocket.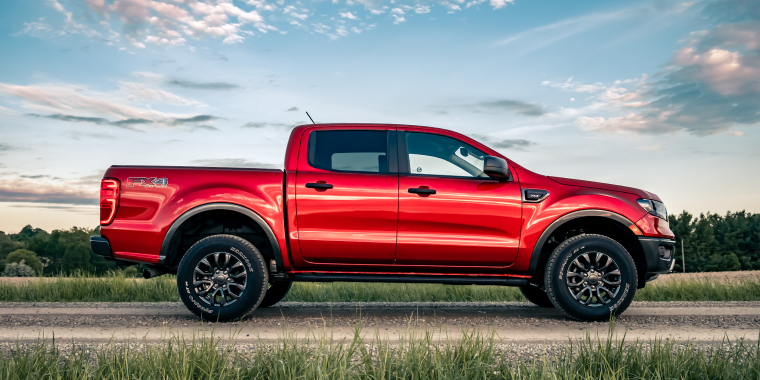 Individual Factors That Influence Pricing for the Ford Ranger
Several factors affect the premiums drivers pay, including driving history, age/gender, type of vehicle, coverage limits, amount of deductible, and zip code of residence.
Age is a large deciding factor in determining your rates. Generally, younger drivers pay higher premiums due to higher claims volume, lack of driving experience, and higher on-average traffic violations.
Another factor is the type of vehicle you drive. Cars that are more expensive to repair or replace and have a higher likelihood of theft generally have higher rates. This is why Tesla Model X premiums cost significantly higher than a 1997 Honda Civic, as repairs on electric vehicles command higher mechanical expertise and parts (and thus, higher premiums).
Lastly, remember how your policy can be structured. For example, drivers who choose lower coverage limits and higher deductibles almost always see lower premiums.
How Does a DUI Affect Insurance Rates for a Ford Truck?
Unfortunately, any DUI conviction will have a detrimental effect on a driver's premiums.
For starters, expect your rates to be double or triple, depending on several factors. These factors include the time since your last DUI conviction, whether it's a first offense or subsequent one, and the nature of the offense (e.g., resulting in injury and/or death).
On top of elevated premiums, expect fines, reinstatement fees, legal fees, and even fees associated with participating in alcohol treatment programs.
On top of that (and depending on the state), you may be required to file an SR-22 or FR-44, a certificate of financial responsibility that lets insurance companies know that you are adhering to the state's minimum liability requirements. 
Suppose your premiums have increased after the DUI conviction. In that case, it is highly recommended that you maintain a clean driving record free of claims, at-fault accidents, or moving violations for the next three years. Compare insurers to find a cheap DUI insurance policy. Assuming a clean driving record, your rate should eventually drop over time.
Getting a Free Auto Insurance quote with Freeway is easy!
What Are Some Car Insurance Discounts for the Ford Ranger?
There are many ways Ford Ranger drivers can save on auto insurance. One of the best ways to do it is by being eligible for or applying for discounts.
Arguably the No. 1 type of discount out there is the

Safe/Good Driving discount, awarded to drivers with at least three consecutive years of no at-fault accidents, claims, or moving violations.

Other larger discounts include

multi-vehicle

and

bundling

discounts, which reward policyholders for insuring two or more vehicles or policy types under the same company. 

Paid-in-full

discounts and

automatic billing, which reward policyholders for paying their entire premium up front (as opposed to monthly) or automatically each month, can save you on your premium.
Although not technically a discount, you can enjoy savings for structuring your policy in a certain way. For example, increasing deductibles and lowering your liability limits result in a lower premium since you now pose less risk to the insurer.
What Are Some of the Characteristics of the Ford Ranger?
This is a vehicle in the compact pickup truck segment.
It is available in three trims: XL, XLT, and Lariat, all with a 270-horsepower turbo-four engine.
Standard features include a 3.5-inch touch screen, a four-speaker audio system, and a slew of common driver assistance features such as forward automatic emergency braking and a rearview camera.
Upgrading to the highest-level trim, Lariat, includes a 120-volt power outlet, rear parking sensors, power-adjustable front seats, and two more USB ports. Drivers can also upgrade to the 501A Equipment Group package, which includes a 10-speaker Bang & Olufsen audio system.
Main competitors are the Honda Ridgeline, Chevrolet Colorado, Hyundai Santa Cruz, and Jeep Gladiator.
Find the Best Car Insurance Rates Online for Ford Ranger Today
Freeway Insurance is ready to help you explore all of your policy options. Remember, you're required to have an active policy to drive legally.
Ready to request a quote? You can visit us online, stop by one of our offices or call us at 800-777-5620 for a free no-obligation consultation. Give us a call today!