How Much Is Auto Insurance for a Chevrolet Trailblazer?
The average annual insurance premium for a Chevrolet Trailblazer depends on the type of auto insurance coverage you select. The average you will pay is $802 for minimum coverage and $1,632 for full coverage.
A full coverage insurance policy offers liability, collision, and comprehensive coverage up to the limits set by your policy. Most states require that drivers carry a minimum level of car insurance, but typically only liability coverage is mandatory.
You don't have to find the right policy on your own. Freeway Insurance is ready to assist you with identifying your options and selecting a policy that fits your budget.
Getting a Free Auto Insurance quote with Freeway is easy!
Comparing Insurance Costs for Your Trailblazer to Other Vehicles
If you drive a Chevrolet Trailblazer, the amount you pay for insurance each month could differ compared to other vehicles. While there are countless factors that impact the cost of your insurance, the make and model you choose can impact those costs.
| Make/Model | Annual Full Coverage Insurance |
| --- | --- |
| Chevrolet Trailblazer | $1,632 |
| Ford Edge | $1,468 |
| GMC Acadia | $1,586 |
| Honda passport | $1,470 |
| Hyundai Santa Fe | $1,772 |
Types of Car Insurance Coverage for Your Trailblazer
When you purchase car insurance, you have some decisions to make. You can purchase the minimum amount of coverage necessary to comply with state law, or you can maintain full coverage to protect yourself better in the case of an accident.
The type of policy you choose will play a big part in determining how much you pay for car insurance. Full coverage might be more expensive, but it also reduces the financial risk after an accident.
The type of policy you choose is only one of the factors that will determine how much you pay. There are other factors that impact the cost of your car insurance, and one of our agents can help you with this process.
Full Coverage
When you purchase full coverage car insurance, you are protecting yourself from facing out-of-pocket liability for an auto accident. Not only do these policies help pay for your losses, but they can also cover any damage you cause to other drivers. Full coverage policies include liability, comprehensive, and collision coverage.
Liability insurance protects you from the third-party claims of other drivers. When you are at fault for an accident, these policies will cover the cost of the other drivers' property damage and bodily injury claims.
Collision insurance covers some of your property damage claims. Specifically, this type of coverage is available when your vehicle is damaged in a collision. This collision could be with another driver, a cyclist, or even a tree.
Comprehensive coverage provides you with property damage compensation when your vehicle is damaged outside of a collision. This could include a loss caused by a falling tree limb or vandalism.
State Minimum Liability
Every state has some form of minimum liability insurance requirement. This coverage is less expensive than full coverage, but it also only pays for third-party claims. If you suffer losses in an accident, you are on your own to pay for them.
The insurance limits set can vary significantly from one state to another. Generally, these requirements set out the coverage you need when it comes to bodily injuries per person, bodily injuries per accident, and property damage per accident. In states like Missouri, you can expect coverage for $25,000 for bodily injuries per person, $50,000 for bodily injuries per accident, and $25,000 for property damage per accident.
Missouri also requires uninsured motorist coverage, which is a great idea even if your state does not require it. This will help pay for your injuries and damages if you are hit by a driver with no insurance or a hit and run.
Individual Factors That Influence Pricing for the Chevrolet SUV
It can be difficult to predict what it might cost to purchase an insurance policy for a Trailblazer. This is because many factors are considered when determining what this vehicle might cost to insure. These factors could include the following:
Theft Risk
Insurance companies take into account statistics related to auto theft. This is because some types of vehicles are more frequently stolen than others. The good news for owners of the Trailblazer is that their vehicle is not on the list.
Age
Your age can impact the cost of your car insurance. While drivers in their teens or 20s typically pay more, older drivers generally pay less.
Driving History
A clean driving record can go a long way toward getting the coverage you need at a low price. If you have tickets or accidents on your record, the cost of insuring your vehicle will only go up.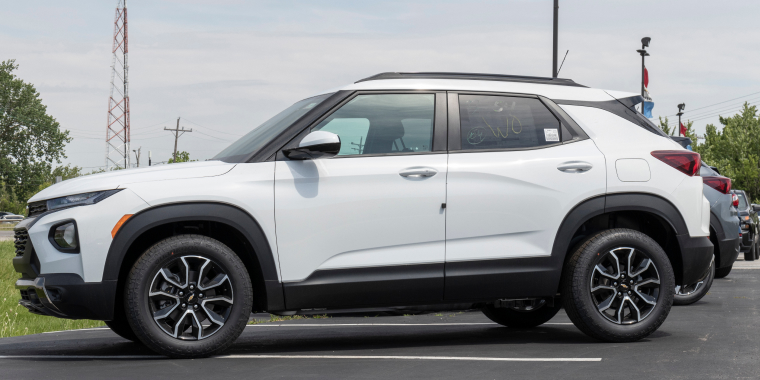 How Does a DUI Affect Insurance Rates for a Trailblazer SUV?
Having a DUI on your record will negatively impact the cost of your car insurance. When you are found guilty of DUI, insurance companies consider you a high-risk driver. In addition to increasing your premiums, the insurance company could even cancel your policy entirely. You'll need to shop around to find cheap DUI solutions.
In addition to paying more for your car insurance, a DUI conviction could also require you to obtain SR-22 certification. These SR-22 requirements are designed to ensure high-risk drivers have enough insurance to cover an accident.
What Are Some Auto Insurance Discounts?
There are plenty of ways to lower the cost of your car insurance. Freeway Insurance offers a wide range of discounts, including good driver discounts for avoiding tickets and accidents in recent years. Some of the other possible discounts include the following:
In addition to traditional discounts, you could also save money by bundling your auto insurance with other policies. One example is purchasing your auto coverage from the same carrier that provides your homeowner's policy.
Find an office near you to help with your auto insurance
What Are Some of the Characteristics of the Trailblazer?
While the Trailblazer has been around for decades, it has seen a dramatic shift in its size and style. The vehicle was originally a mid-sized SUV before being retooled by Chevy to become a subcompact crossover SUV.
Today, this SUV comes in both front-wheel and all-wheel drive. A five-door SUV, this vehicle received a four-star safety rating from the NHTSA in 2021. The only "adequate" ratings the Trailblazer received related to the headlights and the ease of use of the child restraint latches.
Find the Best Car Insurance Rates Online Today
There is no better time than the present when it comes to getting a good insurance policy for your Chevrolet Trailblazer at a fair price. We are here to talk to you about cheap car insurance that meets your needs.
Do not hesitate to call and review your insurance options for your Chevrolet Trailblazer. Call us at (800) 777-5620, come get a fast and free quote for car insurance online or stop by one of our locations.