Winston-Salem is one of the most intriguing small cities in the country. It offers an eclectic mix of small-town charm with a rich architectural and historic home tradition. The city is home to Reynolda Gardens, tobacco tycoon R.J. Reynolds's historic estate, and the 2.5-mile Mill Creek Trail with its lush greenery and restored marshland.
If you want to drive in Winston-Salem, you must have an active car insurance policy. Failure to show proof of insurance when pulled over at a traffic stop will result in fines, reinstatement fees, and a suspended driver's license and registration until proof of insurance is provided.
Keep reading to learn more about car insurance in North Carolina, including average costs paid by zip code, available discounts, and the minimum liability requirements for all North Carolina drivers.
Quick facts
Winston-Salem is part of the Piedmont Triad, which also includes Greensboro and High-Point
The 2020 census counted more than 250,000 residents in Winston-Salem with a median household income of $47,000
How Much Does Car Insurance Cost in Winston-Salem, North Carolina?
The average monthly rate paid by Winston-Salem drivers is $102 for full coverage. This is a good deal compared to the national average of $140 and the state average of $116. To find the cheapest car insurance in Winston-Salem, motorists will likely opt for the state-required minimum liability. This averages $34 monthly, which is a great deal compared to the national average of $47 and is similar to the state average of $36.
Find an office near you to help with your auto insurance
Keep in mind that a premium that low is the exception, not the rule. However, those drivers who have clean records with no claims and tickets will receive better rates than those who have a higher risk driving history.
Average Monthly Premiums by City in North Carolina
How does Winston-Salem compare with other cities in North Carolina? Here is a breakdown of the average monthly premiums paid by other cities in the state:
| City | Full Coverage Insurance | Liability Insurance Coverage |
| --- | --- | --- |
| Winston-Salem | $102 | $34 |
| Charlotte | $156 | $59 |
| Durham | $107 | $37 |
| Raleigh | $127 | $46 |
Affordable Auto Insurance Rates by Zip Code in in Winston-Salem
One key factor in determining auto insurance rates is the zip code where you reside. Population density and collective driving record of all residents living within each zip code plays a part to determine the average premium paid in those zip codes. Therefore, even moving two streets away could result in higher premiums.
Check out our list below for average monthly car insurance premiums paid by zip code in Winston-Salem:
| Zip Code | Full Coverage Insurance | Liability Insurance Coverage |
| --- | --- | --- |
| 27101 | $102 | $34 |
| 27103 | $102 | $34 |
| 27104 | $102 | $34 |
| 27105 | $101 | $34 |
| 27106 | $102 | $35 |
| 27107 | $107 | $35 |
| 27127 | $106 | $35 |
Low-Cost Car Insurance Rates by Age in Winston-Salem
Generally, younger age groups pay significantly higher premiums than drivers in their 40s, 50s, and 60s. Higher premiums for younger drivers result from a riskier driving profile with a higher number of claims and moving violations than older drivers.
Check out our list below for average monthly car insurance premiums paid by age group in Winston-Salem:
| Age | Full Coverage Insurance | Liability Insurance Coverage |
| --- | --- | --- |
| Teenagers | $224 | $77 |
| 20s | $118 | $40 |
| 30s | $102 | $34 |
| 40s | $99 | $34 |
| 50s | $92 | $32 |
| 60s | $94 | $33 |
| 70s | $102 | $35 |
Unless otherwise specified, we use the following methodology to arrive at our average cost: male, age 30, lowest possible legal coverage allowed by North Carolina. Your rates will be determined by several factors, including your age, your gender and the amount of coverage you want to purchase. 
Driving Conditions in Winston-Salem, NC
How Many Fatal Accidents Happen in Winston-Salem?
In 2019, Winston-Salem saw 17 fatal road accidents involving 28 vehicles and 32 people, including four pedestrians. In total, there were 19 fatalities.
How Are the Road Infrastructure and Bridges in Winston-Salem?
Winston-Salem has a very active Planning & Development Services department that works to plan for all of its streets and road infrastructure. These include the expansion of 12 major roadways as growth corridors, building additional multilane freeways, and other projects in key strategic areas.
For more information on Winston-Salem Planning & Development Services, visit the City of Winston-Salem – Planning & Development Services Department.
Getting a Free Auto Insurance quote with Freeway is easy!
Minimum Car Insurance Requirements in Winston-Salem, North Carolina
Do not think of driving without the minimum required insurance in North Carolina. Even a single lapsed day of coverage could result in imposed fines and reinstatement fees, along with driver's license/registration suspension until proof of insurance is provided.
The minimum liability coverage requirements for North Carolina are as follows:
This is the state's lowest minimum required. Many drivers opt for more protection, in the form of full coverage, which includes liability plus comprehensive coverage and collision coverage. You can also raise your liability limits. If you cause an accident and total someone's new car, you'll be on the hook for anything over the $25,000 provided by your policy.
Although uninsured motorist coverage is not required in North Carolina, it's a bargain since it doesn't cost that much and will protect you if an uninsured driver hits you or you are involved in an hit and run.
What Are the Penalties for Driving Without Insurance in Winston-Salem, NC?
Any Winston-Salem driver caught driving without insurance will be assessed a Class 1 misdemeanor with an immediate driver's license/registration suspension and fees increasing with every offense.
First-time offenders will be expected to pay fines up to $50 and up to $150 for subsequent offenses. In addition, offenders will also pay restoration fees. Luckily, proof of insurance will reinstate your driving privileges within ten days of receiving your notice and fee payment.
Getting into an accident when uninsured may double or triple your premium. This will be on your record forever and insurers may charge you more for up to 10 years. Your insurer can even deny coverage for multiple offenses committed within a short period of coverage.
Remember, all North Carolina drivers must carry minimum liability insurance of $30,000 for bodily injuries per person, $60,000 for bodily injuries per accident, and $25,000 for property damage.
Factors Allowed in Winston-Salem Car Insurance Rates
Factors allowed in determining Winston-Salem car insurance rates include age, gender, zip code of residence, and driving record.
Other factors considered by insurance companies include:
Marital status
Make/model of vehicle
Credit score
Level of education
Let your insurance carrier know if any of these factors change (e.g., switching to an older make/model or a 100+ credit score increase). Depending on the change in circumstances, a simple phone call to your auto insurer could easily cut $10 or more off your monthly premiums.
Discounts for Car Insurance in Winston-Salem, North Carolina
Auto insurance carriers offer all types of car insurance discounts in Winston-Salem, such as loyalty discounts and good driving discounts (typically awarded to drivers in good standing for the last three to five years.
Other discounts available to Winston-Salem drivers include:
Insurers are continually adjusting premiums based on your driving record. To stay on top of the latest discounts, do not be afraid to call your insurer every six months to see if you qualify for any discounts or more frequently as your life circumstances change. For example, enrolling in a defensive driving course or bundling your auto and homeowners insurance policies could save you a few dollars.
Get an Online Quote for Low-Cost Car Insurance in Winston-Salem Today!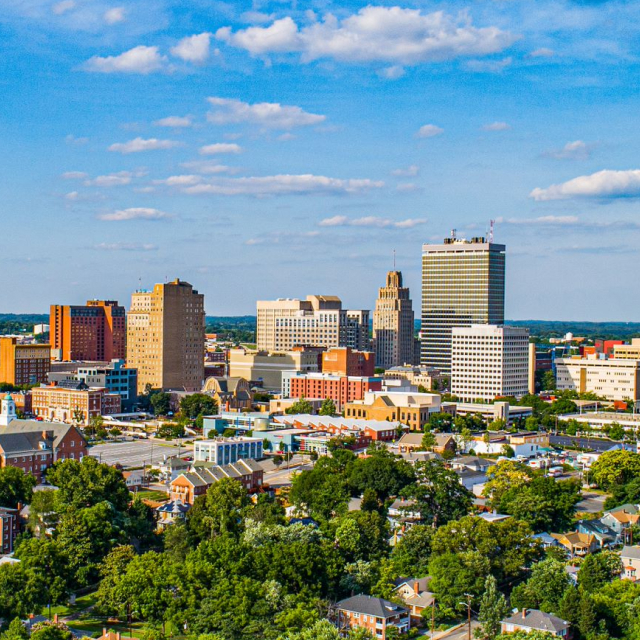 Freeway Insurance is ready to help you and your family find affordable car insurance. Are you interested in a free quote? Get started by visiting us online, calling 800-777-5620, or visit your nearby Winston-Salem office for a no-obligation consultation with one of our representatives. Reach out to us today!
Select a Product or Service to request a quote
Ready to Get a Quick Quote?