Everything You Need to Know about Auto Insurance in Mississippi
The fifth most populated city in Mississippi, Hattiesburg is known for being the birthplace of rock and roll, due to some rocking gospel songs recorded by the Graves Brothers in the 1920s and 30s. However, it is very popular for its nature opportunities, as well, home to Paul B Johnson State Park and the Longleaf Trace Trail with miles and miles of picturesque trails, picnic sites, and splash pads. DeSoto National Forest is a top spot for fishing and kayaking.
Some of Hattiesburg's top attractions include the Hattiesburg Zoo, Hattiesburg Pocket Museum, Turtle Creek Mall, Holly B Johnson State Park, and the Mississippi Armed Forces Museum.
If you live and drive in Hattiesburg, you must have an active auto insurance policy. Fortunately, several insurance options are available, including state minimum liability and full coverage. Keep reading to learn more about car insurance in Mississippi, including average premiums paid by ZIP code, age, and nearby cities.
How Much Does Car Insurance Cost in Hattiesburg, MS?
Hattiesburg drivers pay an average state minimum liability premium of $40/mo. and full coverage monthly premium of $130/mo. This compares to the national average of $47 for minimum liability and $148 for full coverage.
For perspective, the two largest cities in Mississippi (Jackson and Gulfport) pay average full coverage monthly premiums of $110 and $120, respectively.
Get a Quote for Car Insurance in Mississippi Today!
Reasons Why Insurance is So Expensive in Mississippi
According to the Insurance Information Institute, approximately 29.4% of Mississippi drivers are estimated to be uninsured. Thanks to this stat, insurance companies are forced to pay out more claims caused by uninsured drivers, increasing rates for everyone in the region.
On top of Mississippi's high uninsured motorist rate, the state regularly sees severe weather events like hurricanes, tornadoes, and floods, resulting in high comprehensive premiums. Lastly, seatbelt use in Mississippi is not where it should be. According to the Mississippi Department of Transportation, only an estimated 77.9% of Mississippi drivers wear their seatbelts, one of the lowest rates in the country.
Fortunately, you can cut down on your own auto insurance costs in Mississippi in many ways. Some of the things you can do include:
Enrolling in a defensive driving course
Driving an older make and model vehicle with a high safety rating
Limiting the number of annual miles driven to less than 7,500 a year (low mileage discount)
Changing your deductible to a higher limit
Affordable Car Insurance Rates Comparison by Cities in Mississippi
For the average monthly premium paid in Mississippi cities, check out our breakdown below:
| City | Full Coverage Insurance | Liability Insurance Coverage |
| --- | --- | --- |
| Hattiesburg | $130 | $40 |
| Jackson | $150 | $50 |
| Gulfport | $140 | $50 |
| Biloxi | $140 | $40 |
| Southaven | $130 | $40 |
Affordable Hattiesburg Car Insurance Rates by Zip Code
Not every zip code pays the same average monthly premiums. Some zip codes have higher theft and claims rates than others, forcing premiums upwards for all of its residents.
For the average monthly premium paid by Hattiesburg residents by zip code, see our breakdown below:
| Zip Code | Full Coverage Insurance | Liability Insurance Coverage |
| --- | --- | --- |
| 39401 | $140 | $40 |
| 39402 | $130 | $40 |
| 39406 | $130 | $40 |
| 39407 | $130 | $40 |
Low-Cost Car Insurance Rates by Age in Hattiesburg
Younger drivers are riskier to insure than other drivers, thanks to being less experienced drivers with a higher average claims volume.
For the average monthly premium paid by Hattiesburg residents by age, see our breakdown below:
| Age | Full Coverage Insurance | Liability Insurance Coverage |
| --- | --- | --- |
| Teenagers | $410 | $130 |
| 20s | $270 | $90 |
| 30s | $130 | $40 |
| 40s | $120 | $40 |
| 50s | $110 | $30 |
| 60s | $110 | $30 |
| 70s | $140 | $40 |
Methodology: To arrive at the average monthly premiums paid by Hattiesburg drivers, we used a 30-year-old male with a state minimum liability policy. You may pay higher or lower premiums depending on your age, gender, driving record, and dozens of other variables auto insurance companies use to determine rates.
Driving Conditions in Hattiesburg
How Many Fatal Accidents Happen in Hattiesburg?
In 2020, there were seven fatal road traffic accidents in Hattiesburg, involving 12 people and four pedestrians, resulting in eight fatalities.
How Are the Road Infrastructure and Bridges in Hattiesburg, Mississippi?
Hattiesburg has a very active Public Works Department that works on all aspects of road infrastructure and bridges. It is divided into several subdivisions focusing on roads, highways, parks, utilities, fleet maintenance, and other city services.
Minimum Car Insurance Requirements in Hattiesburg
All Hattiesburg drivers must carry the following minimum liability limits to drive legally in the state:
Remember that these liability limits do not include collision and comprehensive insurance coverage. Both policies add additional first-party benefits, protecting against damages caused by vehicle-to-vehicle, vehicle-to-object, rollover, and non-collision-related scenarios like falling tree limbs and natural disasters.
What Are the Penalties for Driving Without Insurance in Hattiesburg, MS?
Do not think of driving without proof of insurance in Hattiesburg unless you want to face the following penalties:
A fine of up to $1,000
License/registration suspension (until proof of insurance is provided)
$100 reinstatement fee
You will also be required to file for an SR-22 for a minimum of three years, a certificate of financial responsibility that lets the state know that you're carrying the minimum required liability insurance.
After your conviction, expect your rates to remain elevated for at least three years. From there — assuming no new claims or moving violations — your premium should slowly lower over time.
Find an office near you to help with your auto insurance
Factors Allowed in Hattiesburg Car Insurance Rates
Insurance companies use many factors to determine your premiums, including:
Age
Gender
Zip code of residence
Liability limits
Deductible amount
Discount eligibility
Vehicle make and model
Credit score
Remember that the deductible and liability limits you choose affect premiums. The higher your liability limits, the higher your premiums. However, setting a higher deductible will allow you to enjoy some savings.
In addition, state minimum liability is always cheaper than full coverage and optional add-ons like uninsured/underinsured motorist coverage, medical payments (MedPay), roadside assistance, and rental car reimbursement.
Auto Insurance Rates for Young Drivers vs. Older People in Hattiesburg, Mississippi
Teenage Hattiesburg residents pay an average monthly full coverage premium of $410 versus $120 for drivers in their 40s and $110 for drivers in their 50s.
Reasons why Hattiesburg teenagers pay more auto insurance premiums than older drivers include:
Lack of driving experience
Higher accident rates (e.g., due to speeding and distracted driving caused by smartphone use)
Risky driving behaviors with a greater chance of speeding and driving while intoxicated
Higher cost of vehicle ownership driving newer, more expensive models (which, in turn, drives up the cost of comprehensive and collision coverage)
Lack of established credit history, with no record of responsible financial behavior
There are ways to help pay for the high costs of young driver insurance, including adding them to your policy, using discounts and letting them drive an older, safer vehicle.
What are the Best Discounts for Car Insurance in Hattiesburg, MS?
Thankfully, there is no shortage of auto insurance discounts available to Hattiesburg residents.
Some discounts available include but are not limited to:
One of the more popular types of auto insurance discounts is the safety discount. On top of maintaining a clean driving record with no claims, accidents, or violations for the past three to five years, drivers may be rewarded for "risk-proofing" their vehicle with anti-theft devices, anti-lock brakes, daytime running lights, electronic stability control, and other features that allow insurance companies to view these vehicles as lower risk.
We always recommend checking with your insurance company every few months to stay on top of the latest discounts. Also, be sure to ask what safety features qualify for a discount and other things you can do to risk-proof your vehicle.
Get an Online Quote for Car Insurance in Hattiesburg Today!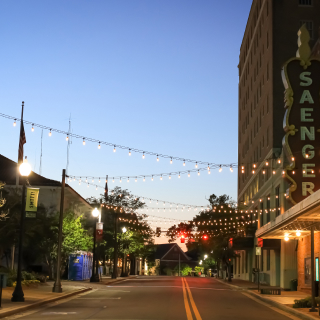 It is surprisingly easy to get started with Freeway Insurance. Let us help you explore several affordable auto insurance options, including liability-only and full-coverage policies.
To get started, request a quote online, visit us at a Hattiesburg office near you, or speak with one of our friendly agents by calling 800-777-5620. A more affordable policy is only a few minutes away.
Select a Product or Service to request a quote
Ready to Get a Quick Quote?