Lansing is the capital of Michigan and is steeped in midwestern USA tradition and all of the perks of a state capital. Its downtown area houses its state capital building, and its surrounding arts and cultural districts, like the Old Town area, are chock full of exciting public art installations by up-and-coming independent artists. More of a nature lover? The 18-mile Lansing River trail along Red Cedar and Grand rivers offers plenty of biking, kayaking, and hiking opportunities.
Some of Lansing's most popular attractions include Michigan State University's main campus, Abrams Planetarium, Wharton Center for Performing Arts, Beal Botanical Garden, and the 4-H Children's Garden.
To drive legally in Lansing, you must have an active car insurance policy. Keep reading to learn about car insurance in Michigan, including average rates paid by age, penalties for driving without insurance, and ways you can save on your next bill.
Quick facts
Lansing is the capital of Michigan.
Famous people born in Lansing include Burt Reynolds, Steven Seagal, John Hughes, Chris Hansen, and Matthew Lillard.
How Much Does Car Insurance Cost in Lansing, MI?
The average monthly premium paid by Lansing drivers is $263 for full coverage, higher than the state average of $195 and national average of $148. Drivers who choose to buy the state-required minimum liability auto insurance will pay on average $147, compared to $79 for the state average and $47 nationally.
Find an office near you to help with your auto insurance
Why is Car Insurance So Expensive in Lansing, MI?
Unfortunately, Michigan motorists pay on average roughly 70% more for their car insurance than drivers elsewhere in the U.S. This is due to several factors.
Michigan is a no-fault state that requires a higher minimum coverage.
Because of the high cost, more drivers choose to drive without insurance (25.5% in 2019, the second highest state after Mississippi).
States with a high number of personal injury lawsuits (and fake insurance claims) tend to have higher insurance costs as carriers struggle to turn a profit.
States (and cities) with a high crime rate pay more in insurance premiums.
Average Monthly Premiums by City in Michigan
How does Lansing compare with other cities in Michigan? For the average monthly insurance premiums paid by residents in different cities in Michigan, see our breakdown below:
| City | Full Coverage Insurance | Liability Insurance Coverage |
| --- | --- | --- |
| Lansing | $263 | $147 |
| Ann Arbor | $228 | $132 |
| Detroit | $478 | $356 |
| Troy | $292 | $165 |
Affordable Car Insurance Rates by Zip Code in Lansing
Not all residents in Lansing pay the same premiums. Policy costs can differ from zip code to zip code and depend heavily on unique factors specific to each policyholder. For example, some zip codes have a higher incidence of thefts, moving violations, claims, and other risky scenarios than others, forcing premiums upward for all residents.
For average monthly auto insurance premiums by zip code in Lansing, see our breakdown below:
| Zip Code | Full Coverage Insurance | Liability Insurance Coverage |
| --- | --- | --- |
| 48808 | $210 | $113 |
| 48854 | $215 | $115 |
| 48906 | $229 | $126 |
| 48909 | $263 | $147 |
| 48910 | $227 | $126 |
| 48911 | $227 | $125 |
| 48912 | $228 | $127 |
| 48915 | $256 | $147 |
| 48917 | $223 | $123 |
| 48933 | $232 | $124 |
Low-Cost Car Insurance Rates by Age in Lansing
Generally, younger age groups pay significantly higher premiums than drivers in their 30s, 40s, and 50s, thanks to a lack of driving history and a higher rate of claims collectively as a group. Those with teen drivers in Lansing, MI may be searching for affordable car insurance.
For average monthly auto insurance premiums by age in Lansing, see our breakdown below:
| Age | Full Coverage Insurance | Liability Insurance Coverage |
| --- | --- | --- |
| Teenagers | $588 | $406 |
| 20s | $345 | $175 |
| 30s | $263 | $147 |
| 40s | $261 | $150 |
| 50s | $245 | $146 |
| 60s | $245 | $147 |
| 70s | $323 | $177 |
Unless otherwise specified, we use the following methodology to arrive at our average cost: male, age 30, lowest possible legal coverage allowed by Michigan. Your rates will be determined by several factors, including your age, your gender and the amount of coverage you want to purchase. 
Driving Conditions in Lansing, Michigan
How Many Fatal Accidents Happen in Lansing?
In 2019, Lansing saw six fatal road traffic accidents involving ten vehicles and 13 people, including two pedestrians.
How Are the Road Infrastructure and Bridges in Lansing?
Lansing has a very active Public Services Department, which is responsible for maintaining city streets, sidewalks, traffic signals, bridges, and other critical infrastructure. It incorporates a Pavement Surface Evaluation and Rating (PASER) scale system that grades street conditions on a scale of 1 to 10, helping to prioritize repairs.
According to Lansing Public Services Department, every mile of street costs roughly $400,000 to repair. With more than 400 miles of streets in the city, regular maintenance and upkeep are a tall order.
For more information on Lansing's public works projects, visit the City of Lansing, Michigan – Public Service.
Getting a Free Auto Insurance quote with Freeway is easy!
Minimum Car Insurance Requirements in Lansing, MI
All Michigan drivers must have a minimum level of auto liability insurance.
As a no-fault state, motorists are required to carry Personal Injury Protection (PIP) which is designed to help pay for injuries you suffer in a wreck, regardless of who caused the accident. Your property damage liability will help cover the repairs to your vehicle, regardless of who caused the wreck.
Michigan law requires the following minimum liability limits:
$50,000 for bodily injury liability coverage per person
$100,000 for bodily injury liability coverage per accident
$10,000 for property damage per accident outside of the state
$1 million property protection insurance (PPI) in Michigan
Personal Injury Protection – multiple choices offered*
*Michigan drivers must choose between these PIP options:
Unlimited Coverage – the most expensive option, but offers the most protection
$500,000 or $250,000 – the amount your insurance company will pay for medical expenses
$250,000 with persons excluded – you may choose to exclude people who may be driving your vehicle or in your vehicle, including yourself, your spouse and family members, but they must have qualified health coverage that is not Medicare
$50,000 – insured must be enrolled in Medicaid and spouse, plus resident relatives all have qualified health coverage, Medicaid or coverage under another auto policy with PIP coverage
No PIP coverage – insured must have coverage under Medicare Parts A & B
These required coverages are one reason Michigan drivers pay more for their coverage than motorists in other states.
What Are the Penalties for Driving Without Insurance in Lansing, Michigan?
Driving without insurance in Lansing is not a good idea.
For starters, expect to see your license suspended for up to 30 days (until proof of insurance is provided), along with a fine of up to $500 and a $125 license reinstatement fee. Do not forget the cost of attorney fees if you decide to go that route. Depending on the incident, you may also see up to one year in jail.
A driver who gets into an accident in Lansing without insurance may be required to file an SR-22 certificate, which labels you as a high-risk driver to the insurance company. Insurance rates can double or triple with an SR-22. You can also be sued by the other driver and have your assets seized to pay for their medical costs, lost wages and vehicle repairs.
Factors Allowed in Lansing Car Insurance Rates
Lansing insurance premiums are primarily determined by one's age, gender, zip code of residence, driving record and other factors, including.
Vehicle make/model
Marital status
Job title
Amount of education
Michigan is one of a handful of states that does not allow your credit score to be used when determining your premium.
Discounts for Car Insurance in Lansing, MI
There are many car insurance discounts available to Lansing drivers with solid driving records. Generally, they fall under one of five categories: driver behavior, driver characteristic, affiliation-based, vehicle-based, and policy-based discounts.
Other discounts available to Michigan drivers include:
Another popular discount known to auto insurers is multi-policy (or "bundling"), which offers savings for purchasing two or more policies from the same insurance carrier. Qualifying insurance may include auto, homeowners, boat, life, and motorcycle policies.
We recommend notifying your insurance carrier every six months to learn what discounts you qualify for, especially as your life circumstances change. Even joining the military or switching to an older make and model vehicle can result in significant savings.
Get an Online Quote for Low-Cost Car Insurance in Lansing Today!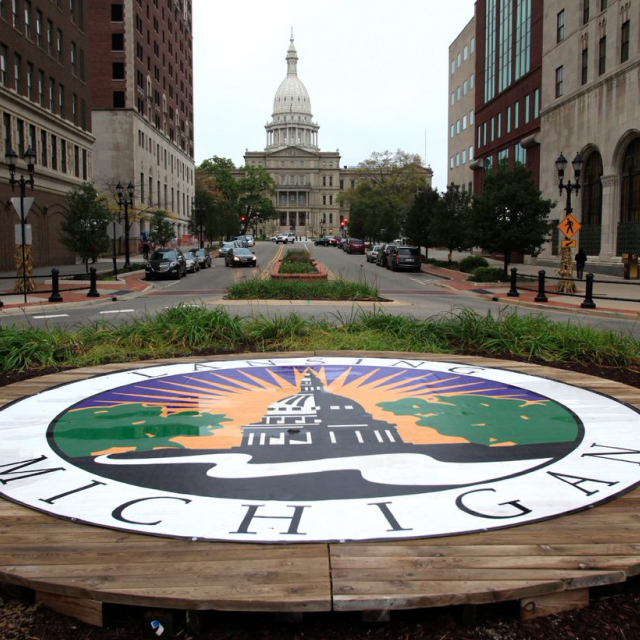 Avoid fines, license suspensions, and headaches by signing on with an auto insurance policy from Freeway Insurance. Freeway Insurance is ready to help you find the correct state minimum or full coverage policy to protect you and your loved ones.
Get started by requesting a quote online, calling 800-777-5620, or visiting your nearby Lansing office to speak with one of our friendly agents.
Select a Product or Service to request a quote
Ready to Get a Quick Quote?