Located in southern Kentucky, Bowling Green is an under-the-radar city full of exciting things to explore. One of its biggest draws is the National Corvette Museum — a tribute to the city being its exclusive manufacturing site. Outdoor enthusiasts will also enjoy its cave-centric attractions, including Mammoth Cave National Park and the Lost River Cave. The latter offers captivating underground boat tours that immerse its passengers through a deep underground waterway maze complete with blue pools.
Some of Bowling Green's most popular attractions include Bowling Green Ballpark, Beech Bend Park, and the General Motors Assembly Plant.
Keep reading to learn more about auto insurance in Kentucky, including discounts you can qualify for, average rates paid by zip code, penalties for driving without insurance in Kentucky, and much more.
Quick Facts
There are more than 890 acres of parks in Bowling Green, including Lampkin, Kereiakes, and Fountain Square parks.
Bowling Green was founded in 1798.
Bowling Green is roughly 60 miles north of Nashville and 110 miles south of Louisville.
Since 1981, Bowling Green has been the site of Corvette manufacturing.
Bowling Green is the third most populous city in Kentucky.
Bowling Green has a total area of 35.6 square miles.
How Much Does Car Insurance Cost in Bowling Green, KY?
In Bowling Green, drivers with full coverage car insurance pay an average monthly premium of $144, a close amount compared to the national average monthly rate of $140. The state of Kentucky overall averages $177 for this type of auto insurance.
If drivers are looking for the cheapest car insurance in Bowling Green, it is $45 a month on average for the state-required minimum liability insurance, plus Personal Injury Protection (PIP) since Kentucky is a no-fault state. That compares favorably to the national average of $47 monthly and is much lower than the state average of $62.
How does Bowling Green compare with other cities in Kentucky? Here is a breakdown of average car insurance costs for other cities in Kentucky.
| City | Full Coverage Insurance | Liability Insurance Coverage |
| --- | --- | --- |
| Bowling Green | $144 | $45 |
| Covington | $147 | $47 |
| Lexington | $153 | $52 |
| Louisville | $257 | $84 |
Keep in mind that some of the factors insurance companies base their rates on include the amount of claims in a certain area. If you live in a city with a lot of accident claims and personal injury lawsuits or in a high crime area, your rates may be higher.
Affordable Car Insurance Rates by Zip Code in Bowling Green
Residents of one zip code in Bowling Green can pay significantly higher rates than residents of other zip codes due to demographic distribution and collective driving history, including the number of theft/vandalism incidents and moving violations.
Here is a breakdown of the average monthly car insurance rate by zip code in Bowling Green, Kentucky.
| Zip Code | Full Coverage Insurance | Liability Insurance Coverage |
| --- | --- | --- |
| 42101 | $144 | $45 |
| 42102 | $144 | $45 |
| 42103 | $142 | $43 |
| 42104 | $141 | $43 |
Low-Cost Car Insurance Rates by Age in Bowling Green
Age is a major deciding factor in determining the premiums people pay. Expect higher rates for teenage drivers ages 16-19 before dropping over time (in your 30s, 40s, and 50s) due to a more established driving record.
Here is a breakdown of the average monthly car insurance rate by age in Bowling Green, Kentucky.
| Age | Full Coverage Insurance | Liability Insurance Coverage |
| --- | --- | --- |
| Teenagers | $482 | $165 |
| 20s | $208 | $64 |
| 30s | $144 | $45 |
| 40s | $137 | $43 |
| 50s | $128 | $41 |
| 60s | $132 | $43 |
| 70s | $160 | $57 |
Unless otherwise specified, we use the following methodology to arrive at our average cost: male, age 30, lowest possible legal coverage allowed by Kentucky. Your rates will be determined by several factors, including your age, your gender and the amount of coverage you want to purchase.
Get a Quote for Car Insurance in Kentucky Today!
Driving Conditions in Bowling Green, Kentucky
How Many Fatal Accidents Happen in Bowling Green?
In 2019, there were three fatal car crashes in Bowling Green, resulting in three fatalities. A total of 10 people were involved, none of whom were pedestrians.
How Are the Road Infrastructure and Bridges in Bowling Green?
Bowling Green has an active Department of Public Works that maintain close to 300 miles of city streets. These maintenance projects include annual street resurfacing, new sidewalk construction, and investment in streetscapes for Downtown Square. Recently priorities have been establishing an improved greenway connection between RiverWalk Park and Weldon Peete Park, improving Shive Lake traffic flow, and performing storm-related right-of-way repairs throughout the city.
For more information on active Bowling Green Public Works projects, visit Bowling Green Kentucky – Construction Management.
Minimum Car Insurance Requirements in Bowling Green, Kentucky
Kentucky is a no-fault state, which means each affected party's insurance carrier is responsible for paying damages, regardless of who is determined to be at fault. That's why PIP is included on all policies, offering a limit on medical expenses. If medical costs incurred in an accident exceed $10,000 in personal injury, you reserve the right to file a lawsuit against the other driver.
What Are the Penalties for Driving Without Insurance in Bowling Green, KY?
Driving without the minimum required insurance in Kentucky (25/50/25) will result in fines, increased rates, and the possibility of jail time, depending on the number of offenses.
First-time offenders can expect fines up to $1000 on top of a one-year driver's license and registration suspension, a $40 reinstatement fee, and up to 90 days in jail, depending on the situation. Second and subsequent offenders will see stiffer fines (up to $2500), up to 180 days in jail, and a two-year registration suspension for every offense after the second.
Unlike most states, an SR-22 filing is unnecessary to reinstate your driver's license. Instead, allow your license suspension period to pass and present an insurance policy with a minimum 6-month validity to the court to get your license back. Just expect to retake driving tests if your license has been suspended for a year or more.
Even a single lapsed day of coverage could force insurance companies to report it to the state.
Factors Allowed in Bowling Green Car Insurance Rates
Many factors determine the average monthly premium paid by Bowling Green residents.
These factors include but are not limited to:
Driving record and claims history
Physical location
Gender
Age
Marital status
Type of vehicle
Credit score
Another factor affecting auto insurance costs is the way your policy is structured. For example, full coverage policies with low deductibles (e.g., $500) and high liability limits of $100,000+ for bodily injury and property damage will cost significantly more than the state minimum required coverage of $25,000 for bodily injury per person, $50,000 for bodily injury per accident, $25,000 for property damage per accident and $10,000 for PIP.
Discounts for Car Insurance in Bowling Green, Kentucky
Asking your insurance carrier for car insurance discounts in Kentucky is one of the smartest ways to save money on car insurance.
You may qualify for one or more of the following discounts:
Bundled insurance discount

Safe driving discount
If you maintain a clean driving record free of at-fault accidents, moving violations, and claims, you should expect your rates to drop over time. Keep insurance top of mind as your life circumstances change. For example, switching to a 1997 Honda Civic from a 2020 Tesla Model X could save you hundreds of dollars yearly in premiums.
Get an Online Quote for Low-Cost Car Insurance in Bowling Green Today!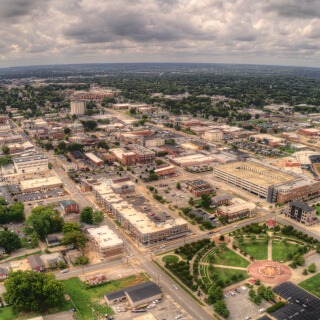 To protect yourself from the high risk of driving in Bowling Green, we recommend that you carry a state minimum liability policy. Or better yet, full coverage with comprehensive and collision insurance.
Getting started only takes a few minutes. Feel free to request a fast car insurance quote online, visit us at a Bowling Green office near you, or call us at 800-777-5620 for a quote by one of our friendly agents.
Select a Product or Service to request a quote
Ready to Get a Quick Quote?