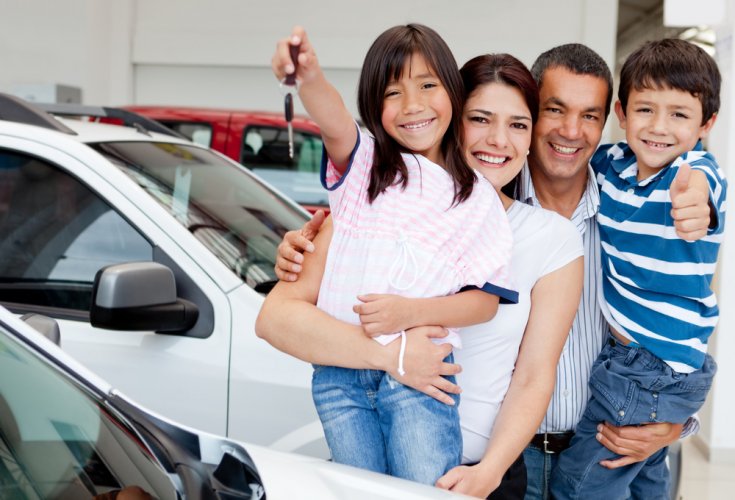 Just go to your local dealership and make an offer on the perfect household vehicle. How hard can it be?
Okay, it's not quite that simple. First, you have to figure out the various factors that constitute "perfect" in your mind. Cost is certainly key. So is size as it conforms to your family's needs. Fuel economy and environmental concerns might rank high—even such riveting considerations as color and styling. And all these considerations are probably making you rethink about should you really replace your car? Or is it better to just repair the one you have again?
With several hundred makes and models available to the American family on an annual basis, at all cost points, finding that number-one choice can seem pretty intimidating, especially when you should consider how much car insurance will cost for any particular vehicle.
We're going to bet that safety is at or near the top of your mental list, almost competing with lower gas prices. Whether your family is only you or consists of a spouse, kids, or maybe even extended family members, you have good reason to want to purchase the safest ride possible.
What To Consider When Looking For The Safest Car
Although modern cars are equipped with features intended to safeguard their occupants, not all of them are necessarily secure when passing some safety tests.
When it comes to acquiring a new car, there are plenty of factors to consider not just to survive a car crash, but to avoid it completely. We have standard features mandated by the government that we've all come to know —things like:
Anti-lock brakes
Stability control
Traction control
Rearview cameras
Tire pressure monitors
Airbags
However, those features have their limitations, and that's where you need to keep an eye on when looking. For example, the airbag mandates limits to front crash protection:one for the driver and one for the front passenger. While most of the new models may include more than 6 airbags (to cover rear-side impact, knee, front center, and more), if you are planning to acquire an older model, you may want to ask how many it includes and where are they located.
We also have other organizations like the Insurance Institute for Highway Safety (IIHS) and the government's National Highway Traffic Safety Administration (NHTSA) to help us make informed decisions related to vehicle safety.
Those entities have done extensive research related to car safety and crash tests, scoring each for the degree of protection they provide for occupants to determine the most crucial safety features for a car to have.
While you can just go to IIHS website and narrow down the ones with five-star safety ratings under their TOP SAFETY PICK or TOP SAFETY PICK+ categories, we recommend you to consider things like:
Forward collision warning
Automatic emergency braking
Blind-spot monitoring
Lane-keeping assist
Lane-departure warning
Lane-following assist
Parking assist
Surround-view camera
Self-parking:
Adaptive front lights
Rear cross-traffic alert
Pedestrian detection
Helpful driver aids could be:
Adaptive cruise control
High-beam assist:
Driver-awareness alert
Additional safety features:
LED exterior headlights
Rain-sensing wipers
Auto-dimming rearview mirrors
Head-up display
Rear-seat alert
So, if you're looking for a safe car, it's worth paying attention to these critical features, and not limit it to a perfect score. After all, there's nothing quite like the peace of mind that comes with knowing you're behind the wheel of a vehicle that's been built with your safety in mind.
Why is Safety Important for Car Insurance?
It's not only that safe driving in a car known for its protective design features can keep your family out of physical harm. A car with high scores in safety is also much more affordable when it comes to car insurance. Insurance companies like cars with extended and innovative safety features, as well as people who have a defensive driver approach to avoid getting into an accident.
And those who buy safer cars are typically seen by insurance company underwriters as more responsible drivers. They can qualify for auto insurance discounts for that reason.
Bottom line, even if the vehicles — whether they are SUVs, sedans, or small cars— with good car safety ratings costs a little more at the dealership, you might very well save so much on car insurance over the life of the vehicle that your insurance savings could rein in much of the difference in car payments.
How Can I Determine the Cars That Help Promote Safe Driving and Cost Less to Insure?
Just for reference, the average insurance cost is about $1,600, which can go up or higher depending on the state where you live, the model of the car, the age, the coverage you need and the discounts you're able to apply for.
To pick the safest car, you can check online with the U.S. Department of Transportation at its National Highway Traffic Safety Administration.
Use this web page to compare makes and models to see which choice (or choices) achieve the highest five-star safety ranking.
The NHTSA's 5-Star Vehicle Comparison Tool enables you to, in seconds, check out the safety rating of from one to three vehicles at a time. Not only the most current models but also used cars going back as far as 1990.
The comparison tool rates vehicles on factors including protection from frontal, side, and rollover crashes, overall safety, and even a list of the latest safety technologies available standard or optional for that make and model. There's also a safety ranking of tires on a separate page. It's a user-friendly and highly intuitive tool that just about anyone with basic internet skills who's old enough to drive can use.
The NHTSA website isn't just about safety ranking comparisons. On other pages, you'll find information on safe driving news and procedures, the latest alerts on vehicle recalls, and other information to make safe driving easier.
The ranking tool is what will excite you most when you go car shopping for yourself, your spouse, or any young drivers in your family. When you find one — or several — safe vehicles that meet your other expectations for roominess, styling, fuel economy, sticker price, or whatever other factors play a part in your purchase decision, take your tentative choices to your car insurance agent.
But before signing any agreements, you should keep in mind that just because a car is new, it doesn't mean it isn't damaged. Some new cars may have been damaged in transit or on the dealer lot and, as is often the case, the dealership is under no obligation to provide you with information of any fixes that were performed on your new ride, so you should be aware of what the imperfections are, before making your decision.
We also recommend you to read our article about things to check before you buy a used car, in case you don't want to acquire a newer vehicle.
Finding Affordable Car Insurance Online
Your independent Freeway Insurance agent will be able to quote you the best rates for however many vehicles with safe driving reputations you bring us. That's because we can shop for rates from several major insurance carriers for the most competitive rates of all.
Call us at (800) 777-5620 or meet with an agent at a Freeway Insurance office near you. Or get a quick online quote for car insurance before purchasing that new or used car choice.
Ready to Get a Quick Quote?