Everything You Need to Know about Auto Insurance in Virginia
Located across the Potomac River from Washington, DC, Arlington is steeped in United States history, home to some of the most iconic venues in the country. Aside from being the home of the Pentagon (U.S. Department of Defense headquarters), it is also home to the US Marine Corps War Memorial, Air Force Memorial, and the Arlington National Cemetery, which rests more than 400,000 military personnel and their family members.
Other popular attractions in Arlington include the Arlington Arts Center, Fashion Center at Pentagon City, Gravelly Point Park, and the Signature Theater.
Everyone in Arlington must be appropriately insured to drive legally in the state. Keep reading to learn more about car insurance in Virginia, including the average monthly premiums you can expect by age, gender, and zip code in the region.
How Much Does Car Insurance Cost in Arlington, VA?
Arlington drivers pay an average monthly liability-only coverage premium of $50 and an average full coverage premium of $120, well below the national average of $140.
Getting a Free Auto Insurance quote with Freeway is easy!
What Does it Mean if Virginia is At-Fault?
Virginia is an at-fault state, which means drivers determined to be partially or fully responsible for an accident must pay for all damages and injuries sustained by other drivers. These damages are typically handled by the at-fault driver's insurance company up to policy limits, with any damages exceeding policy limits the responsibility of the at-fault driver.
Virginia is also a "modified comparative fault" state, meaning drivers determined to be partially at fault for an accident are also responsible for the cost of damages relative to their degree of responsibility. So, for example, if you are discovered to be 30% at fault for an accident with total injuries valued at $20,000, your damages will be reduced by 30% to $14,000.
To ensure you are adequately protected in Virginia, there are some things you can do:
Maintain Adequate Liability Coverage.

For the best protection, opt for the highest limits that align with your financial situation.

Consider Supplemental Coverage.

Go above and beyond basic liability coverage and opt for additional protections like

uninsured/underinsured motorist coverage, personal injury protection

(PIP), or medical payments (MedPay). These policies are especially beneficial in situations where at-fault drivers are underinsured or uninsured.
Practice Defensive Driving. Be sure to obey all traffic laws and "risk proof" your vehicle with additional safety features like anti-lock brakes and anti-theft devices.
Affordable Car Insurance Rates Comparison by Cities in Virginia
For a breakdown of average monthly premiums paid by Virginia residents by age in other cities, see below:
| City | Full Coverage Insurance | Liability Insurance Coverage |
| --- | --- | --- |
| Arlington | $120 | $50 |
| Virginia Beach | $110 | $50 |
| Norfolk | $130 | $50 |
| Chesapeake | $110 | $50 |
| Richmond | $120 | $50 |
Affordable Arlington Car Insurance Rates by Zip Code
If the location where your vehicle is primarily driven has a high theft and claims rate, expect to pay higher premiums than in safer areas. That's why densely populated urban centers see higher premiums than more rural places.
For a breakdown of average monthly premiums paid by Virginia residents by zip code, see below:
| Zip Code | Full Coverage Insurance | Liability Insurance Coverage |
| --- | --- | --- |
| 22201 | $120 | $50 |
| 22202 | $120 | $50 |
| 22203 | 110 | $50 |
| 22204 | $120 | $50 |
| 22205 | $120 | $50 |
| 22206 | $120 | $50 |
| 22207 | $120 | $50 |
Low-Cost Car Insurance Rates by Age in Arlington
Age is a heavy deciding factor when calculating auto insurance premiums. Younger drivers under 25 are considered to be the highest risk, thanks to their limited driving experience relative to drivers in their 30s, 40s, and 50s. Expect premiums to be lower in your 30s, 40s, and 50s (assuming a clean driving record) before rising in your 60s and 70s.
For the average monthly premium paid by Arlington residents by age, see our breakdown below:
| Age | Full Coverage Insurance | Liability Insurance Coverage |
| --- | --- | --- |
| Teenagers | $360 | $160 |
| 20s | $130 | $60 |
| 30s | $120 | $50 |
| 40s | $100 | $40 |
| 50s | $100 | $40 |
| 60s | $100 | $50 |
| 70s | $130 | $60 |
* Methodology: We use a 30-year-old male with Virginia state minimum liability requirements to determine the average monthly premiums paid by Arlington drivers. Every policyholder in Arlington pays a different break based on several factors, including age, gender, driving record, credit score, and average number of miles driven per year.
Driving Conditions in Arlington
How Many Fatal Accidents Happen in Arlington?
In 2020, there were five fatal road traffic accidents in Arlington involving seven vehicles and seven people, including two pedestrians.
How Are the Road Infrastructure and Bridges in Arlington?
The Arlington County Public Works Department is responsible for the region's public infrastructure. Several divisions are focused on key infrastructure projects on roads, highways, utilities, fleet Maintenance, and other initiatives.
Minimum Car Insurance Requirements in Arlington
To drive legally in the state of Virginia, you must carry the following minimum liability limits:
$30,000 for bodily injuries or death for one person in a single accident

$60,000 for bodily injuries or death for multiple people in a single accident

$20,000 for property damage
One important distinction with Virginia auto insurance is you can still purchase your license plates without the minimum requirements, but you must pay a $500 uninsured motor vehicle fee, payable at each renewal.
What Are the Penalties for Driving Without Insurance in Arlington, VA?
Expect some heavy penalties for driving without insurance in Arlington, Virginia.
If you are caught, expect to be served the following:
Class 3 misdemeanor

Suspended driver's license/registration

$600 non-compliance fee

$145 reinstatement fee
To avoid these penalties, you must provide proof of insurance to the Virginia Department of Motor Vehicles.
Unfortunately, you will also be required to file for an SR-22, a certificate of financial responsibility that lets the state know you carry the minimum required auto insurance. Your insurance company is responsible for filing one on your behalf. If your current insurance company cancels coverage, you must find a new provider willing to reinstate your driving privileges and insure you.
Factors Allowed in Arlington Car Insurance Rates
Here are some factors that auto insurance companies use to determine your premiums:
Age/gender

Zip code of residence

Driving record

Amount of

deductible

Annual mileage

Occupation/education
Remember that every insurance company weighs these factors using its proprietary algorithms and underwriting criteria. Note that this is not an all-inclusive list.
Find an office near you to help with your auto insurance
Insurance That Helps You Prepare for the Future
As an Arlington driver, you should carry an active auto insurance policy. There are numerous benefits to having one, such as the following:
Financial Protection.

Auto insurance pays for the cost of damages and injuries sustained by first and third parties in an accident up to specific liability limits. It helps cover the cost of repair or replacement of vehicles and property, along with medical expenses and lost wages. Failure to have an active policy will force all damages to be paid out of your pocket, resulting in a hefty financial burden.

Add-ons.

Today, auto insurance companies provide additional benefits beyond liability coverage. These include rental car reimbursement and

roadside assistance. Any vehicle breakdown in the middle of nowhere can be easily covered, resulting in greater peace of mind.
What are the Best Discounts for Car Insurance in Arlington, VA?
Auto insurance discounts available to Arlington drivers serve many purposes. This is because, on top of allowing you to save money, insurance companies see it as a way for you to improve driving behavior, reduce risks, and reward loyalty.
Discounts available to Arlington drivers include but are not limited to:
Auto insurance discount availability depends on several factors, such as your driving record, vehicle type, age, and gender.
We recommend calling your insurance provider every few months (or as your life circumstances change, such as switching to an older make and model vehicle) to see if you qualify for any new discounts. A simple phone call could cut your monthly premium by $10 or $20, so asking doesn't hurt!
Get an Online Quote for Car Insurance in Arlington Today!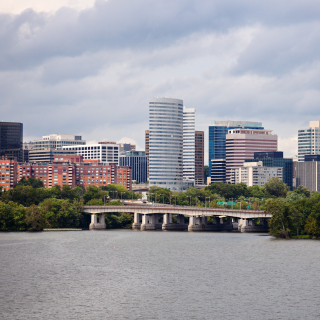 Freeway Insurance has many options, including affordable state minimum liability and full coverage policies.
To get started with Freeway Insurance, visit us online, visit an office near you, or call 800-777-5620 so that you can receive a consultation with one of our agents. Cheaper rates are only a phone call away!
Select a Product or Service to request a quote
Ready to Get a Quick Quote?