How Much Is Auto Insurance for a Dodge Avenger?
In the market for auto insurance for your Dodge Avenger? The annual cost of your coverage varies based on the type of auto insurance coverage you select. The average you will pay is $460 for minimum coverage and $1,143 for full coverage.
There are different factors that go into your insurance quote. One of the most important factors is whether or not you select the minimum level of liability insurance required by law or purchase full coverage. Full coverage policies include liability, collision, and comprehensive coverage.
No matter which option you go for, it is important to get support from an insurance agent you can trust. Contact Freeway Insurance as soon as possible to discuss your coverage options.
Getting a Free Auto Insurance quote with Freeway is easy!
Comparing Insurance Costs for Your Avenger to Other Vehicles
The cost of car insurance premiums each month for a Dodge Avenger is typically different from the cost to insure other vehicles. The expense for insuring competitors includes:
Types of Car Insurance Coverage for Your Avenger
The law in every state requires drivers to maintain a minimum level of liability insurance in case of an accident. These limits represent the minimum insurance you must carry, but you may add additional coverage that you might decide is in your best interests.
Full Coverage
Full coverage car insurance goes above and beyond what is required by law. When you purchase full coverage car insurance, it not only pays for your own damages, it also protects you from lawsuits filed by other drivers involved in an accident with you.
Full coverage includes three parts: collision, comprehensive, and liability insurance. Collision insurance pays for your damages caused by a collision. This collision could be with another vehicle, a fixed object, or even a pedestrian.
Comprehensive coverage fills the gaps for damage that happens outside of a collision. You could rely on this coverage when your vehicle is damaged by things like severe weather or vandalism.
Finally, full coverage also provides liability protection. Your liability policy covers any damage you cause when you are at fault for an accident.
State Minimum Liability
The laws of each state typically require liability coverage. This minimum amount of coverage is often less than is needed to protect you from a third-party claim in the case of an accident. The good news is you have the right to purchase additional coverage above and beyond the legal minimum.
Individual Facts that Influence Pricing for the Dodge Avenger
Your type of insurance coverage is only one of many factors that affect the cost of your premiums. Some of the following factors could also play a role in determining what you pay each month:
Age
Your age will play a major factor in determining what it costs it costs to cover your Dodge Avenger. Younger drivers typically pay more annually, while those costs drop over time for older drivers.
Zip Code
The area that you live in can also impact the cost of your car insurance. Some zip codes have more accidents and insurance companies charge more based on that factor.
Claims History
Your history of prior car insurance claims is also relevant to the cost of your premiums. If you have made claims in the past, you can expect to pay more for your coverage. A clean claims record on the other hand can result in lower costs.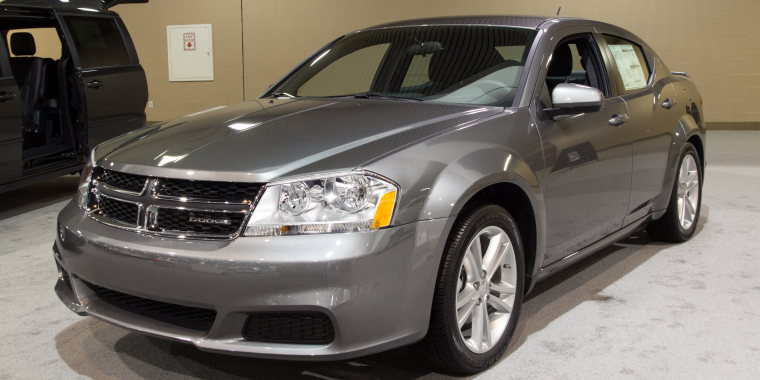 How Does a DUI Affect Insurance Rates for a Dodge Avenger?
A conviction for DUI is a costly mistake. Car insurance companies label someone with a recent DUI conviction as a high-risk driver, which results in higher premiums. In fact, your insurer could cancel your policy entirely.
This conviction could also force you to comply with SR-22 requirements. These requirements involve providing the government with notice that you have enough car insurance as a high-risk driver.
What Are Some Auto Insurance Discounts?
Most people are concerned with the cost of insuring their Dodge Avengers. While insurance can be expensive, there are ways to keep those costs low. The best way to save money is by taking advantage of all available discounts. One common example is the good driver discount which saves you money when you don't have accidents or tickets on your record. Other examples of available discounts include the following:
You might also save money on your auto insurance by bundling your policies. Bundling involves buying auto insurance coverage from the same company that provides other types of policies to you. For example, you could save money on your auto and homeowners insurance by purchasing both policies from the same company.
Find an office near you to help with your auto insurance
What Are Some of the Characteristics of the Avenger?
It first entered production in 1994. This front-wheel drive, mid-size sedan spent its early years as a coupe before going through a dramatic change later in life. In 2000, ceased production for seven years until a reboot in 2007.
The 2007 version looked very different, as the vehicle was upsized to a mid-sized sedan. Despite its popularity, the Avenger only remained in production until the year 2014. At that time, Dodge consolidated a number of their smaller vehicles into one new design: the Dodge 200.
Find the Best Car Insurance Rates Online Today for Dodge Avenger
If you are after affordable car insurance, Freeway Insurance is here to help. Our agents can provide you with a range of coverage options that fit your needs and your budget. We look forward to helping you secure cheap car insurance that will serve you and your family.
Contact us right away to talk about your insurance policy options. To get a fast and free quote, give us a call at (800) 777-5620, visit us online, or stop by one of our locations for a consultation with one of our friendly agents.