How Much is Car Insurance for the Acura TLX?
Acura no longer manufactures the TLX, but that doesn't mean no one drives it anymore. Many people still do, and if you're one of those people, you're likely paying around $1,548 for minimum liability insurance or $2,412 for full coverage car insurance annually.
Acura stopped producing this model a few years back, and auto coverage can get pricy with older cars. Freeway Insurance can insure your vehicle with a policy that fits your needs and budget at the best possible rate.
Getting a Free Auto Insurance quote with Freeway is easy!
Comparing Insurance Costs for the Acura TLX to Other Vehicles
Many older cars get redesigned and updated over the years. Others get replaced, and the TLX was one of them — the newest rendition is sold as the TLXX. A lot of people still drive older models though, which Acura stopped manufacturing in 2014. Here's how this older sedan's annual full coverage premium stacks up against newer models of similar vehicles.
| Make/Model | Annual Full Coverage Insurance |
| --- | --- |
| Acura TLX | $2,412 |
| Acura TLXX | $2,580 |
| BMW 3 Series | $2,460 |
| Lexus IS | $2,472 |
| Mercedes-Benz C Class | $2,484 |
| Audi A4 | $2,460 |
| Infinity Q50 | $3,216 |
| Jaguar XE | $2,652 |
| Volvo S60 | $2,100 |
Types of Car Insurance Coverage for the Acura
All states require drivers to have minimum liability auto coverage. That way, the driver who causes a crash can be held financially responsible for injuries, deaths, or property damages.
If you drive one of these luxury sedans, having minimum liability coverage ensures you meet your state's auto insurance mandate. It also costs less than a full coverage policy, which is more expensive.
Full coverage costs more because it includes comprehensive and collision coverage and liability. If you crash into another vehicle while driving, your full coverage policy will typically cover all costs and damages.
By contrast, if you only have minimum liability insurance and the crash-related costs and damages exceed your policy's coverage threshold amount, you'll have to pay them out of pocket.
Full Coverage
A full-coverage auto policy adds comprehensive and collision coverage to your liability insurance. So if you crash and someone involved in the incident is hurt, your policy will help cover the cost of their medical treatment or hospitalization.
Collision coverage protects you in any crash — whether it's with a car, another SUV, a commercial truck, or property like a front yard fence or a public building.
The comprehensive element of the policy takes care of damages that aren't related to a crash. If your sedan gets vandalized or is damaged during a bad storm, for example, your insurer will pay for the car's repairs in keeping with the policy's comprehensive coverage.
State Minimum Liability
All states require minimum liability insurance. While the specific requirements vary by state, the auto policy must be enough to help cover any injuries or deaths that result from a crash caused by a driver, as well as any property damage.
Minimum liability insurance mandates in Delaware, for example, require drivers to have an auto policy that provides $25,000 for one person and $50,000 for two or more people for any bodily injuries or deaths resulting from a crash the driver causes and $15,000 and $30,000 in personal injury protection (PIP). It also requires $10,000 in property damage coverage.
Mandating minimum liability coverage guarantees the driver responsible for the accident will be held accountable for the consequences financially.
Individual Factors That Influence Pricing for a Luxury Sedan
Various factors influence how much you'll have to pay to insure your auto. Here's a closer look.
Loss Probability
Loss probability refers to the likelihood you will crash in the city or area where you regularly drive. Agencies look at crash report statistics to determine whether your neighborhood and the broader area have any congested roads nearby or highways where crashes that involve sedans happen often. If they do, it will be labeled a high-risk area, and your policy rate will likely reflect that.
Vehicle Safety Features and Ratings
In 2011, the Insurance Institute for Highway Safety (IIHS) found that the Acura TLX had the second lowest fatality rates among sedans in the midsize luxury category. The 2012 Acura TLX received three stars from the National Highway Traffic Safety Administration. NHTSA statistics show that the TLX has been recalled various times since 1998, with the agency receiving several complaints about this car.
Vehicle Value
According to Kelly Blue Book, a used 2014 Acura TLX has a market price of around $12,717. However, that price doesn't determine what you'll pay in monthly insurance premiums. The age of your sedan likely will. Many people think older cars have lower premiums, but past safety issues may get factored into your rate.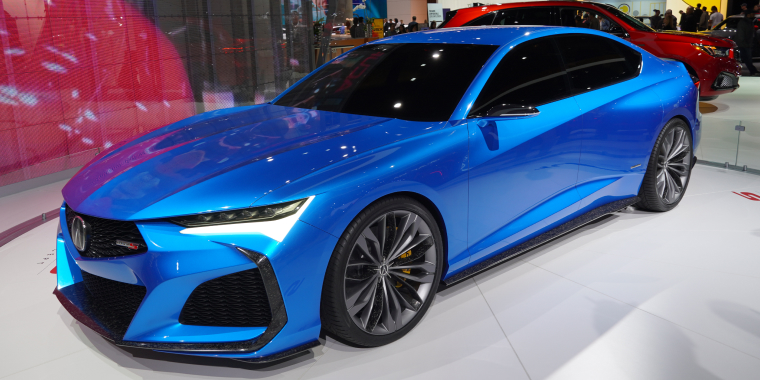 How Does a DUI Affect Insurance Rates for an Acura?
Anyone caught driving under the influence of drugs or alcohol will face legal charges and financial penalties—including having to pay more for car coverage.
A DUI arrest or conviction makes you a high-risk driver to insurance companies. That's because driving under the influence of drugs or alcohol increases the odds of a crash on the road, especially those where others involved can end up seriously hurt or killed.
If you're arrested or convicted of a DUI, your premium will increase substantially and will remain at a higher rate until this incident clears from your driving record, which can take up to 10 years, depending on your state's look-back window.
What Are Some Car Insurance Discounts?
A good driver is a safe driver, and many companies reward that by offering a nice discount on auto policies. If you're cautious on the road and have a clean driving record, you can expect a 10% to 30% discount for your policy.
Loyalty also gets rewarded, with insurers typically extending discounts anywhere between 5% and 25% to customers who bundle coverage by, for example, adding homeowner or renter's insurance to their auto policy and come back every renewal period.
As an Acura driver, you may also be eligible for:
A 5% to 40% usage-based insurance discount if you don't drive your car around too much or too far. You will need to allow your insurer to track your use by placing a tracking device in your car or using a smartphone app that captures this data when you're on the road.
Up to 15% off if you work in a specific occupation, like teaching, or are a military service member.
A 4% to 12% discount if you sign up for a policy after getting an online quote from the insurer.
Freeway Insurance has several discount offers available to drivers who are looking for cheap auto coverage. Get a quote today, and let us help you find the best coverage options.
Find an office near you to help with your auto insurance
What Are Some of the Characteristics of the Acura TLX?
This model made its debut in 1996. In its heyday, this four-door executive sedan was Acura's best-selling model and remained in the top slot for more than a decade, ranking among the top luxury sedans in the U.S. behind BMW. However, its popularity began to wane in 2008 when consumer focus shifted more toward SUVs, like the Acura MDX. Acura stopped producing it in 2014, replacing it with the TLXX model.
Four generations were manufactured during its 18-year run, with each iteration improving the vehicle's comfort, safety, and technological features. The first generation, which was sold between 1996 and 1998, had power windows and locks, dual airbags, antilock brakes, automatic climate control, and a radio with a cassette and CD player.
By the time the fourth generation rolled out, between 2009 and 2014, it had a 13-gigabyte hard drive and USB port, a central multifunction display, and an eight-speaker 276-watt audio system with a six-disc CD changer. It also included a satellite radio option and Bluetooth audio.
Find the Best Car Insurance Rates Online for the Acura TLX Today
Freeway Insurance can help you find the best coverage for whatever car you drive at the best price. Contact us today and speak with an agent who can get you affordable car insurance that fits your coverage needs.
We can hook you up with the cheapest car insurance so you and your family are protected. Get a fast and free quote online, call us at (800) 777-5620, or stop by one of our locations.