Having car insurance in San Antonio, TX provides peace of mind and protection for drivers and their vehicles. In the event of an accident, theft, or natural disaster, car insurance can cover the cost of repairs or replacement. Additionally, it can also protect drivers from financial liability in the case of injury to other drivers or or themselves. With the numerous insurance options available, it's important for San Antonio drivers to compare coverage and choose a policy that best fits their needs and budget.
San Antonio TX Car Insurance 
A car insurance policy in the states is essential as it offers numerous benefits to the policy holder. Firstly, it provides financial protection in case of accidents, theft, or damage to the vehicle. The policyholder can claim compensation for the damages incurred, which helps in reducing the financial burden. Secondly, car insurance also covers medical expenses in case of injury to the driver or passengers during an accident. This can help alleviate the stress and worry of costly medical bills. Additionally, some car insurance policies also provide additional coverage for roadside assistance, rental car reimbursement, and personal liability protection. With car insurance, the policyholder can enjoy peace of mind while driving, knowing that they are protected in case of any unexpected events.
Driving Conditions in San Antonio
San Antonio ranks among the top U.S. cities for traffic congestion, with 11 of its roadways — including the stretch of North Interstate 35 from Northeast Loop 1604 to Northeast Loop 410 and the stretch of Interstate 35 and Interstate 10 in the downtown area from U.S. 281 to U.S. 90 — as the worst at peak traffic time. 
In 2021, San Antonio's average annual car insurance premium for full coverage is $1,501, which is nearly 5.9% more than the annual statewide average of $1,415.
How Many Fatal Accidents Happen in San Antonio?
Texas law enforcement officials reported 1,764 fatal crashes that resulted in 1,867 deaths in 2019. That same year, San Antonio reported a total of 144 fatal crashes that resulted in 145 deaths, according to statistics from the Texas Department of Transportation.
Of those 144 fatal crashes that occurred in San Antonio in 2019, 45 were alcohol-related, with blood-alcohol levels exceeding the legal limit. DUI crashes actually resulted in 45 deaths, which is roughly 10.5% of the 428 crashes that occurred throughout Texas in 2019.
How Are the Road Infrastructure and Bridges in San Antonio?
Four interstate highways — I-10, I-35, I-37, and I-410  —  connect the San Antonio area to neighboring counties, including Bexar, Guadalupe, Kendall, and Medina. Area residents also have access to four U.S. highways, five state highways, and several other roadways that connect the San Antonio metropolitan area to cities and towns on the outskirts.
The City of San Antonio Public Works Department handles infrastructure repair and replacement work, including maintenance of city streets and drainage.
Among the states it graded in 2021, the American Society of Civil Engineers (ASCE) gave Texas an overall C for its infrastructure. While the ASCE determined that Texas' bridges and public roads deserved a B-, it gave the state's highways and roads a D+ for inadequately distributing the funds and resources needed to keep up with projected growth.
What Are the Penalties for Driving Without Insurance in San Antonio?
Don't mess with Texas, especially where auto insurance is concerned. It's mandatory in the Lone Star State, meaning drivers must carry the minimum amount of coverage or pay penalties. The first time you're caught driving without coverage, you can expect to pay fines between $175 and $350. That amount rises sharply if you're caught driving without insurance a second time. Fines for second offenders within three years of an initial offense will cost between $350 and $1,000. A repeat offender also risks having their license revoked and their vehicle impounded.
How Much Does Car Insurance Cost in San Antonio?
If you're a driver living in San Antonio, you should expect to pay around $1,501 per year for full coverage car insurance. Compared to other major cities in Texas, San Antonio drivers pay around $179 less than drivers in more densely populated cities, like Dallas. With more drivers taking to the road every passing year, consumer protection laws have made Texas car insurance coverage options among the best in the U.S.
| City | Average Annual Premium |
| --- | --- |
| San Antonio | $1,501 |
| Dallas | $1,680 |
| Fort Worth | $1,446 |
| Houston | $1,671 |
| Arlington | $1,508 |
When an insurance company calculates your car insurance rate, it typically relies on two factors: your zip code and your age. Where you live, how many car crashes occur in your neighborhood, how many people live in your neighborhood, and area crimes all impact your annual car insurance premium.
As far as age is concerned, experience on the road matters. Young drivers who haven't had much time behind the wheel will typically pay a higher rate than older drivers who have several years of driving experience.
San Antonio Car Insurance Rates by Zip Code
The San Antonio area has 192 zip codes, with rates varying across several risk factors. For example, drivers who live in Somerset, Texas–with zip code 78069—pay $530 more for car insurance than those who live in the more rural city of Natalia. Both cities are in the San Antonio metropolitan area and are relative in size, with roughly 375 more people living in Somerset.
Around 1,965 residents live in Somerset with median household incomes at around $30,268, and 1,590 live in Natalia with median household incomes at around $22,557.
The main roads that cut through Natalia are State Highway 132 and Farm to Market Road 471. By contrast, while a large swath of Somerset is rural, it is much larger than Natalia, with many more roads cutting through it and a larger concentration of residents living in the city center itself.
The table below lists several zip codes in the San Antonio area and the average insurance rates that drivers living here typically pay.
| ZIP Code | Average Premium |
| --- | --- |
| 78202 | $1,113 |
| 78245 | $1,137 |
| 78230 | $1,088 |
| 78231 | $1,073 |
| 78229 | $1,134 |
| 78207 | $1,126 |
| 78069 | $1,550 |
| 78059 | $1,016 |
| 78250 | $1,147 |
San Antonio Rates by Age
Sometimes, insurers take marital status and gender into consideration when they're trying to determine how much you'll have to pay for a car insurance policy. Most of the time, though, the area where you live and your age are the two most significant factors that drive your rate.
If you live in an area that sees high volumes of traffic or you have a fancy car you park outside in a neighborhood plagued by crime, your rates will likely be much higher than someone who lives in a safer, less-populated area and drives an SUV that's parked inside a garage. Because insurers use a driver's age to gauge driving experience, an older driver will likely pay less than a younger one.
Here's a look at how much San Antonio drivers pay for car insurance based on age. Keep in mind that if you've got a clean driving record with no accidents or tickets during the past three to five years, you will likely pay less for car insurance, too.
| Age | Average Annual Premium |
| --- | --- |
| Teenagers | $3,818 |
| 20s | $1,947 |
| 30s | $1,478 |
| 40s | $1,441 |
| 50s | $1,307 |
| 60s | $1,354 |
| 70s | $1,666 |
Minimum Requirements in San Antonio
In terms of minimum coverage requirements, Texas is an at-fault state, though its insurance requirements make it more of a "comparative fault" state. In Texas, each driver has to take financial responsibility for any crash in which they are more than 50% at fault. For this reason, most Texas drivers carry liability insurance.
Texas Transportation Code §601.072 details the minimum amount of car insurance drivers must carry in the state, which is 30/60/25. That means car insurance coverage must provide:
$30,000 for bodily injury to or death of one person in one accident;
$60,000 for bodily injury to or death of two or more persons in one accident, and
$25,000 for damage to or destruction of property of others in one accident.
Liability insurance compensates a person other than the policyholder for personal injury or property damage. Comprehensive or collision insurance does not meet vehicle financial responsibility requirements.
Discounts for Car Insurance in San Antonio
If you're a San Antonio driver looking to save money on your car insurance policy, you might want to ask your insurer whether they can offer you any discounts. These offers act as a sort of reward, cutting down costs for having an excellent driving record, for example, or customer loyalty. Other discounts reward:
Cheap Full-Coverage Car Insurance in San Antonio, TX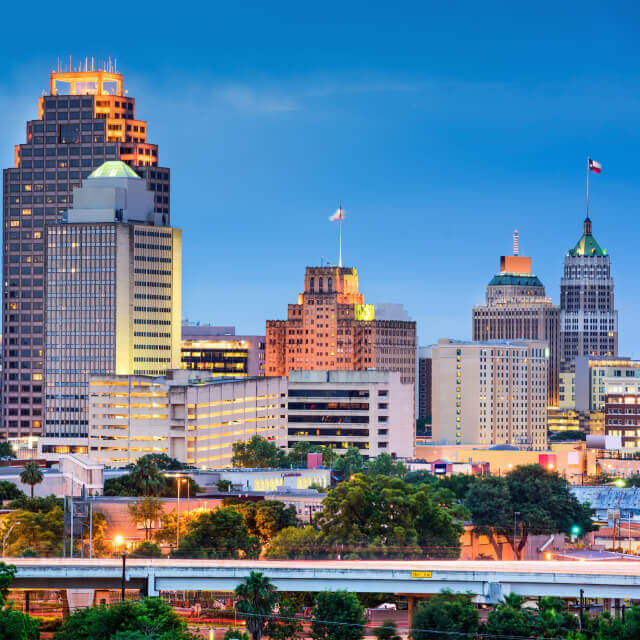 Insurance protects you from all the risks of the road in San Antonio and all across the great state of Texas. Don't wait until your first crash to get the right coverage. By then, it'll be too late. Get a quote from us right now online or by calling us at (800) 777-5620. You can also stop by a San Antonio office. Our agents will be happy to help you out!