McAllen is one of the fastest growing cities in Texas. Centrally located in the Rio Grande Valley, McAllen is just across the border from Mexico and roughly 70 miles from the Gulf.
McAllen is known as the City of Palms for the trees that line its streets. These streets are unfortunately also home to frequent motor vehicle collisions. When accidents happen, having the right liability car insurance could help you avoid financial disaster, that's why it's a good idea to look for the right insurance agency.
Quick Facts
The average cost of car insurance in McAllen is $1,580.
McAllen is home to more than 129,000 residents.
How Much is Car Insurance in McAllen?
On average, the annual cost of auto insurance in McAllen is $1,580. That amount exceeds the average across the state and is slightly above the national average insurance cost as well. The cost of insurance should come as no surprise given the rapid growth the area is experiencing. It is important to remember that this is only the average cost of a policy. Understanding what your Texas car insurance might cost you requires a review of your driving record, zip code, and other factors.
| City | Average Annual Premium |
| --- | --- |
| Dallas | $1,680 |
| Houston | $1,671 |
| Mesquite | $1,638 |
| McAllen | $1,580 |
The factors that could impact the cost of liability insurance are numerous. Some of the most common examples involve your history of filing insurance claims, your age, or your gender.
Despite the potential cost of your policy, it is important to think of car insurance as an investment as opposed to an expense. If you are uninsured when an accident happens, it could leave you in a deep financial hole, and deeply impact your life.
McAllen Car Insurance Rates by Zip Code
Your zip code is an important factor used to determine the cost of your car insurance. The insurance businesses take note of the zip codes that have more car accidents than others. It should come as no surprise that the cost of insurance in these zip codes is higher than average.
In total, seven zip codes make up the bulk of McAllen. The cost of insurance could vary slightly in each one of them.
| Zip Code | Average Car Insurance Rate |
| --- | --- |
| 78501 | $1,601 |
| 78503 | $1,590 |
| 78504 | $1,581 |
| 78539 | $1,570 |
| 78541 | $1,566 |
| 78572 | $1,522 |
| 78573 | $1,500 |
McAllen Car Insurance Rates by Age
Your age is an important factor in the cost of your car insurance. In general, teenagers pay the highest price of liability coverage given their increased likelihood of an accident. These rates generally drop over the years but rise again when a driver reaches their 70's.
| Age | Average Car Insurance Rate |
| --- | --- |
| Teenagers | $3,898 |
| 20s | $2,037 |
| 30s | $1,556 |
| 40s | $1,520 |
| 50s | $1,375 |
| 60s | $1,420 |
| 70s | $1,730 |
Driving Conditions in McAllen
How Many Fatal Accidents Happen in McAllen?
There were a total of six fatal traffic accidents in McAllen during 2019. These accidents involved a total of eight vehicles and seven total fatalities. Two pedestrians were involved in these accidents, and three accidents involved intoxicated drivers.
How Are the Road Infrastructure and Bridges in McAllen?
The rapid growth in and around McAllen has greatly increased the amount of traffic on the road and highways within the city. That said, some of that congestion is due to ongoing efforts to address congested traffic. Some of that congestion comes from an ongoing three-year project to connect I-2 with I-69.
On the state level, Texas received a "C" grade on its 2021 Infrastructure Report Card. This score is higher than the national average. According to the report, Texas gets sterling marks for its bridges with the lowest number of deficient bridges in the country. The same is not true for highways and roads, which are currently overwhelmed with vehicle traffic.
Get a Quote for Car Insurance in Texas Today!
Minimum Car Insurance Requirements in McAllen
Every state has minimum levels of car insurance coverage that drivers must maintain, and Texas is no exception. The levels required in McAllen are higher compared to many other states. State law mandates at least:
$30,000 for bodily injuries per person
$60,000 for bodily injuries per accident
$25,000 for property damage
The state only requires liability insurance coverage, but your vehicle lender may require you to keep full coverage as a condition of your loan.
Factors Allowed in McAllen Car Insurance Rates
Insurance companies use an array of criteria to determine the cost of your car insurance premiums. Some examples include:
Age
Gender
Driving history
Claims history
Type of vehicle
Marital status
Credit score
Zip code
Discounts for Car Insurance in McAllen
What Are the Penalties for Driving Without Insurance in McAllen?
There are often steep penalties associated with driving without car insurance in McAllen. These penalties can increase for second and subsequent offenses. For example, a first-time offender could face a fine of up to $350. Subsequent offenses could result in fines of up to $1,000.
In addition to fines, you could also face the suspension of your driving privileges and a requirement to maintain SR-22 Insurance.
Get a McAllen Car Insurance Quote Today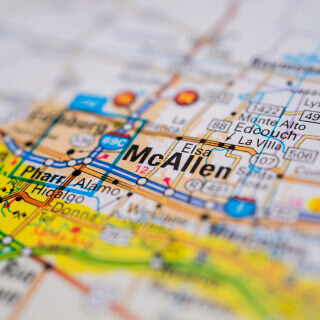 Given the heavy traffic that is common in McAllen, it is always in your best interest to invest in a liability insurance policy. Not only is it required under the law, but it could also protect you and your family from a sudden and unexpected financial hardship as well.
You may find different choices, but Freeway Insurance is your best insurance company option. We are here to help our customers solve all their questions, and find a good policy at the best rates in McAllen, Texas.  Get started with a quote online, or visit us at a McAllen office near you. You can also contact an insurance agent on the phone at (800) 777-5620 for a quote.