Everything You Need to Know About Car Insurance in Mississippi
Pascagoula, Mississippi, is an industrial city located on the Gulf Coast. The metro area is home to more than 382,000 residents, making it one of the larger cities in Mississippi. The name Pascagoula means "bread eater," and is derived from the Native Americans that first settled the area. Over the years, the area changed hands repeatedly while occupied by the English, French, and Spanish before ultimately becoming part of the United States.
Pascagoula also knows severe weather, as it suffered significant damage in 2005 during Hurricane Katrina. The city survived this disaster and continues to thrive. If you live or intend to travel to Pascagoula, now is a great time to learn more about car insurance in Mississippi.
How Much Does Car Insurance Cost in Pascagoula, MS?
In Pascagoula, you can expect to pay an average monthly rate of $224 for full coverage car insurance. This rate is substantially higher than the national average ($140) for full coverage insurance. The least expensive form of car insurance in Pascagoula, MS, is the state-required minimum coverage. This coverage averages around $88 per month, which is close to double the national average of $47 monthly.
Many drivers choose to go with the minimum level of coverage required under state law. However, there are risks with that approach that cannot be avoided. If you cause an accident and the damages are more than your coverage will allow, you can expect to pay out of pocket.
Getting a Free Auto Insurance quote with Freeway is easy!
Why is Insurance Expensive in Mississippi?
The cost of car insurance statewide is quite a bit higher than the national average. Some of the factors at play include:
Higher likelihood of severe weather

Population growth

Low rate of insured drivers

Cost of repairs increasing

High number of personal injury lawsuits
Affordable Car Insurance Rates Comparison by Cities in Mississippi.
See our list below to review average monthly car insurance prices in cities near Pascagoula:
| City | Full Coverage Insurance | Liability Insurance Coverage |
| --- | --- | --- |
| Pascagoula | $224 | $88 |
| Jackson | $164 | $50 |
| Brandon | $149 | $47 |
| Meridian | $146 | $47 |
| Hattiesburg | $146 | $47 |
| Biloxi | $152 | $51 |
| Southaven | $149 | $47 |
Affordable Car Insurance Rates by Zip Code in Pascagoula, MS
Accidents occur more often in some area codes than others. For that reason, living in certain ZIP codes could result in higher premiums. The more accidents that occur in your ZIP code, the higher the cost of car insurance might be.
See our list below for average monthly car insurance prices by zip code in Pascagoula:
| Zip Code | Full Coverage Insurance | Liability Insurance Coverage |
| --- | --- | --- |
| 39567 | $224 | $224 |
| 39568 | $224 | $88 |
| 39581 | $224 | $88 |
Low-Cost Car Insurance Rates by Age in Pascagoula, MS
It is no secret that younger drivers can expect to pay more each month for car insurance compared to older motorists. However, it is also notable that those rates go down as you age and keep a clean driving record. It is also worth pointing out that drivers in their 70s will begin to see those rates climb. This is because younger and older drivers are more likely to be involved in collisions.
See our list below for average monthly car insurance prices by age:
| Age | Full Coverage Insurance | Liability Insurance Coverage |
| --- | --- | --- |
| Teenagers | $436 | $156 |
| 20s | $319 | $111 |
| 30s | $157 | $54 |
| 40s | $150 | $49 |
| 50s | $134 | $42 |
| 60s | $130 | $41 |
| 70s | $138 | $46 |
When determining the cost of car insurance, we use a set methodology to ensure our results are meaningful. We use the following methodology to arrive at our average cost: male driver, age 30, seeking the lowest possible legal coverage allowed by Mississippi law. Your insurance premiums are based on different factors like your age, your gender, your claims history, and the extent of the insurance coverage you opt to purchase.
Driving Conditions in Pascagoula, MS
How Many Fatal Accidents Happen in Pascagoula?
The number of fatal accidents each year in Pascagoula, MS, is low. In 2021, there was only one fatal accident. That was a step down from 2020, which saw a five-year high of five fatalities on Pascagoula roadways. In 2019, Pascagoula only saw one traffic fatality.
How Are the Road Infrastructure and Bridges in Pascagoula, MS?
In Pascagoula, road design and repair are handled by the city public works department. This department is tasked with street repair and smaller paving projects. Infrastructure for nearby highways is handled on a state or federal level.
As a gulf town with multiple rivers nearby, several bridges are located in Pascagoula. These bridges are a target for infrastructure improvements.
Minimum Car Insurance Requirements in Pascagoula, Mississippi
Every state requires drivers to provide proof of financial responsibility, and that is also the case in Mississippi. Before you get behind the wheel, you must carry a minimum level of liability insurance. These policies are designed to pay for any damage you cause if an accident is your fault.
In Mississippi, state law sets out the minimum requirements for liability insurance that comes in the form of bodily injury and property damage liability insurance coverage. The minimum liability coverage required by law includes:
Bodily injury liability coverage: $25,000 per person

Bodily injury liability coverage: $50,000 per accident

Property damage liability coverage: $25,000 per person
These mandates only set the minimum amount of coverage you are required to carry. For most people, a policy that provides more than the state minimum is the best option. This higher coverage comes at a greater cost each month, but it also provides more compensation when accidents happen.
What Are the Penalties for Driving Without Insurance in Pascagoula, MS?
Mississippi law does not carry the same steep penalties that other jurisdictions do when it comes to driving without insurance. If you are found guilty of driving without insurance in Pascagoula, you can expect a fine of up to $1,000 fine as well as possibly having your license suspended. However, you are not at risk of jail time for this offense.
Find an office near you to help with your auto insurance
Factors Allowed in Pascagoula Car Insurance Rates
Insurance companies use different factors when they decide what to charge people for their premiums. Some of these factors include but are not limited to the following:
Driving record

Age

Gender

Zip code

Marital status

Type of vehicle

Credit rating
What's The Best Insurance for Teenagers and Their Families in Pascagoula
It is important to acknowledge that teenagers are generally more likely to cause accidents compared to older adults. Given these higher risks, it is generally a good idea to opt for full coverage instead of the state minimums. When these accidents happen, full coverage prevents a teenager from facing overwhelming debt or the inability to pay for their own medical care.
Discounts for Car Insurance in Pascagoula, MS
For many people, the price of auto insurance is a major concern. The good news is that there are ways to bring those prices down through discounts. While not everyone will qualify for a discount, some potential offerings include the following:
In addition to the discounts listed above, there are also savings based on purchasing different policies from the same carrier. You can save by bundling your car policy with your home insurance. There are also discounts for opting into paperless billing with your insurance carrier.
Get an Online Quote for Low-Cost Car Insurance in Pascagoula, MS, Today!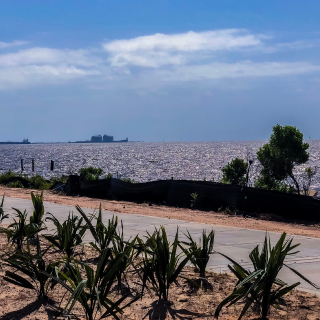 That concludes our guide to auto insurance in Pascagoula. If you are in the market for an auto policy, Freeway Insurance is ready to advise you of your options.
Now is the best possible time to reach out to our team and discuss your coverage options. Get started with a quote online, visit us at an office near you, or call us at (800) 777-5620 at your convenience.
Select a Product or Service to request a quote
Ready to Get a Quick Quote?