Located in northeastern Indiana, Fort Wayne is a small town with big-city charm. Residents and visitors can enjoy all types of attractions, such as the Fort Wayne Museum of Art, the Cathedral of the Immaculate Conception, and the Fort Wayne Children's Zoo. One of Fort Wayne's biggest draws is its location. Major cities such as Chicago and Detroit are located less than 160 miles away, along with Milwaukee (250 miles) and Cleveland (197 miles).
All Fort Wayne drivers are required to carry Indiana car insurance. Keep reading to learn more about car insurance in Fort Wayne, including ways to save money on your next policy.
Quick Facts
There were 27 fatal car crashes in Fort Wayne in 2019.
The population in Fort Wayne is 263,886, according to the U.S. 2020 census.
How Much Does Car Insurance Cost in Fort Wayne, IN?
How much do Fort Wayne residents pay in average monthly premiums? The average monthly premium for full coverage car insurance is $99 a month, which is lower than the national average of $138 a month and slightly lower than the Indiana state average of $105 monthly.
The state-required minimum liability insurance in Fort Wayne averages $39 per month, slightly higher than the $30 for the state and about the same as the U.S. at $40.
Indiana is an at-fault state, which means the driver at fault in an accident will be responsible for the costs associated with the injuries and damages suffered by other drivers and passengers. In many cases, the state-required minimum liability car insurance will not be enough to cover these costs, leaving the at-fault driver with out-of-pocket expenses. The at-fault driver will also be on the hook for his or her own injuries and damages, since the insurance company will not cover those expenses under the minimum liability.
This is one reason many drivers decide to purchase full coverage car insurance, which includes comprehensive insurance and collision insurance on top of the state-required liability.
Check out our breakdown below for other Indiana cities' monthly average car insurance rates:
| City | Full Coverage Insurance | Liability Insurance Coverage |
| --- | --- | --- |
| Fort Wayne | $99 | $39 |
| Indianapolis | $122 | $41 |
| South Bend | $106 | $38 |
| Terre Haute | $112 | $39 |
| Evansville | $113 | $43 |
Fort Wayne, IN Affordable Car Insurance Rates by Zip Code
Each zip code in Fort Wayne has its own average car insurance rates. Thus, even a simple move from one block to the next could see higher or lower rates based on that area's crime rate, thefts, vandalism, and other high-risk factors. Check out our breakdown below for the average car insurance rate per month by zip code in Fort Wayne:
| Zip Code | Full Coverage Insurance | Liability Insurance Coverage |
| --- | --- | --- |
| 46802 | $102 | $37 |
| 46803 | $107 | $39 |
| 46804 | $100 | $37 |
| 46805 | $100 | $37 |
| 46806 | $108 | $38 |
| 46807 | $106 | $39 |
| 46808 | $100 | $37 |
| 46809 | $100 | $37 |
| 46814 | $102 | $37 |
| 46815 | $100 | $38 |
| 46816 | $102 | $37 |
| 46818 | $102 | $37 |
| 46819 | $98 | $36 |
| 46825 | $102 | $37 |
| 46835 | $99 | $37 |
| 46845 | $102 | $37 |
Low-Cost Car Insurance Rates by Age in Fort Wayne, Indiana
Age is a heavy deciding factor when evaluating the cost of premiums. It's no surprise that younger age groups see considerably higher average monthly rates than drivers in their 30s, 40s, and 50s. Young, inexperienced drivers are considered high-risk drivers as a group, but there are steps parents can take to soften the blow of high insurance costs. See more on good-student discounts below.
Check out our breakdown below for the monthly average car insurance rate by age in Fort Wayne:
| Age | Full Coverage Insurance | Liability Insurance Coverage |
| --- | --- | --- |
| Teenagers | $397 | $151 |
| 20s | $114 | $41 |
| 30s | $102 | $37 |
| 40s | $96 | $36 |
| 50s | $89 | $35 |
| 60s | $90 | $36 |
| 70s | $111 | $46 |
Unless otherwise specified, we use the following methodology to arrive at our average cost: male, age 30, lowest possible legal coverage allowed by state. Your rates will be determined by several factors, including your age, your gender and the amount of coverage you want to purchase.
Driving Conditions in Fort Wayne, IN
How Many Fatal Accidents Happen in Fort Wayne?
In 2019, there were 27 fatal vehicle accidents in Fort Wayne involving 41 vehicles and 60 people, including five pedestrians.
How Are the Road Infrastructure and Bridges in Fort Wayne?
With Fort Wayne/Allen County being a major thoroughfare with the I-69 superhighway and I-80/90 roadways, it is no surprise that Fort Wayne has a robust infrastructure program. In late 2021, the City of Fort Wayne's Public Works Division revealed nearly $40 million worth of neighborhood infrastructure improvements slated for 2022.
These neighborhood infrastructure improvements include concrete street repairs, street improvement projects, building trails, chip/seal replacement, and more. In 2021, they constructed over 3 miles of new sidewalks, conducted ADA ramp improvements through the city, and upgraded to five traffic corridors.
Get a Quote for Car Insurance in Indiana Today!
Minimum Car Insurance Requirements in Fort Wayne, Ind.
All Indiana drivers must carry the following minimum coverage as required under Indiana state law:
$25,000 for bodily injury per person
$50,000 for bodily injury per accident
$25,000 for property damage per accident
Do not assume you are appropriately covered with only the minimum required liability insurance. A single major accident could cause more than $100,000 in property damage, causing excessive out-of-pocket costs. We highly recommend seeking a policy with lower deductibles and higher coverage limits for better peace of mind.
Factors Allowed in Fort Wayne Car Insurance Rates
Besides your driving history at the top of the list, Indiana car insurance companies take all kinds of factors into consideration to help determine your monthly car insurance premiums.
Here are some of the more popular factors:
Age
Gender
Zip code
Annual miles driven
We highly recommend calling your insurance carrier if you move, get married, or plan to reduce the number of miles driven this year. People who work from home are also considered lower risk drivers than daily commuters due to less mileage driven and better avoidance of driving hazards.
Discounts for Car Insurance in Fort Wayne, Indiana
Asking your insurance carrier for discounts is an excellent way to save money on car insurance. Nowadays, there are many common discounts available to drivers, including but not limited to, the following:
Insurance carriers even offer discounts for adding safety features to your vehicles, such as automatic seat belts, anti-theft devices, or rear seat airbags. To find out what discounts you qualify for, be sure to call your insurance carrier.
What Are the Penalties for Driving Without Insurance in Fort Wayne, IN?
Penalties for driving without auto insurance in Fort Wayne are very steep.
First-time offenders can expect a $250 reinstatement fee and a 90-day driver's license suspension by the Indiana Bureau of Motor Vehicles (BMV), along with a possible 1-year suspension of their registration.
A second offense doubles the reinstatement fee to $500 and a 1-year driver's license suspension. Third and subsequent offenses face a $1,000 reinstatement fee and a 1-year driver's license suspension.
All three levels will require drivers to file for an SR-22 certificate, which proves they have the minimum required auto insurance. Filed by your insurer, SR-22s remain on file for three years, starting from the first day of your suspension. Anyone required to file an SR-22 is considered a risky driver and will most likely be paying high-risk car insurance prices.
Note, all Indiana drivers pulled over by law enforcement are expected to present valid proof of insurance.
Get an Online Quote for Low-Cost Auto Insurance in Fort Wayne Today!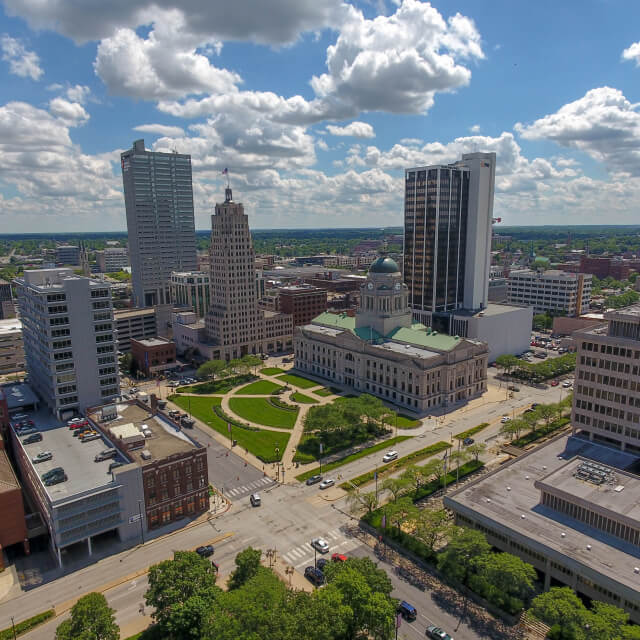 With tons of knowledge about Fort Wayne car insurance under your belt, it's time to get the policy you and your family deserve.
To learn all of your options, request a fast and free car insurance quote online or visit a Fort Wayne office near you. Of course, you may also call 800-777-5620 to speak with one of our friendly representatives.
Select a Product or Service to request a quote
Ready to Get a Quick Quote?