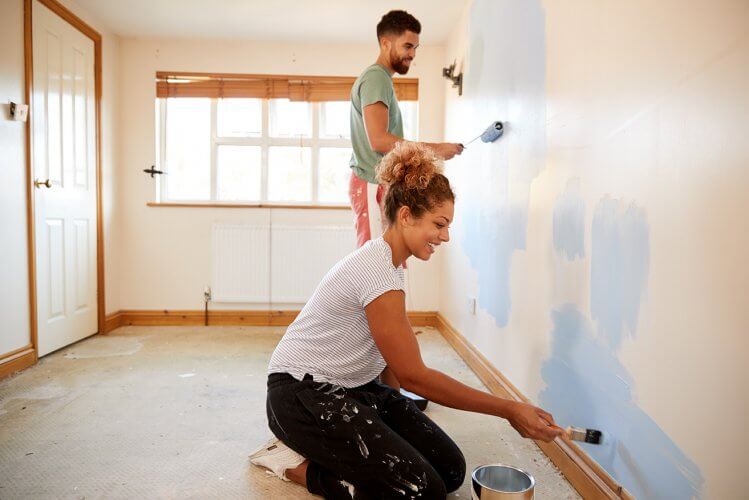 There are hundreds, maybe thousands of things you can do to improve your home. However, not everyone has the time, money, or skills to get it all done. That's why we've compiled six super simple home improvement tips you can do yourself.
1. Add a Fresh Coat of Paint
One of the easiest ways to brighten up a room or give your space a new look is with fresh paint. Architectural Digest breaks this process down to choosing your color first. Next, pick out your tools and materials then, based on the space, determine how much paint you'll need. After that, you'll want to prep the walls of your room by clearing away furniture, removing nails, and taping edges. Next, it's time to mix your paint and start painting!
2. Update Your Lighting
This is easier than you might think. Many places have harsh, fluorescent lighting, especially in kitchens. Switching just your light bulbs to a softer white or yellow rather than a harsh daylight bulb will soften your home. Be sure to opt for LEDs so that your new bulbs last for a long time.
Another way to maximize your home's inner glow, according to moving.com, is to install dimmers in place of existing light switches so that you can set the brightness in each room depending on your mood and the time of day.
3. Add Life with Plants
Bringing the outside in is a cheap and easy way to add life to your home — literally! Better Homes & Gardens says that decorating with houseplants adds greenery and freshness to your space. It turns out, plants produce extra oxygen through photosynthesis and can actually help reduce stress.
BH&G recommends arranging plants in groups of three and choose different sized plants when grouping. You'll want to include plants with different colors and lots of fun pots as well. But, most of all, don't forget houseplant care. If a plant needs more or less sun, you'll want to make sure it's in the perfect spot so it can thrive. Check out these tips for updating your outdoors as well.
4. Properly Hang Curtains
Hanging your curtains the right way can make your home look bigger and instantly more luxurious. For a pro look, curtains should puddle slightly or just graze the floor. You'll want to hang floor-length drapes six to twelve inches above the window frame or all the way to the ceiling and extend your curtain rod out three to six inches on each side.
5. Install Under-Cabinet Lighting
This tip will add convenience and class to your kitchen and bathroom. You can add inexpensive lighting under both your top and bottom kitchen cabinets. It gives soft light to areas that could use some visibility at times when you don't want all the bright lights on in your kitchen or bathroom. They even have rope lights that can stick directly under your cabinet and are motion-activated!
6. Get Clutter off the Floor
Hooks are easy to find at any home store, and they should be installed at each door in the house. By screwing in a few hooks by the door, clutter like bags, jackets, and umbrellas can have a special spot that's not on the floor! Kick it up a notch with some decorative baskets for shoes and such as well.
With these six tips, you can improve your home simply and by yourself. What you can't do all by yourself is protect your home in the event of an emergency. Freeway Insurance homeowner insurance provides a safety net for you and your family when unfortunate events such as theft, fire, or flood happen. Our licensed insurance experts can help you select the right coverage to protect your home and personal property.
To learn more about our different types of homeowners insurance, request a free homeowners insurance quote online or call (888) 443-4662 to speak to an insurance expert. We're available to answer your questions about insurance and help you find a policy that fits your budget.
Ready to Get a Quick Quote?