How Much Is Car Insurance for a Ford Taurus?
The average annual car insurance premium for a Ford Taurus is $1,628 a year for full coverage.
A full coverage policy consists of liability, collision, and comprehensive coverage, covering the cost of injuries and damages to other drivers, vehicles, and your own vehicle and passengers up to specified liability limits.
If you are having difficulty understanding all of the options available to you, Freeway Insurance is ready to step up to the plate and offer affordable policy options for you and your family's peace of mind on the road.
Getting a Free Auto Insurance quote with Freeway is easy!
Comparing Insurance Costs for a Ford Taurus to Other Vehicles
There are many reasons why Ford Taurus drivers pay a different premium than Dodge Charger, Toyota Avalon, Nissan Maxima, and Chrysler 300 drivers. In addition to vehicle-specific characteristics like recall record and safety features, don't forget age, gender, driving history, and selected liability limits and deductibles as reasons for any rate disparity from policyholder to policyholder.
Types of Car Insurance Coverage for a Ford Sedan
Freeway Insurance offers several types of policies, including state minimum liability and full coverage.
The main difference between state minimum liability and full coverage is their extent of protection. The first only offers third-party benefits, paying for the cost of damages or injuries sustained by other passengers in an at-fault accident you cause. In turn, full coverage provides first- and third-party benefits, covering the cost of damages and injuries to you, your vehicle, and your passengers up to specific liability limits.
Full Coverage
The term "full coverage" describes a policy that combines liability, collision, and comprehensive coverage.
Drivers may also choose to add optional protections like roadside assistance, rental car reimbursement, personal injury protection (PIP), and uninsured/underinsured motorist coverage. Although not required in most states, these extra options typically cost several more dollars a year and can provide greater peace of mind after an accident.
As full coverage typically combines first-party benefits like damage protection (collision/comprehensive) and liability, expect to pay several hundred dollars more per year than a state minimum liability policy. With collision and comprehensive coverage, insurance will cover the cost of repairing or replacing your vehicle minus your deductible, usually anywhere from $200 to $2,000.
State Minimum Liability
All Taurus drivers must have an active auto insurance policy with at least liability-only benefits in the form of bodily injury and property damage protection.
Every state has its own required liability limits. For example, Mississippi requires that all drivers carry a minimum of $25,000 in bodily injury liability per person, $50,000 in bodily injury liability per accident, and $25,000 in property damage per accident.
Although uninsured/underinsured motorist coverage is not required in Mississippi, we highly recommend carrying it if you live there or even if you don't (assuming your state does not require it). According to the Insurance Information Institute (III), Mississippi leads the nation in the estimated percentage of uninsured drivers at close to 30% (2019).
If you can afford it, we highly recommend carrying a policy with liability limits well above your state's required minimums. For example, the average cost of a new vehicle is now over $40,000. That means a sideswipe or rear-end collision can easily result in $35,000 worth of damage, which could eclipse some state's minimums for property damage liability, forcing you to pay out of pocket to cover remaining expenses.
Individual Factors That Influence Pricing for the Taurus
Many factors influence the pricing for Ford Taurus drivers. These include your age, zip code of residence, and selected coverage limits/amount of deductible.
Age
One of the most significant deciding factors with your premiums is your age. Younger drivers can expect to pay much higher premiums than older drivers, thanks to a lack of driving experience and a higher likelihood of getting into accidents.
Zip Code
Every zip code has a different accident, theft, vandalism, and crime rate, all of which are risk factors with all insurance companies.
Your Policy
Lastly, remember how your policy is structured. Suppose you have a low deductible and high liability limits (say, a $500 deductible and a 100/300/100 policy). In that case, you can expect to pay higher premiums as more of the risk for future claims payouts is being passed on to the insurance company.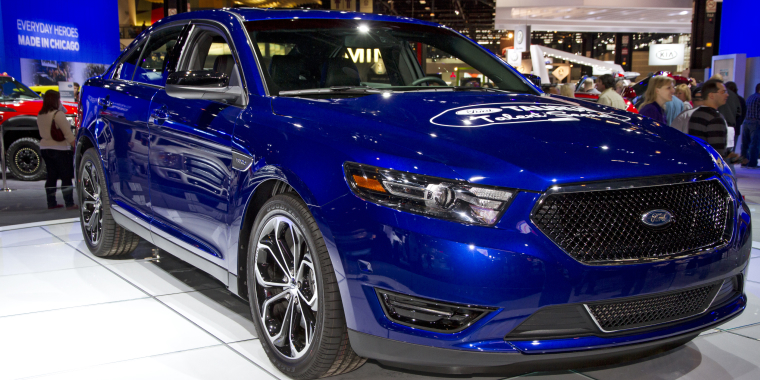 How Does a DUI Affect Insurance Rates for Ford Drivers?
Unfortunately, getting a DUI can double or triple your premium, depending on the severity of the offense. However, this is only one consequence.
For starters, a single DUI conviction could force a policy cancellation or non-renewal by your insurance company, forcing you to seek a new insurance provider specializing in cheap DUI insurance. Additionally, you may be required to file an SR-22 form, a certificate of financial responsibility that lets the state know you are carrying the necessary liability coverage. Expect to pay additional fees for the privilege of filing.
Thirdly, any previous discounts you may have been eligible for are now out the window. These include safe driving and good student discounts. If you are bundling (say, auto and homeowners insurance), you can expect increased rates or loss of coverage for those other types of policies.
Do not underestimate the long-term financial consequences of a DUI conviction. On top of a suspended driver's license and registration, expect to pay fines, administrative fees, court costs, and even potential legal costs depending on you versus third parties looking to recover the cost of damages if you are inadequately insured.
What Are Some Car Insurance Discounts for a Ford Taurus?
Drivers may be eligible for many auto insurance discounts. Two of the more popular ones include safe driver and multi-policy (" bundling") discounts, which reward policyholders with clean driving records for the past three to five years, as well as those that purchase two or more policies under one roof.
Other types of discounts available to Ford Taurus drivers include but are not limited to:
Risk-proofing your vehicle by installing anti-theft devices, anti-lock brakes, automatic seat belts, daytime running lights, and even VIN windshield etching could all qualify for a safety feature discount.
Completing an approved driving course could net you a defensive driving discount, which lets insurers know that you are interested in learning more about safe driving practices.
Opting for electronic delivery of all documents (including bills) and enrolling in automatic payments (as opposed to manually issuing payment every month) could earn you an autopay and paperless billing discount.
If you want to stay on top of the latest auto insurance discounts you may qualify for, we recommend calling your insurance provider every six months (or as your life circumstances change).
Find an office near you to help with your auto insurance
What Are Some of the Characteristics of the Ford Taurus?
This is a vehicle in the large car segment, discontinued after the 2019 model year.
It is available in four trims (SE, SEL, Limited, and SHO) with two engine options — a base 288 horsepower, 3.5-liter V6 and a 365 horsepower 3.5-liter twin-turbo EcoBoost V6 engine.
Standard features include a 4.2-inch display, a single USB port, a six-speaker stereo, and the basic SYNC connectivity system. Upgrading to the highest-level trim, SHO, throws in a sport-tuned suspension, rain-sensing windshield wipers, 12-speaker Sony stereo, and steering wheel-mounted shift paddles.
Main competitors are the Toyota Avalon, Chevrolet Impala, Chrysler 300, and Nissan Maxima.
Find the Best Car Insurance Rates Online for the Ford Taurus Today
If you want to explore a new affordable auto insurance policy, Freeway Insurance is ready to help you.
There are three ways to contact Freeway Insurance. The first is to visit us online for a quick quote, at an office near you, or by calling 800-777-5620 to receive a free no-obligation consultation with one of our friendly service agents. We look forward to your call!