How Much Is Car Insurance for a Chevrolet Express?
The average annual premium for a Chevrolet Express auto policy is $1,516 for full coverage and $442 for minimum liability coverage.
Two of the most popular types of coverage are state minimum liability and full coverage. They protect against many scenarios, paying out claims up to specified limits, resulting in less out-of-pocket costs for policyholders. Purchasing either will help you remain in compliance to drive legally in your state.
Freeway Insurance will help you explore any questions about our affordable policies. Let's find the right option in line with your needs and budget.
Getting a Free Auto Insurance quote with Freeway is easy!
Comparing Insurance Costs for a Chevrolet Express to Other Vehicles
If you drive a Chevrolet Express, do not expect to pay the same premium as a Ford Transit, Ram ProMaster, and Mercedes-Benz Sprinter driver. That's because premiums vary depending on your age, gender, type of vehicle, and vehicle-specific characteristics like theft rates, recall record, depreciation rate, number/type of safety features, engine type, body style, and much more.
| Make/Model | Annual Full Coverage Insurance |
| --- | --- |
| Chevrolet Express | $1,516 |
| Ford Transit | $1,654 |
| GMC Savana | $1,656 |
| RAM Promaster | $1,712 |
| Mercedes Benz Sprinter | $1,616 |
Types of Car Insurance Coverage for a Chevrolet Express
Chevrolet Express drivers can benefit from several insurance options, including state minimum liability and full coverage.
Full coverage offers third-party benefits through liability, collision, and comprehensive.
Full Coverage
A full coverage policy generally includes the following: liability, collision, and comprehensive coverage. Liability pays for medical bills, lost income, and legal expenses for injured parties in an accident where you are determined to be at fault.
In turn, collision and comprehensive protect against vehicle-to-vehicle collisions, theft, vandalism, falling tree limbs, and rollover collisions.
Although not specifically mentioned as part of a full policy, Chevrolet Express drivers can purchase add-ons for greater peace of mind, such as rental car reimbursement and roadside assistance.
State Minimum Liability and the Chevrolet Express
Every state requires its drivers to carry state minimum liability or the least amount of legal auto coverage to drive. These requirements are typically expressed as three numbers, such as 25/50/10.
For instance, in Delaware, every driver must carry a minimum of $25,000 in bodily injury per person, $50,000 in bodily injury per accident, and $10,000 in property damage liability per accident. Delaware drivers are also required to carry $15,000/$30,000 in Personal Injury Protection (PIP) to help with immediate medical bills.
However, these limits are very low in the case of a severe accident. Considering the average cost of a new vehicle, which is usually somewhere between $25,000-$50,000, Delaware's minimum for property damage would not cover a total loss. If you only carry this type of coverage and experience such an accident, you will incur significant out-of-pocket costs.
Individual Factors That Influence Pricing for Chevrolet Passenger Vans
Outside of age, gender, and location, many other factors influence auto insurance pricing for drivers, including policy limits, deductible amount, and driving record.
Limits
Remember your coverage limits. The higher your limits, the higher your premiums, as you have more financial protection in case of an accident, resulting in fewer out-of-pocket costs for you.
Deductible Amount
One way to lower your premiums is by choosing a higher deductible. The higher your deductible, the less money your provider will pay out in claims. On the other hand, a lower deductible means the opposite—the insurance company is responsible for a larger portion of the claim—so you should expect higher premiums.
Driving Record
Do you have a blemish-free record with no at-fault accidents, claims, or traffic infractions in the past three to five years? If so, you likely qualify for reduced rates and a good driver discount.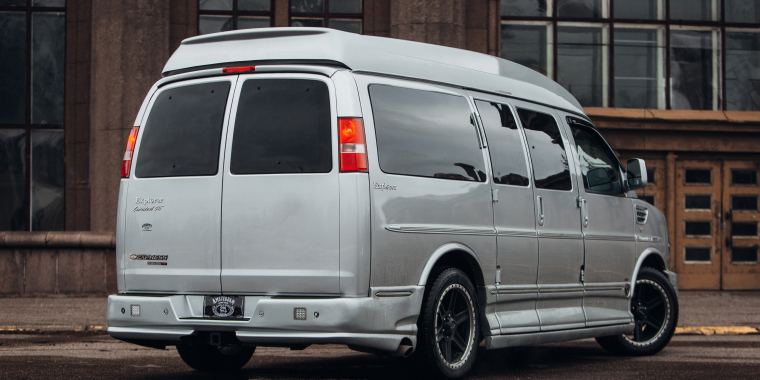 How Does a DUI Affect Insurance Rates for a Chevy Express?
Driving under the influence (DUI) is a terrible idea. It has a significant impact on auto premiums and carries many other consequences.
First, you can expect higher premiums to cover potential claims. As a newly classified high-risk driver, your provider perceives you as more likely to be involved in future accidents. Additionally, you will be required to file for an SR-22, a document that informs the state that you have the mandated minimum liability.
Second, you should be aware that any good driver discounts may no longer apply to you. To be eligible for such discounts, you must maintain a clean driving record, and a DUI conviction will immediately revoke your status.
Lastly, your company may be reluctant to renew or adjust your policy after a DUI conviction. In severe cases, they may even terminate your policy altogether. You may be forced to shop around for cheap DUI car insurance.
What Are Some Car Insurance Discounts?
If you want to enjoy policy savings, we recommend being eligible for or enrolling in discount opportunities. Two that help you save the most are good driver and multi-policy discounts. Good driver discounts are awarded to drivers who maintain clean driving records for a specific period, and multi-policy deals offer some savings in exchange for purchasing two or more policies under the same provider.
You may also want to take advantage of the following discounts if your insurer offers them:
Low Mileage Discount. This discount is awarded for driving less than the average yearly mileage. The less you drive, the lower the risk of accidents, reducing the likelihood of filing a claim.
Payment Discounts. You can receive a small discount if you choose to pay your annual premium upfront, sign up for automatic payments, or enroll in paperless billing.
Usage-Based Discounts. Also known as telematics programs, usage-based discounts reward you for installing a Bluetooth-picking device or a similar device in your vehicle to monitor your driving behavior. Acceleration, time of day driven, and other metrics are transmitted to the insurer, who will adjust your premiums accordingly. The safer you drive, the lower your premiums.
Find an office near you to help with your auto insurance
What Are Some of the Characteristics of the Chevrolet Express?
This is a vehicle in the passenger van segment.
It comes with a choice of two engines, a 4.3-liter V-6, and a 6.6-liter V8, with the latter producing 401 horsepower and 464 pound-feet of torque.
Standard features include Wi-Fi compatibility, Sirius XM Satellite Radio, a CD player, and a 6.5-inch color touchscreen with a navigation system. It also has several driver assistance features like blind spot monitoring, lane departure warning, and forward collision warning.
Main competitors are the Ford Transit, Mercedes-Benz Sprinter, and the RAM ProMaster.
Find the Cheapest Online Car Insurance for Chevrolet Express Today
An affordable auto policy that they are comfortable with is a benefit all Chevrolet Express drivers should enjoy.
Freeway Insurance will help you learn more about this important topic. To request a quote, visit us online, call 800-777-5620, or stop by one of our offices to speak with one of our agents, who will be more than happy to help you explore your options. Give us a call today!