What is Liability Car Insurance in Texas?
Liability car insurance is intended to help you pay for any damages or injuries you cause if you are at fault for a car wreck. Almost every state requires some form of liability auto insurance and Texas car insurance rules are no exception. The required liability insurance in Texas consists of two parts: bodily injury liability coverage and property damage liability coverage. The state‑required minimum coverage, when combined with a good driving record and car insurance discounts, is the cheapest liability car insurance in Texas.
Texas requires drivers to prove their financial responsibility in order to drive. They will need to show insurance coverage when involved in an accident, when a police officer requests proof, or renewing vehicle registration. So, keep a copy of your insurance with you at all times.
At Freeway Insurance, we have the ability to research many different companies for you and come up with several options that fit your budget.
How Much is Liability Car Insurance in Texas?
The state average for the minimum liability insurance coverage in Texas is $665 per year – or $55 monthly. This amount is about $100 more expensive than the national average cost at $565. Your insurance cost in Texas will be based on several unique factors, such as:
Your age
Your driving history
Where you live in Texas, including your zip code
What kind of car you drive
Obviously, a mature driver with a sparkling clean driving record who lives in a less congested area and drives a Toyota is going to get the cheapest car insurance in Texas. Insurance company underwriters look at these factors to determine the risk the insurer takes when they write you a policy.
If you are young and don't have much experience behind the wheel, the odds are not in your favor as far as finding inexpensive insurance for a teen driver. Similarly, if your driving record is littered with tickets, accidents or even worse, a DWI, you'll be lumped in with high‑risk drivers and the insurance company will charge you more. If your DWI results in the need for SR-22 insurance, your premiums may double or even triple.
If you live in congested metropolitan areas or major cities, such as San Antonio or Fort Worth, where claims are high for accidents, car theft and vandalism, you'll see higher auto insurance rates. There could be quite a difference between your insurance premium and someone who lives in a rural part of Texas. Males will typically pay more than female drivers. Singles will pay more than married couples. There are quite a few factors insurance carriers take into account.
What is the Minimum Liability in Texas?
In Texas, legal requirements for car insurance coverage are:
These are the minimum coverage requirements for Texans on the road.
Driving Without Insurance in Texas
Many states have penalties for driving without insurance and Texas law is no different. You won't go to jail in Texas for driving without the minimum requirements for car insurance, but you will face some costly fines. Drivers who are first‑time offenders driving without insurance will pay fines of $175‑$350 and additional fees and any penalty assessments. You will also pay an additional $250 annually for three years to renew your license. That's an additional $750 on top of your fines.
If you are found to be driving without insurance within three years of your first conviction, you could be looking at a fine of $350‑$1,000 and penalty assessments, including annual surcharges of $250 for three years. This second violation could total up to $1,750.
For drivers looking to avoid those fees, which can amount to much more than the insurance premiums, the best way is to make sure you are carrying the appropriate amount of car insurance at all times. Don't get caught driving without insurance in Texas. At Freeway Insurance, our agents are licensed and bilingual and can help you find the insurance that fits your budget and needs.
How to Get Cheaper Auto Insurance Rates
There are many different ways to save money on your car insurance quote, including with discounts and ways to structure your policy. For example, if you choose a higher deductible, you will have more affordable car insurance on a monthly basis. Just keep in mind that if you do file a claim, you'll be expected to come up with that deductible. Here are some discounts you can use to get cheap car insurance:
Good drivers: A good driver discount is one of the best ways to get a cheap car insurance quote in the state of Texas. This generally applies to people who have not received a speeding ticket or other violations or been in accidents in 3-5 years.
Bundling: When you combine more than one policy with the same insurer, you will likely get a nice discount.
Senior drivers: There is a discount for seniors, but you may have to take a defensive driving course first.
Remember to always inform your insurance agent of any changes, since it could result in a discount.
Is the Minimum Liability Auto Insurance in Texas Enough Protection?
No. At the very least, you should take the uninsured motorist coverage in case you get hit by a driver who has no insurance or a hit‑and‑run driver. This coverage will not add much additional cost to your premium – about $50‑$75 annually.
Some other protections you should consider include:
Full Coverage Policy
A full coverage policy includes the Lone Star State required minimum, plus collision coverage and comprehensive coverage. Collision coverage kicks in to help you pay for repairs to your vehicle in the event of a car accident collision, whether that's a one-vehicle rollover, a run-in with somebody's mailbox or a crash between two or more autos.
Comprehensive coverage helps you pay for repairs (or replacement) if your ride receives damage to things like a hail or wind storm, falling objects, vandalism or outright theft.
Medical Coverage
In Texas, PIP helps pay for costs associated with injuries after a car accident, such as medical bills. PIP is in addition to your regular health insurance. Texas law requires your insurance agent to offer you this type of coverage and you must decline it in writing.
Roadside Services
Even though in many cases this is included with your full coverage policy, you should check to make sure you have it.
Will My Credit Score Increase My Car Insurance?
The insurance industry changes from year to year, but some things remain the same. One thing that is undergoing a shift is the reliance of the industry on credit scores to determine someone's risk of filing a claim. In some states, a poor credit score can be used to increase your rates. Insurers like to point to studies that profess to show those with poor credit are at a higher risk of accidents. Changes are coming however, and today several states do not allow your credit score to be used against you.
That said, your credit score can affect many places in your life, including your ability to buy a vehicle. Young adults should take care to start using credit responsibly early on so they can get the best deal on purchases down the road.
Get a Custom Liability Auto Insurance Quote Online in Texas Today!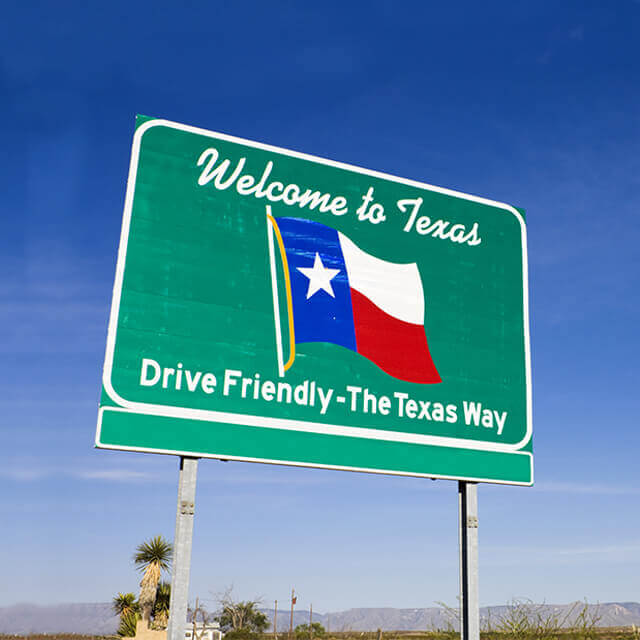 Having a good insurance policy in Texas means you won't find yourself with substantial medical expenses and car repair bills that often result from collisions. Freeway is here to help you find a cheap liability auto insurance. Get started with a quote online, visit us at a Texas office near you, or call us at 800‑777‑5620 for a quote.