Looking for the best cheap car insurance in Reno? Only 22 miles away from Lake Tahoe, Reno rests on the Nevada-California border. Commonly referred to as "The Biggest Little City in the World," Reno sees extensive tourism due to its casinos and its proximity to California. As a result, Reno drivers are in need of good car insurance coverage.
Reno is the second-largest metro area in its state, but it retains its small town feel despite the heavy tourism. In addition to casinos, the city has a host of other attractions and cultural landmarks, including the Nevada Museum of Art. 
In this blog, we'll explore the top choices for affordable car insurance in Reno, helping you make an informed decision and ensuring you get the protection you need without breaking the bank. Whether you're a new driver or a seasoned one seeking to save on premiums, our comprehensive guide will provide you with valuable insights and tips to find the best car insurance companies that suit your driving needs in Reno. 
When looking for auto insurance, it is important to consider factors such as affordable options and collision coverage. By comparing the average costs in the area, you can make informed decisions on the best car insurance in Reno for your needs. We're here to help!
Quick Facts
Reno has a population of over 260,000

The city of Reno had 15 fatal crashes in 2019. This represents 5% of the

total 285 fatal crashes in the state

.

Nevada car insurance

is required for all residents who drive. Don't take the risk and get caught driving, much less an accident, without it.
How Much is Car Insurance in Reno, Nevada?
On average, the cost of full coverage car insurance in Reno is $2,160/year. While this amount is below the state average of $2,246, it is higher than the national average of $1,674. This should not come as a surprise, given that Reno is a major population center in the state. Keep in mind that the specific cost of your Nevada car insurance policy will depend on a number of other factors.
The state-required minimum care insurance in Reno, Nevada averages out to $648 annually, which is lower than the state's  average of $860 per year and higher than the national annual average of $564. For example, you can see by the table below that where you live in Nevada has a bearing on how much your car insurance will cost.
| City | Average Annual Premium |
| --- | --- |
| Las Vegas | $2,640 |
| Henderson | $2,312 |
| Carson City | $1,736 |
| Reno | $1,733 |
It is helpful to know that your car insurance could protect you financially in case of an accident. If you are at fault for the crash, your liability coverage could fend off legal claims by the other driver. You could also reduce the cost of your monthly premiums in a number of ways, keeping this vital insurance within your budget.
Low-Cost Reno Car Insurance Rates by Zip Code
It might come as a surprise to you, but your zip code could have an impact on the cost of your car insurance. Accidents are more common in some zip codes than others, and insurance for drivers living in those zip codes could be higher.
In total, Reno has 27 zip codes, and the cost of insurance could vary across each of them. Understanding what your insurance might cost in each zip code could help you identify what to expect from your quote.
| Zip Code | Average Monthly Full Coverage/State Minimum Car Insurance Rate |
| --- | --- |
| 89557 | $162/$47 |
| 89512 | $178/$53 |
| 89501 | $180/$54 |
| 89502 | $177/$53 |
| 89431 | $177/$52 |
Reno Affordable Car Insurance Rates by Age
The statistics make it clear that there is a correlation between the age of a driver and the likelihood of an accident. For that reason, some age groups, such as teen drivers and young drivers, are likely to pay higher rates for auto insurance compared to older, lower risk drivers, since they are considered higher risk. 
The average cost of car insurance in Nevada drivers can change based on a variety of factors, including the driver's age, driving record, type of vehicle, credit score and more. To determine the best coverage options and auto insurance rates, it's always a good idea to consult with an agent who can provide advice and help you compare different policies.
| Age | Average Monthly Car Insurance Rate for Full Coverage/State Minimum |
| --- | --- |
| 18 | $606/$198 |
| 20 | $362/$112 |
| 30 | $162/$47 |
| 40 | $157/$46 |
| 50 | $152/$45 |
| 60 | $149/$45 |
| 70 | $164/$52 |
Driving Conditions in Reno
How Many Fatal Accidents Happen in Reno?
In 2019, there were a total of 15 fatal accidents in Reno. Two of those involved speeding and seven involved pedestrians. Fifteen people were killed and 39 people were involved.
How are the Road Infrastructure and Bridges in Reno?
Reno is growing, and its infrastructure needs are growing along with it. Due to its heavy traffic, it should come as no surprise that road projects are a constant in Reno. The city has a number of capital projects expanding roads, bridges, and pathways.
On the state level, in 2019 Nevada received a C grade on infrastructure. While this is an improvement from years past, issues regarding decaying infrastructure remain. This is especially true in the communities outside of Las Vegas.
Get a Quote for Car Insurance in Nevada Today!
Minimum Car Insurance Requirements in Reno
State law governs the minimum car insurance requirements in Reno. Because Nevada is known as an "at-fault" state, drivers who cause an accident will be responsible for the other driver's injuries and damage. Your minimum required insurance will pay the other driver up to your policy limits and you will be responsible for the rest. Your minimum liability coverage will not pay for your damage or injuries. In Nevada, the minimum levels of coverage are:
$25,000 in bodily injury per person
$50,000 in bodily injury per accident
$20,000 in property damage per accident
There are other types of coverage besides liability, and you might be required to purchase them by your lender. As a condition for a loan, your lender might require that you maintain full coverage on your vehicle so that your own damages will be covered.
Factors Allowed in Reno Insurance Rates
There are numerous rating factors your insurance company could use to set your insurance premium. When determining your cost, the company will consider all these factors and increase or decrease your premiums as applicable. Some of these factors include:
Your age
Your gender
Your zip code
The type of vehicle you drive
Your claims history and driving record
Driving in Reno: Beware of Winter
Mountains and harsh roads can abound in Nevada, so it's important to take into account if your route includes dangerous routes. In Reno, winter can be particularly harsh, affecting highways and sometimes even resulting in temporary closures. You should drive carefully and be cautious of:
Limited visibility

Black ice

Snow removal equipment
Prevent having a hard time on the road and winterize your vehicle if the season demands it. Roadside assistance is also a great ally on dangerous roads. Snow periods in Reno can last up to 4.5 months, from November to March. Historically, January tends to be the month with the most snow, with up to 3.5 inches. Remember to always check both weather and highway conditions before a trip!
Discounts for Car Insurance in Reno
There are numerous ways that you could save money on car insurance in Reno. The best option for saving money is by taking advantage of the discounts available to you. These discounts could include:
What are the Penalties for Driving Without Insurance in Reno
There are notable penalties for driving without a license in Reno. Insurance companies, or insurers, are required to report all new policies, cancellations, and lapses in coverage to the state. You may also receive a citation from a police officer if you are caught driving without insurance in Nevada.
A one-day lapse in coverage will result in a suspension of your vehicle registration. You will receive a certified letter from the state letting you know your registration is suspended. Penalties include a reinstatement fee of:
$250 for the first offense

$500 for the second offense

$750 for the third offense
If you pass 30 days without resolution, you will be charged a fine from $250 to $500. Third-time offenders will be required to file an SR22 form with the state and will see their driver's license suspended for a minimum of 30 days.
Now we've mentioned another important element to add to your insurance policy: SR-22 coverage. This form lets your state know that you are equipped with the minimum liability insurance requirements. This is specially useful for high risk drivers that have been involved in accidents or DUI related events.
The cost of car insurance can change based on a variety of different factors, such as driving record, age, type of car, and more. To get the best deal on lower rates, it's a good idea to do your research and compare the data and customer service offered by different insurers. 
Get Cheap Car Insurance in Reno, Nevada Today!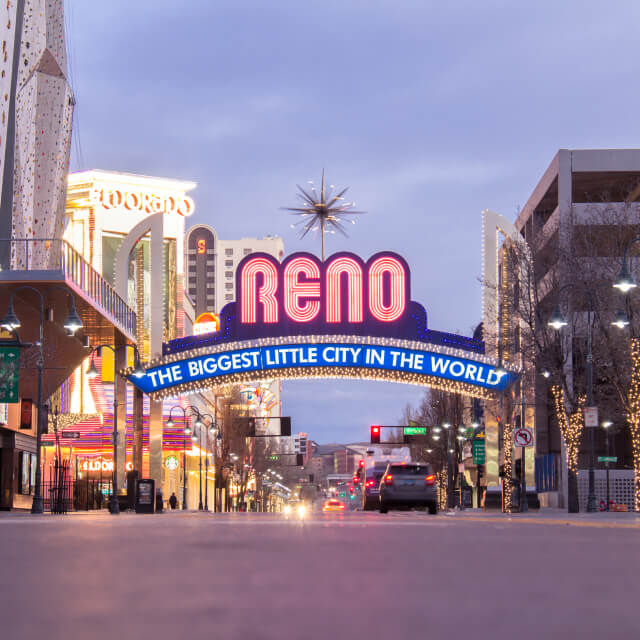 It is crucial that you maintain the appropriate level of car insurance for you and your family. It is not just a legal requirement; insurance coverage could protect you from financial disaster if you are involved in an accident.
Freeway Insurance is here to help you find the coverage that you need in Reno, Nevada. Get started with an affordable quote online, or visit us at a Reno office near you. You can also call us at 800-777-5620 for a quote.