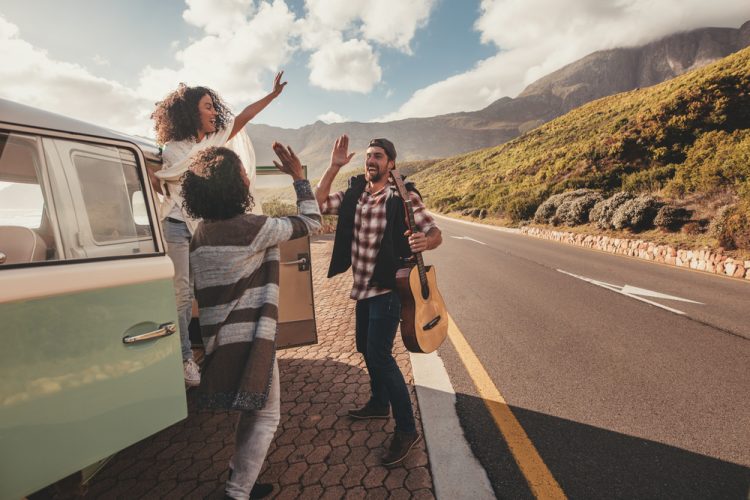 The United States is known for its vast and diverse landscapes, but it's also home to some of the weirdest and most eccentric roadside attractions in the world. From quirky museums or art installations to colossal sculptures, these offbeat American attractions near roads and highways add a touch of eccentricity to any visit to the US, and road trips are often the perfect time to explore them.
Having a plan to hit the open road, whether it's choosing your pit stops or finding the right car insurance, doesn't need to be overwhelming. This guide explores unusual near-the-road attractions across the country with popular picks by region, what to expect when you visit, and safety tips for your trip, such as adding a roadside assistance plan.
The Popularity of Roadside Attractions
Roadside attractions have a long history in the US and have been captivating travelers for decades. These unusual stops along the way provide a break from monotonous miles of highway driving and add an element of surprise and wonder to the journey. Roadside attractions often showcase unique artifacts, oddities, and artistic creations that celebrate the local culture of small towns or pay homage to the bizarre and the extraordinary. They have become iconic symbols of American pop culture, representing the quirkiness and individuality that define the nation.
The Weirdest Near-The-Road Attractions in the USA by Region
Weird adventures close to your driving route can be found peppered across the entire United States. To make it easier for you to include some of these stops in your next road trip, here's a starting list by area.
Northeast Region
The Northeast Region of the United States is home to some fascinating and strange attractions that will leave you amazed.
America's Stonehenge – Salem, NH
Located in Salem, New Hampshire, America's Stonehenge is a mysterious site, and major tourist attraction, that resembles its famous counterpart in England. The stone structures, believed to be over 4,000 years old, are shrouded in mystery and speculation. Visitors can explore the stone chambers, walk along the trails, and ponder over the ancient enigmas surrounding this intriguing site.
International Cryptozoology Museum – Portland, ME
For those fascinated by creatures of myth and legend, the International Cryptozoology Museum in Portland, Maine, is a must-visit. Dedicated to the study of hidden or unknown animals, this museum houses exhibits on Bigfoot, the Loch Ness Monster, and other cryptids. It's a fascinating exploration of the unknown and the unexplained.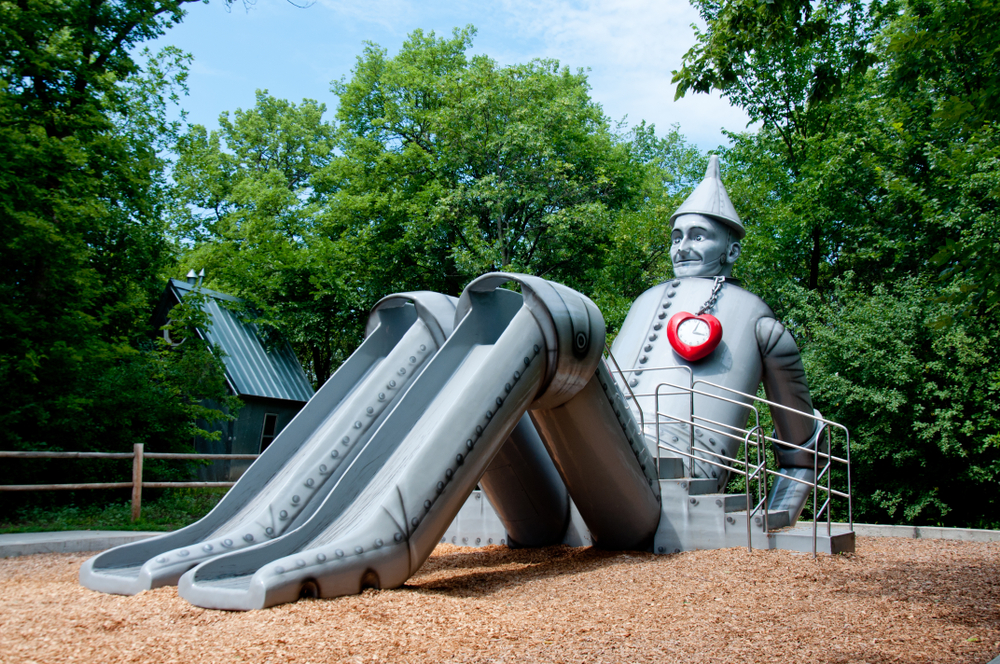 The Land of Oz – Beech Mountain, NC
Step into the magical world of "The Wizard of Oz" at the Land of Oz in Beech Mountain, North Carolina. This whimsical theme park takes visitors on a journey through Dorothy's adventure in the Land of Oz. From walking the Yellow Brick Road to meeting beloved characters, this attraction offers a unique and nostalgic experience for fans of the classic story.
Edgar Allan Poe House and Museum – Baltimore, MD
Fans of Gothic literature and dark tales will appreciate a visit to the Edgar Allan Poe House and Museum in Baltimore, Maryland. This historic house was once the residence of the renowned author, and it now showcases artifacts and exhibits related to Poe's life and works. Explore the rooms where Poe wrote some of his famous poems and stories and immerse yourself in the eerie ambiance of his world.
Midwest Region
The Midwestern Region is known for its friendly people and picturesque landscapes, but it's also home to some of the strangest and most intriguing roadside attractions.
The World's Largest Collection of Smallest Versions of Largest Things – Lucas, KS
In the small town of Lucas, Kansas, you'll find the World's Largest Collection of Smallest Versions of Largest Things. Created by artist Erika Nelson, this quirky attraction showcases miniature replicas of iconic large objects from around the world. From tiny versions of the Eiffel Tower to the smallest Mount Rushmore, this quirky World's Largest Collection celebrates the grandiosity of everyday objects on a miniature scale.
The World's Largest Ball of Twine – Cawker City, KS
Cawker City, Kansas, is home to the World's Largest Ball of Twine. Started by a local farmer in 1953, the World's Largest Ball has been continuously growing, making the Guinness World Record as the largest ball of twine in 1993, and now weighs several tons. Visitors can add their own contributions to the ball and witness the impressive result of decades of twine rolling.
Corn Palace – Mitchell, SD
A true homage to the Midwest's agricultural heritage, the Corn Palace in Mitchell, South Dakota, is an architectural marvel adorned with corn and other grains. Each year, the exterior of the building is decorated with intricate corn murals, showcasing the artistic skill and creativity of the local community. Inside, visitors can learn about the history of the Corn Palace and its importance to the region.
Jolly Green Giant – Blue Earth, MN
Standing tall at 55 feet, the Jolly Green Giant statue in Blue Earth, Minnesota, is an iconic symbol of the state's agricultural abundance. This towering statue of the popular vegetable brand mascot welcomes visitors with a friendly wave and serves as a reminder of the region's farming heritage. Remember to snap a picture with this colossal green man during your visit.
South Region
The Southern Region of the United States is known for its warm hospitality and vibrant culture, but it's also home to some peculiar and offbeat attractions.
Beer Can House – Houston, TX
In Houston, Texas, you'll find a house entirely decorated with beer cans. The Beer Can House is an artistic creation by John Milkovisch, who spent over 18 years covering his house with thousands of beer cans, bottle caps, and other beer-related paraphernalia. It's a unique and unexpected sight that showcases the creative potential of everyday objects.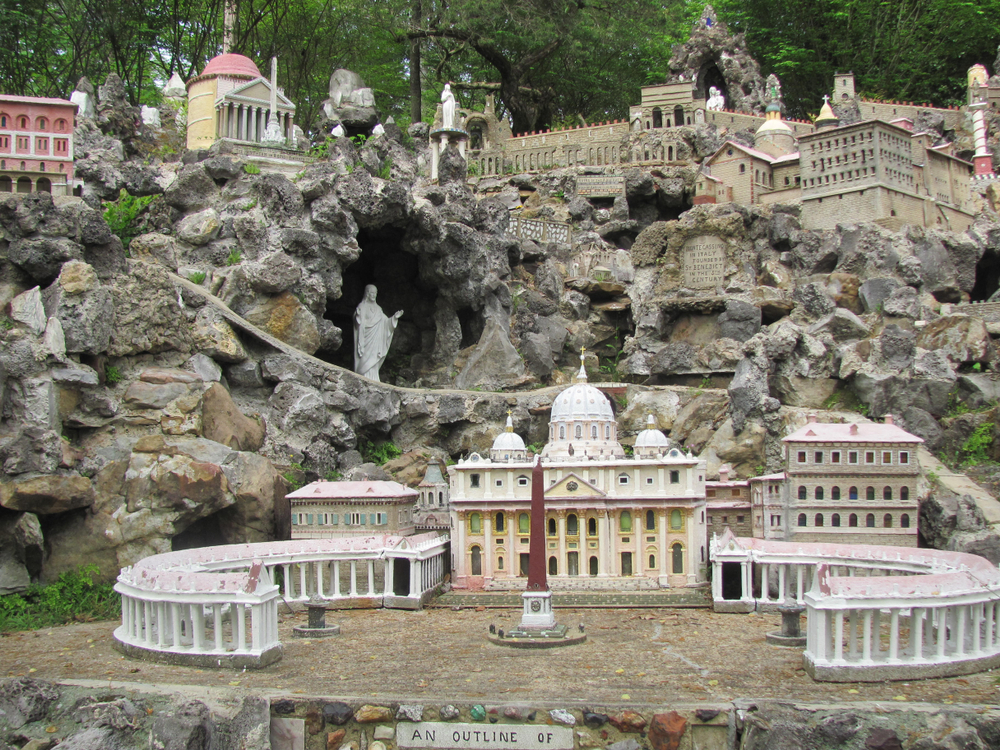 Ave Maria Grotto – Cullman, AL
Nestled in the heart of Cullman, Alabama, the Ave Maria Grotto is a miniature replica of various famous religious structures from around the world. Created by a Benedictine monk, this intricate collection of over 125 miniature buildings captivates visitors with its attention to detail and spiritual ambiance. It's a serene, contemplative attraction and offers a glimpse into the world's sacred architecture.
Abita Mystery House – Abita Springs, LA
The Abita Mystery House in Abita Springs, Louisiana, is a bizarre and captivating museum filled with an eclectic collection of oddities and curiosities. From homemade inventions to peculiar artworks, this roadside attraction showcases the imagination and creativity of its creator, artist John Preble. Explore the whimsical exhibits and marvel at the peculiar wonders housed within this eccentric museum.
The Museum of the Weird – Austin, TX
As its name suggests, the Museum of the Weird in Austin, Texas, is a place where bizarre and extraordinary artifacts come to life. From shrunken heads to two-headed chickens, this museum displays a collection of oddities that will make you question what is real and what is fiction. Prepare to be amazed, shocked, and entertained by the weird and wonderful exhibits.
West Region
The Western Region of the United States is known for its stunning natural landscapes, along the west coast as well as inland, but it's also home to some of the strangest roadside attractions.
The Winchester Mystery House – San Jose, CA
The Winchester Mystery House in San Jose, California, is an architectural marvel with a fascinating and enigmatic history. Built by Sarah Winchester, heiress to the Winchester rifle fortune, this sprawling mansion is known for its intricate design and maze-like layout. Explore the winding corridors, secret passages, and stairways that lead to nowhere as you uncover the mystery behind this unique house.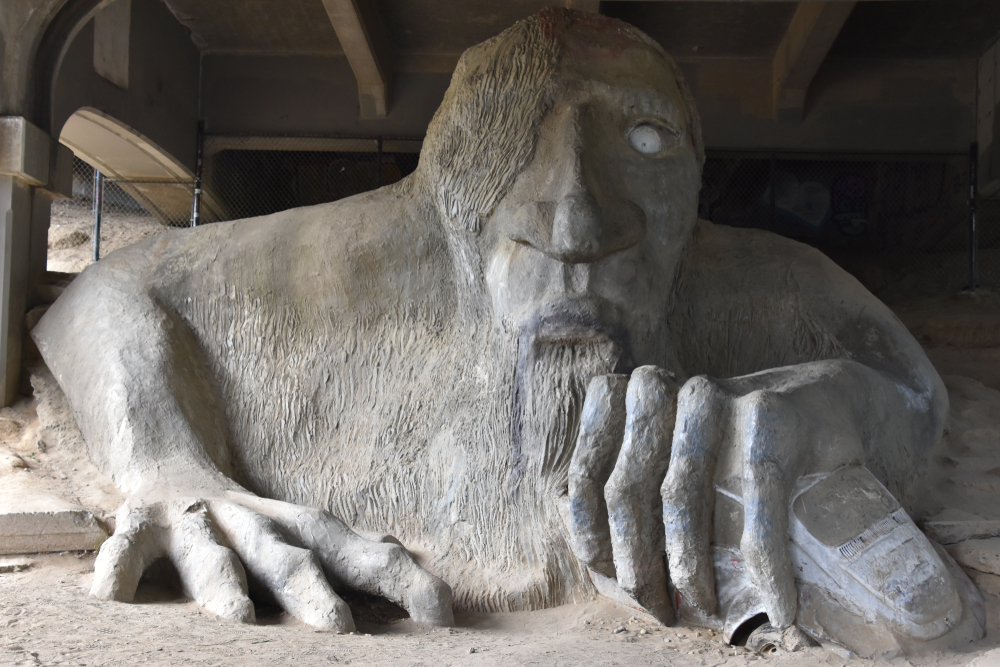 The Fremont Troll – Seattle, WA
Beneath the Aurora Bridge in Seattle, Washington, resides the Fremont Troll—a monstrous sculpture that has become an iconic symbol of the city. This larger-than-life troll, clutching a real Volkswagen Beetle in its hand, delights visitors with its imposing presence and whimsical charm. Snap a photo or engage in a playful interaction with this legendary creature during your visit to Seattle.
UFO Watchtower – Hooper, CO
In the small town of Hooper, Colorado, you'll find the UFO Watchtower—an observation platform dedicated to spotting unidentified flying objects. This unique attraction offers visitors a chance to gaze at the night sky and potentially witness strange phenomena. The UFO Watchtower also features a collection of paranormal artifacts and offers a space for reflection and contemplation on the mysteries of the universe.
Dog Bark Park Inn – Cottonwood, ID
For dog lovers and quirky accommodation enthusiasts, the Dog Bark Park Inn in Cottonwood, Idaho, is a must-stay destination. Shaped like a giant beagle, this bed and breakfast allows guests to spend the night inside the belly of a canine-themed structure. Enjoy a comfortable stay surrounded by dog-themed decor and explore the surrounding area's natural beauty during your visit.
Tips for Visiting Roadside Attractions
Roadside attractions can be a new venture for travelers. The stops are usually offbeat, feeling like a mystery spot for some or a fascinating world for others. In case you're planning to spend a couple of days on your next road trip visiting roadside attractions, here are a few tips to prepare you for the experience.
How to Find Streetside Attractions
Discovering roadside attractions can be a thrilling treasure hunt. Here are a few methods to help you uncover some of the best places:
Traditional travel guides can still be useful for finding roadside attractions. Look for guidebooks that specialize in offbeat or alternative travel destinations. Many of them feature curated lists, maps with mile markers, directions, and background information to enhance your experience.
Ask locals for their recommendations when visiting a particular region. Strike up conversations with area residents at cafes, visitor centers, or gas stations, and you may discover hidden treasures that are not widely advertised.


What to Expect When Visiting Roadside Attractions
Roadside entertainment comes in all shapes and sizes, but they share a common thread of novelty and surprise. Here are some things to expect:
Roadside attractions often showcase unusual and eye-catching displays. From oversized sculptures to collections of oddities, you can expect to encounter unique and sometimes kitschy artwork that reflects the creator's imagination and sense of humor.
Many roadside attractions offer interactive elements that allow visitors to engage with the exhibits. Take the opportunity to take photos with giant statues, leave your mark by adding to a collection, or participate in hands-on activities related to the attraction's theme.
The hosts and owners of roadside attractions are typically passionate about their creations and eager to share their knowledge and stories with visitors. Engage in conversations with these enthusiastic hosts, or see if they offer a guided tour, to deepen your appreciation for the attraction.
Roadside attractions often have a gift shop where you can purchase souvenirs to commemorate your visit. These can range from traditional postcards and magnets to quirky items specific to the attraction, such as keychains made from recycled materials or handmade crafts.
Safety Precautions When Visiting Roadside Attractions
While roadside attractions can be fun and intriguing, it's important to prioritize safety during your visit. Be mindful of traffic and parking regulations, especially when stopping on busy highways. Additionally, follow any posted rules and guidelines at the attractions themselves to ensure a safe and enjoyable experience.
Protect Yourself and Your Vehicle on the Road Ahead
As you embark on your trip to explore the wonderful and unique roadside attractions, take steps to protect yourself and your vehicle. Here are some important considerations to ensure a smooth and safe journey.
Before hitting the road, plan your route carefully. Use reliable mapping services or GPS navigation systems to choose the most efficient and scenic routes to your desired activities and have a plan for roadside emergencies. Consider road conditions, traffic patterns, and estimated travel times. Having a well-planned route minimizes the chances of getting lost or encountering unexpected challenges along the way.
Ensure that your vehicle is in good condition before embarking on a road trip. Schedule a thorough inspection, including checking the tires, brakes, fluids, and lights. Carry essential tools such as a spare tire, jack, and jumper cables. Regular maintenance and preparedness can prevent breakdowns and keep you safe on the road.
Road trips with long drives can be tiring, so it's crucial to stay alert and well-rested while driving. Take breaks at regular intervals to stretch your legs, hydrate, and refresh yourself. If you feel drowsy or fatigued, find a safe place to stop and rest. It's better to arrive at your destination slightly later than to risk driving while fatigued.
While enjoying the adventure of roadside attractions, it's essential to stay connected with loved ones and emergency services. Ensure that your mobile phone is fully charged and that you have a car charger or power bank as backup, just in case you need to call for backup in the event of a breakdown. Familiarize yourself with the local emergency contact numbers and have that information readily available.
Roadside attractions often attract a lot of visitors, which can create opportunities for theft or vandalism. To safeguard your valuables, avoid leaving them in plain sight inside your vehicle. If you need to leave belongings behind, store them in the trunk or cover them with a blanket or jacket.
Roadside diversions offer a glimpse into the eccentric and extraordinary aspects of American culture. From mysterious stone structures to houses decorated with beer cans, these offbeat attractions celebrate the weird and wonderful.
Get Affordable Auto Insurance and Stay Safe While Traveling
As you plan to embark on a road trip like no other – a wonderfully odd one! – consider ways to stay safe on the road like low-cost auto coverage. At Freeway Insurance, we can help you find the policy that provides the right amount of protection at a price you can afford. Get a fast and free quote online, give us a call at (800) 777-5620, or stop by one of our convenient locations.
Ready to Get a Quick Quote?