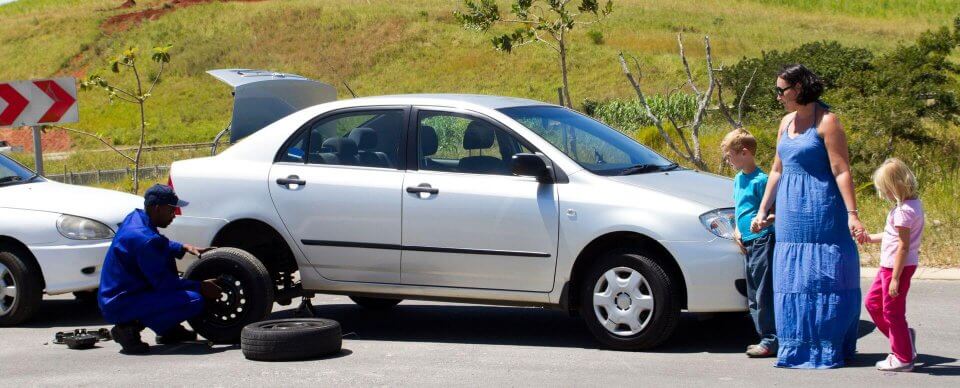 Does it ever seem like the most inconvenient of roadside problems strike at the most inconvenient of times? Fortunately, emergency road service can minimize your headache when you're running late for an important meeting, rushing to pick up your child from day care, or when you're in the middle of a road trip and suddenly a tire pops, or you realize that you're down to the last ounce of gas.
If you find yourself among those that currently don't have emergency road service, contact your auto insurance company to inquire about this benefit.
If you're wondering what exactly emergency road service includes, here's a list of common features.
Towing. Have you ever been stranded anywhere? Almost everyone has a need to have their car towed at some point in their life. Whether you drive a new or used car, there are a number of reasons why your car may suddenly stall.
Lost key and lockout. This service comes in quite handy for anyone who's prone to losing their keys or forgetting them inside the car. If you constantly find yourself rushing to get from point A to point B – all while juggling other tasks – you know how likely this scenario can be. Emergency road service can provide a locksmith in almost no time.
Fuel delivery. Sometimes your schedule is so hectic that you can barely find the time to make it to a gas station to pump gas in your car. Other times, gas prices are so high that you're actually afraid of pumping gas. Whatever the reason, almost everyone has seen the low fuel warning light go on. For those unfortunate moments when you couldn't get to a gas station soon enough, emergency road service will come to you with a nice supply of fuel.
Flat tire service. Although everyone should have a spare tire, or the tools necessary to patch a flat tire, not everyone does. Seeing as a tire blowout is very common, this is perhaps the most widely used feature of emergency road service.
Many insurance companies now offer emergency road service as a benefit to their members. To be on the safe side, it's best to check your policy to make sure this benefit is available to you. There's no worse time to discover you don't have emergency road service than when you most need it.
Are you looking for a roadside assistance plan? Roadside assistance can be purchased separately or added to a low-cost car insurance policy from Freeway Insurance. Purchase roadside assistance online or learn more about our affordable car insurance. If you have any questions, you can also give us a call at 800-777-5620.
Ready to Get a Quick Quote?