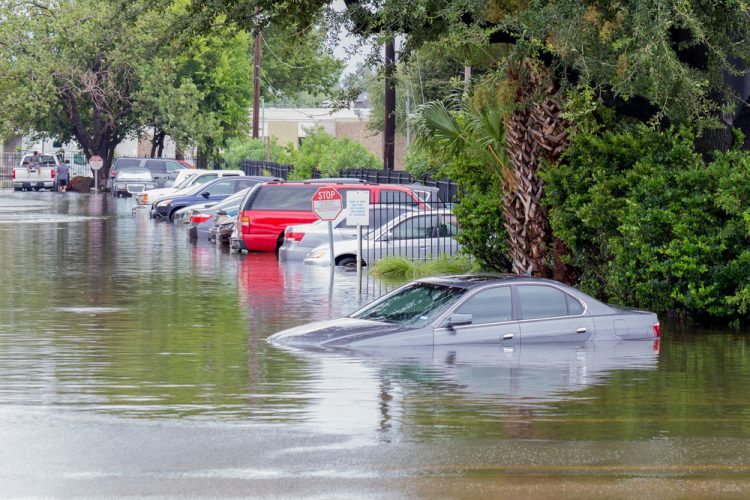 If you think you live in an area where you don't have to worry about natural disasters damaging your car or home, think again. The years 2022, 2017 and 2011 are tied for the third most costly years for disasters in the U.S. And when insurance companies have to pay out for repairs to cars and homes (or worse, declare a total loss), your insurance rates are going to increase.
States that have an active potential for disasters will have higher insurance costs. It's a good idea to purchase comprehensive coverage, especially if you live in one of these disaster-prone areas. This type of car insurance covers most events that happen due to weather-related disasters.
So even if you don't think you live in an area subject to catastrophic events, with the increasing trend of high-cost disasters due to climate change and other factors, it might be worth checking to make sure your auto insurance policy has the right coverage.
Does Car Insurance Cover Natural Disasters?
It depends on your policy, the area you live in and the disaster. If you have full coverage (liability, comprehensive coverage, collision coverage), then in many cases the answer is yes. There are situations, especially specific to some areas, where insurers have taken a step back and may no longer offer coverage for specific events in specific areas.
Does Comprehensive Car Insurance Cover Natural Disasters?
You can usually purchase comprehensive coverage as a single add-on to your state's minimum required liability. In the event of natural disasters, such as storms, tropical storms, heavy rain, lightning strikes and more, if your car needs repairs or is declared a total loss, your comprehensive policy should compensate you.
Let's take a deeper look.
Floods
If you live in an area prone to flood damage and water damage, you should have comprehensive. This type of policy typically pays for your repairs (or replacement) for damage from floods and water. If a vehicle is completely submerged, it will often be declared a total loss.
Earthquakes
Comprehensive does cover earthquake destruction, as long as you can prove the damage was directly tied to the event, such as a tree falling on your vehicle.
Hurricanes and Tornadoes
Luckily, if you live somewhere prone to hurricanes and tornadoes (or wind damage), your comprehensive coverage should kick in to help you pay for damages.
Hailstorms and Falling Objects
Full coverage, or simply comprehensive by itself, will generally pay out for damages caused by hailstorms and falling objects, such as a tree limb.
Wildfires
In most cases, a comprehensive policy will cover damage caused by fire. However, those who live in areas prone to wildfires need to check their policy to make sure. Some insurers have put restrictions on policies in places where wildfire has become normal.
Heat Waves
Excessive heat causes more deaths each year than all the other natural disasters combined. You probably won't be able to claim a heat wave on your insurance policy, but you can take steps to make it less harmful to you and your car.
How to Make Sure Your Car Insurance Covers Natural Disasters
To see what kind of coverage you have in your car insurance policy, check the policy declaration page. This is where your insurance provider lists what they cover and what they do not. Remember, you cannot add comprehensive or full coverage after your area has a weather disaster forecast. These additions must be made when you are not under the threat of an imminent catastrophic event.
Reviewing Your Policy
When reviewing your policy, check for how your contract specifies what services and repairs your insurer will provide after damages. Make sure you have a payment clause for a total loss. If you have questions, it's better to ask them prior to signing your contract.
Adding Comprehensive Insurance to Your Policy
Adding comprehensive can be done online in most cases these days. If you are unsure, call your insurance agent and ask them to add it to your policy, so you'll be covered for disasters.
Types of Car Insurance Coverage
There are many different types of car insurance. Most states require a minimum amount of coverage designed to protect you financially if you are involved in an accident. Many drivers choose to increase the amounts of the minimum required, as well as add on other coverages for better protection.
Let's take a look at the three coverages that make up what many refer to as full coverage.
Liability Insurance
Liability insurance in most states is a third-party benefit. In other words, it helps pay for the injuries and damages caused to others when you are at fault for an accident. It will not help pay for anything related to yourself and your vehicle. However, in a handful of "no-fault" states, your liability kicks in to help pay for your injuries and damages.
This insurance usually consists of bodily injury liability and property damage liability. Your state will require a minimum of coverage, but most people increase it. For example, Texas requires $30,000 for bodily injury/death to one person, $60,000 for bodily injury/death per accident and $25,000 for property damage. This is usually written as 30/60/25.
If you consider what the total cost of damages might be if you hydroplane into someone's brand new truck, it will most likely be more than $25,000. This is why people increase these limits.
Collision Insurance
The second part of full coverage is collision. Collision insurance is designed to help you pay for damages to your vehicle after you "collide" with something – no matter whose fault it is. It also pays out for rollovers.
Comprehensive Insurance
We've discussed this type in depth, but keep in mind that it is there to pay for repairs or to compensate you for a total loss if your vehicle is damaged or destroyed in a manner that is not your fault. It also covers you if your vehicle is stolen.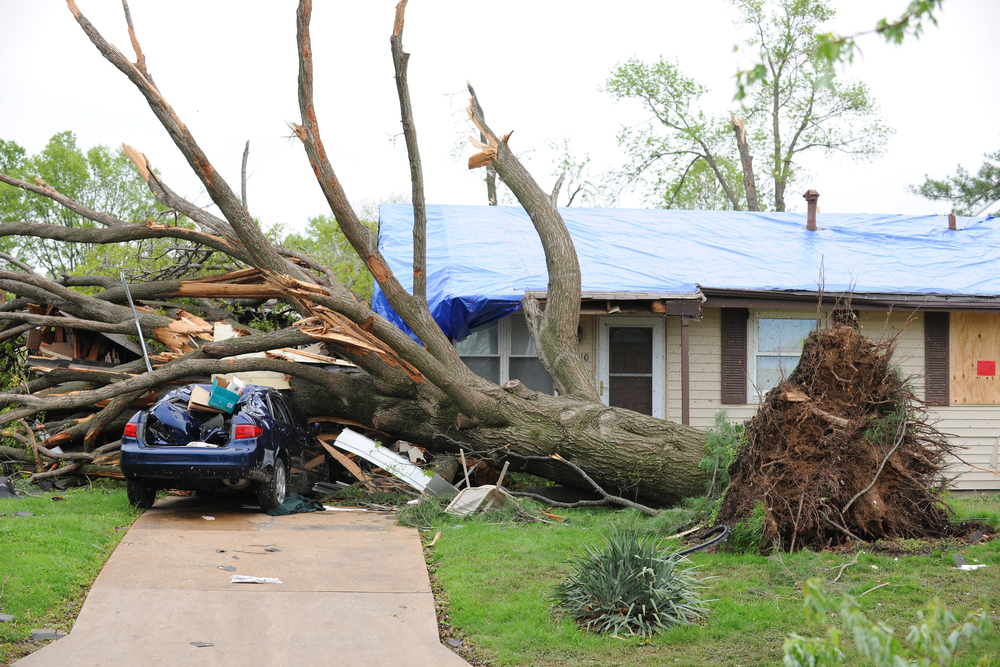 What to Do After a Natural Disaster Affects Your Vehicle
Just as with any other claim process, the first thing you'll do is file an insurance claim with your carrier. In many cases, this can be done from an app on your phone, online or, if all else fails, through a phone call. Keep in mind that if your vehicle was damaged in an event that covered a large area, there will be many claims coming in, so the best thing you can do is file quickly. And have patience.
Document the Damage
Take as many photos (and videos) of your car as you can safely. Don't try to start your car – it could end up causing more damage. Call a tow truck if you need to move your vehicle to higher ground. Your claims adjuster will come and determine if your auto is a total loss. This is generally determined by state law. For example, in Oklahoma, repair costs only need to be greater than 60% value of the car for it to be considered totaled.
How Natural Disasters Affect Car Insurance Rates
Unfortunately, natural disasters tend to increase rates for everyone, whether the event happened in your area or somewhere else. The NOAA National Centers for Environmental Information (NCEI) has said that 2020 has been the most expensive year so far for disasters in terms of costs, with 2021 in second place and 2022 in third.
The agency attributes these costs to a combination of a population with more assets, the amount of damage any given event may cause and climate change.
Regional Impacts on Insurance Rates
Some areas, such as low-lying coastal regions, are obviously more at risk for flooding in the event of heavy rains or a hurricane. But you may not have known that drought-prone areas have wildfires and excessive heat and are also contributing to increased costs, both in terms of property damage and human life.
States with the Highest Natural Disaster Risks
Texas ($380 billion) and Florida ($370 billion) lead the states with the highest total costs since 1980. Louisiana, Mississippi and Oklahoma are close behind. Hurricanes, tornadoes and drought are leading reasons why these states top this dubious list. California is plagued by earthquakes and wildfires.
States with the Lowest Natural Disaster Risks
The states with the least amount of risk are the northern states of Maine, Vermont, New Hampshire, Alaska and Delaware. In these states, you can expect damage from blizzards, ice and snow, but it still fails to come close to the wind and water damage of the southern coastal states.
How to Lower Your Car Insurance Despite Natural Disaster Risks
There are things you can do to lower your car insurance, even if you live in a high-risk area. Take a look at the difference between a high and low deductible, taking advantage of discounts and choosing the right vehicle.
Auto Insurance Policy Structure
When you structure you policy in such a way that you lessen the risk to the insurer, you'll be rewarded with a lower premium. For example, if you choose a high deductible, you'll be kicking in more if you need to file a claim. But that means your insurance company will be kicking in less.
Similarly, if you choose to increase your limits, your insurance company will be paying out more, so you will see your premium increase.
Discounts
There is a wide variety of car insurance discounts available that you can use to lower your premium. One of the top ones is the good driver discount, which rewards a driver for operating their vehicle with no accidents or claims for a number of years. Another one that offers great savings is the bundling discount, where you allow one insurer to provide coverage for more than one item, such as combining your auto with your home insurance.
There are many discounts. You can ask your agent which ones apply to you.
What You Drive
The more reliable your car is and the cheaper it is to repair, the more you can save on your policy. For example, an older car that has a great safety record will be cheaper to insure than a flashy new car.
Importance of Understanding Car Insurance Coverage
You can see why it's vital you carefully look at any policy and ask questions if you don't understand anything in it. At Freeway Insurance, our agents are trained to find you the best coverage possible – no matter where you live – for the best price. Give us a call today at (800) 777-5620, get a quote online or stop by one of our offices.
Ready to Get a Quick Quote?