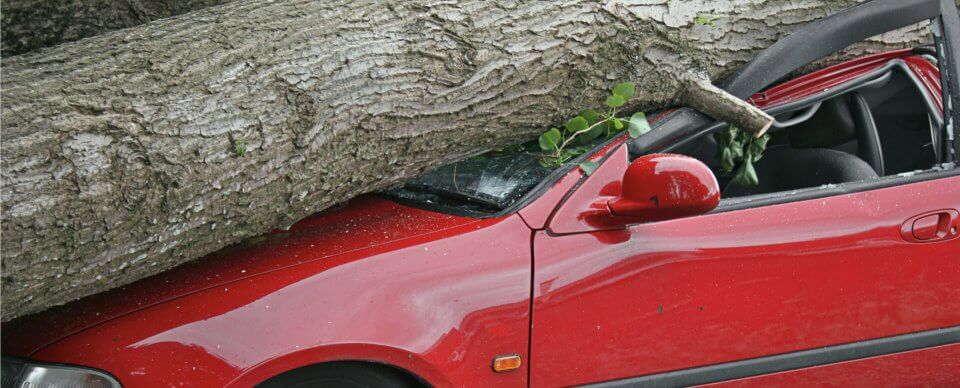 Imagine getting ready to leave for work and stepping out of your front door to find a tree branch on the hood of your car that fell from last night's thunderstorm. This unfortunate situation would ruin your morning, but what could make it ruin your bank account is if you don't have the adequate auto insurance coverage to help repair or replace your vehicle. The type of insurance that would protect you in this situation is comprehensive coverage.
What is Comprehensive Insurance and What Does Comprehensive Insurance Cover?
Comprehensive car insurance covers any damage to your vehicle that did not occur from a fender-bender or from one car driving into another one. Examples of incidents that would fall under comprehensive auto insurance include natural disasters such as hurricanes or earthquakes, fire, vandalism, theft and falling objects, among others.
How Does Comprehensive Insurance Work?
The scenario of the fallen tree branch on your car's hood is a great start for an example of how comprehensive insurance works. If the damage from that accident resulted in $6,000 worth of repairs you would likely want to file a claim with your insurance company.
The comprehensive coverage on your policy will have a limit associated with it as well as a deductible. The limit is the maximum amount your insurance will pay out for a claim. The coverage limit for comprehensive insurance is typically the actual cash value of your vehicle. Actual cash value is calculated by subtracting the amount of depreciation from the total cost of your car. The deductible is the set amount you will pay out of pocket when you file a claim. Deductibles can vary and can be selected by the insured when the coverage is purchased.
Therefore, if the actual cash value of your vehicle is $10,000 and you have a $500 deductible, then you will pay $500 out of pocket and your insurance company will pay the remaining $5,500 to cover the $6,000 worth of damage to your vehicle from the tree branch.
Comprehensive vs. Collision
While the word "comprehensive" means full, complete or all-inclusive, the fact is it does not actually mean "full-coverage" when it comes to auto insurance. In order to have full-coverage on your vehicle you would need collision insurance in addition to comprehensive coverage.
Collision insurance will help pay for any damage to your vehicle that results from a collision with another car or object regardless of who was at fault. On the other hand, comprehensive insurance will cover damage to your vehicle that results from any non-collision incident that was beyond your control.
Should I Add Comprehensive Insurance?
If you lease or finance your vehicle, comprehensive insurance coverage may be required until the end of the lease or loan term. If you own your vehicle outright then comprehensive insurance is an optional coverage.
If you are considering purchasing comprehensive insurance a good starting place is to get quotes on what it would cost you annually to maintain the coverage. Consider that amount in comparison to what it would cost you to buy a completely new car if your vehicle was totaled in a hail storm or if a deer ran into your car.
Do Comprehensive and Collision Have to be Purchased Together?
While most drivers typically elect to have comprehensive and collision coverage there are some instances when a driver will only choose to have one. For example, if a vehicle is being stored and not driven it may make sense to protect the vehicle with comprehensive coverage and not collision. However if a vehicle is leased or financed, both coverages are required.
Incidents that cause damage to your vehicle can be frustrating, but it can be even more upsetting when an incident is totally beyond your control and winds up costing you money. Consider comprehensive coverage to protect your wallet from any misfortune that could damage your vehicle.
Are you overpaying for auto insurance? If you're not insured by Freeway Insurance, chances are you're paying more than you need to. Request an auto insurance quote online or over the phone at (800) 777-5620 and find out how much you could be saving.
Ready to Get a Quick Quote?