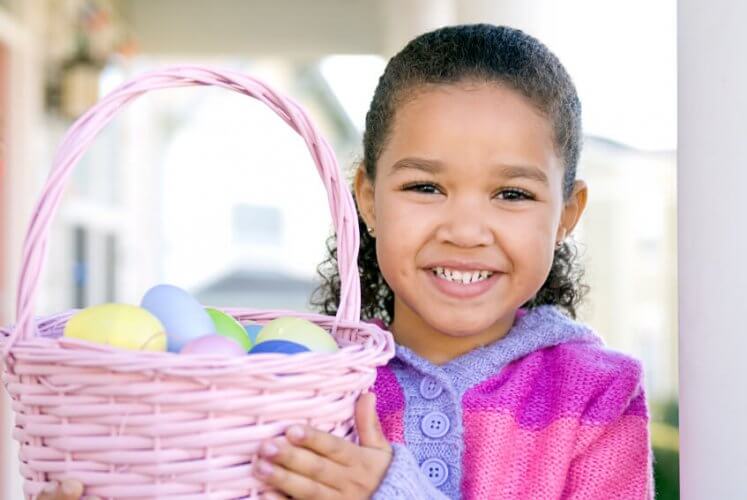 With Easter coming, a lot of people turn to the traditional sweets, chocolates, and various less-than-healthy goodies to fill their baskets. Let's be honest – we're all suckers for chocolate-covered marshmallow eggs, Peeps, and large jelly beans – but, none of these Easter favorites are actually good for us.
The whole idea of filling our Easter baskets with green-colored plastic grass and something other than a ton of sugary treats may seem to go against everything the Easter Bunny stands for but, in the long run, it's healthier for kids and adults alike.
So, at the risk of upsetting our furry friend, here are 10 healthier alternatives you can try this year.
Things You Can Eat
This is where you have your work cut out for you, but you'll be surprised how switching things around slightly could still make you more popular than Old Floppy Ears.
Dark Chocolate
You probably thought that chocolate would be the first treat we'd eliminate, but dark chocolate with 70 percent or more cacao has been shown to help lower blood pressure and reduce the risk for coronary heart disease. Organic chocolate bars are best because they contain fewer ingredients, though they tend to be a bit more expensive. Enjoy, but in moderation.
Carrots
No, not those solid chocolate carrots wrapped in orange-colored foil – but, real baby carrots. Toss a few in small cellophane bags and onto the fake green grass of your Easter Basket along with some healthy dip. After all, what do bunnies eat? While this may work great with kids, your brother-in-law may be a harder sell.
Chocolate Covered Fruit
Here we go with chocolate again. The fact is – you can create your own healthy dose of Easter treats by dipping whole strawberries, grapes, and banana slices in melted dark chocolate. If you really want a challenge, try dipping tiny wedges of pineapple.
Graham Bunnies
Make your own graham snacks without the usual hydrogenated oils and high fructose corn syrup. Check around in health food stores for some made with real honey instead of the corn syrup. Don't forget to shape them like bunnies unless they already come that way.
Filled Plastic Eggs
Stuff the plastic eggs with dried or dehydrated fruits, nuts, healthy trail mix or granola. If you can find something you know is healthy, thinly wrapped in dark chocolate, knock yourself out – but, indulge in moderation.
Tea
For the adults in the crowd – you can drop some attractive tea canister or small box of imported teas in assorted flavors as a way to smooth things down a bit, if their entire day was populated by a bunch of screaming, Easter egg-hunting kids.
Things You Can't Eat
You don't have to fill your Easter Basket with only things you can eat. Some of the more popular non-edible treats are:
Sidewalk Chalk
Sidewalk chalk can keep the kids busy and entertained for hours while they mark up your driveway and sidewalk in front of your house.
Stickers
Kids enjoy stickers, especially of the latest superhero or animated movie character. Make sure you keep an eye on the little guys so they don't put any stickers where they shouldn't – like the dog or your new widescreen.
Lip Balm
Who doesn't need a Chapstick or lip balm from time to time? It's a great alternative basket filler for both the younger and older crowd. They come in many fun flavors and one even comes shaped like an egg in different pastel colors.
Gift Cards
Providing a slew of opportunities for kids, teens, and adults, gift cards are perfect for your Easter basket. Kids will appreciate a gift card they can use anywhere that sells toys. You'll be an instant hit with teens by putting an iTunes card in their basket, while adults will enjoy gift cards for Starbucks, Trader Joes or a restaurant such as Olive Garden.
These are merely a few of countless healthy alternatives you can try this Easter. Don't be afraid to add your own spin to these ideas and any others you might think of. And, have a Happy Easter!
Ready to Get a Quick Quote?