Recognized as one of the most diverse cities in the United States, Irving is a suburb located in Texas's Dallas/ Fort Worth area. The Dallas/Fort Worth International Airport is partially located within Irving's city limits, which is why many Fortune 500 companies call Irving home, including ExxonMobil, Fluor Corporation, and Kimberly-Clark. Even the Dallas Cowboys held their football games there at Texas Stadium in Irving from 1971 to 2008.
Irving's upscale community of Las Colinas was one of the first master-planned developments in the country. The planned community includes corporate offices, luxury townhomes, single-family homes, hotels, country clubs, and more.
About 79% of Irving residents commute to work, and their average commute can be just short of an hour. With that much driving, Irving residents must carry adequate car insurance.
Quick Facts
The average cost of car insurance in Irving is $1,518.
About 79% of Irving residents commute to work.
How Much Does Car Insurance Cost in Irving?
In Irving, car insurance premiums cost an average of about $1,518 per year, which is more expensive than the Texas state average of $1,373. However, costs for car insurance are on par with the U.S. national average of $1,548 per year.
On average, you will pay about $126 per month for car insurance in Irving.
Other Texas cities have lower average car insurance costs than Irving.
| City | Average Annual Premium |
| --- | --- |
| Dallas | $1,359 |
| Fort Worth | $1,137 |
| Austin | $1,188 |
| Houston | $1,454 |
| Irving | $1,518 |
The cost for car insurance in Irving, Texas, can vary depending on your age, driving history, type of car you drive, and zip code you live in.
Irving Car Insurance Rates by Zip Code
There are six different zip codes in the Irving area, and the cost of car insurance can fluctuate depending on which zip code you live in. Factors such as theft, crime, and the number of uninsured motorists within the zip code you live in can impact the average cost that you'd pay for car insurance.
| Zipcode | Average Annual Premium |
| --- | --- |
| 75061 | $1,500 |
| 75062 | $1,500 |
| 75060 | $1,380 |
| 75063 | $1,380 |
| 75038 | $1,500 |
| 75039 | $1,380 |
Irving Car Insurance Rates by Age
Rates for car insurance premiums in Irving can also vary depending on how old you are. Teens who are just getting their driver's license are subject to the highest insurance premiums. Seniors over 70 also pay a little more than drivers under that age.
| Age | Average Car Insurance Rate |
| --- | --- |
| Teenagers | $4,281 |
| 20s | $2,182 |
| 30s | $1,654 |
| 40s | $1,611 |
| 50s | $1,460 |
| 60s | $1,511 |
| 70s | $1,861 |
Driving Conditions in Irving
How Many Fatal Accidents Happen in Irving?
In Texas, there was one car crash reported every 56 seconds in 2019. Of those accidents, about 3,294 proved fatal. According to the Texas Department of Transportation, the fatality rate on Texas roadways for 2019 was 1.26 deaths per hundred million vehicle miles traveled.
About 25 percent of the state's fatal crashes were due to drunk driving.
Fatal crashes in Irving made up just a small portion of the state's overall statistics. In Irving, 26 people died in 25 fatal accidents during 2019. Eight of those fatal accidents, or 32 percent, were due to drunk driving, which is higher than the state average.
How Are the Road Infrastructure and Bridges in Irving?
The state of Texas gets a D+ on the highways and roads that make up its infrastructure. About 22 percent of roads are in poor condition, which costs motorists each about $709 per year. Although the state's population grew by almost 9% from 2015 to 2020, state roads only received modest improvements.
In 2019, the City of Irving held a Transportation Investment Summit to help get local, state, and federal government agencies together to examine strategies for improving Texas' infrastructure.
Irving's "Road to the Future" initiative included in the city's five-year capital improvement plan involved dedicating one cent of their property tax rate to street projects with the goal of investing $100 million in street projects over five years.
Minimum Car Insurance Requirements in Irving
In Irving, drivers are required to carry more liability insurance than other states across the country. The minimum requirements for liability insurance fall under the 30/60/25 rule:
$30,000 for Bodily Injury Liability per person
$60,000 for Total Bodily Injury Liability
$25,000 for Property Damage Liability
Factors Allowed in Irving Car Insurance Rates
Many factors affect the car insurance rates that you will pay in Irving. Your driving record, such as tickets you've gotten for speeding or fender benders you've been in, is one of the most significant factors impacting your insurance rates. Other factors include:
Age
Gender
Marital status
Credit Score
Vehicle type
Education
Occupation
Discounts for Car Insurance in Irving
Texas is great about rewarding residents for good driving behavior. If you are a good driver, you could be eligible to receive car insurance discounts of up to 30%. You may also qualify for discounts on your car insurance if you pay your premiums on time or complete an approved defensive driving course (for drivers age 50 and older).
Teens can even qualify for discounts for getting good grades. Other discounts that may be available to you include:
What Are the Penalties for Driving Without Insurance in Irving?
Since car insurance is required of all Texas residents, you can face heavy fines for not carrying insurance if you get pulled over. Your first offense could cost you between $925-$1,100, including the fine of about $175-$350 and an annual surcharge of $250 for the next three years.
A second offense will cost you between $1,100 – $1,750 with the fines of $350-$1,000 and three-year surcharges. You also run the risk of having your vehicle impounded for 180 days, which will cost you even more.
Getting caught without insurance will also send the cost of your car insurance premiums up when you go to get it because you'll be considered a "high risk."
Get a Quote for Car Insurance in Irving Today!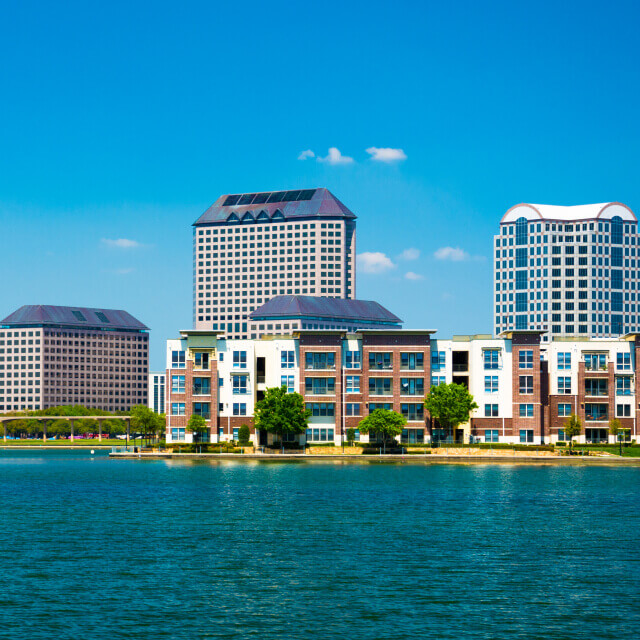 The cost of getting car insurance could be considerably less than the fines and penalties you will face if you don't have insurance, and that doesn't include the costs you could be faced with if you or one of your passengers are injured in an accident.
Let Freeway Insurance help you get the cheap car insurance in Irving you need. Get started with a quote online, visit us at an Irving office near you, or call us at (800) 777-5620 for a quote.