Amarillo is one of the larger population centers in rural northern Texas, home to nearly 200,000 residents. The city has a long history as a cattle market center due to the availability of nearby railroad and freight services.
Located on U.S. Highway 66, Amarillo is home to notable tourist attractions like the Cadillac Ranch and the Big Texan Steak Ranch, making it an enticing destination for travelers. Whether you're a resident in search of affordable car insurance or a visitor exploring the "Yellow Rose of Texas" for its natural beauty and cultural charm, understanding your car insurance options in Amarillo is essential for a worry-free experience.
Quick Facts
The average annual cost of car insurance in Amarillo is $1,516
There are 199,371 residents of Amarillo as of 2019
How Much Does Car Insurance Cost in Amarillo?
On average, car insurance costs $1,516 per year in Amarillo. This rate is above the state average of $1,415 but below the national average of $1,548. This is understandable given the size of Amarillo relative to other cities in Texas. It is important to remember that the exact cost of your Texas car insurance will vary depending on a number of factors.
| City | Average Annual Premium |
| --- | --- |
| Amarillo | $1,516 |
| Dallas | $1,680 |
| Garland | $1,606 |
| Houston | $1,671 |
Factors Allowed in Amarillo Car Insurance Rates
Numerous factors could impact your car insurance rates in Amarillo. Some of these include:
Age
Gender
Marital status
Type of vehicle
Credit score
Driving record
Claims history
Keep in mind that while cost is important, it is not the only thing that matters. You must have the necessary amount of coverage when driving in Amarillo. If your insurance coverage is inadequate, you could be personally responsible for any damage you cause in a collision.
Amarillo Car Insurance Rates by Zip Code
It might sound strange, but the zip code that you live in is a major factor in the price of your car insurance. There has been significant research linking certain zip codes to higher accident rates. It makes sense then that living in a zip code with a greater chance of a collision could increase your premiums.
In total, Amarillo has 27 zip codes, and each of them could have different auto insurance rates. Understanding the average rates in your zip code could help you know what to expect from a future quote.
| Zip Code | Average Car Insurance Rate |
| --- | --- |
| 79109 | $1,254 |
| 79107 | $1,299 |
| 79118 | $1,306 |
| 79119 | $1,325 |
| 79101 | $1,311 |
| 79110 | $1,305 |
| 79106 | $1,337 |
Amarillo Car Insurance Rates by Age
Another factor that is closely linked to the cost of car insurance is a driver's age. In general, teenage drivers pay vastly more for their insurance. This is because statistically, these drivers are far more likely to be involved in an accident. As a driver gets older, the cost of their insurance will decline. Once they reach their 70s, those rates begin to rise again.
Regardless of your age, keeping a clean driving record is key to low insurance rates.
| Age | Average Car Insurance Rate |
| --- | --- |
| Teenagers | $3,661 |
| 20s | $1,955 |
| 30s | $1,488 |
| 40s | $1,443 |
| 50s | $1,297 |
| 60s | $1,321 |
| 70s | $1,576 |
Driving Conditions in Amarillo
How Many Fatal Accidents Happen in Amarillo?
Unfortunately, the rate of fatal car accidents is high in Amarillo compared to other cities in Texas of similar size. The city also has the highest rate of alcohol-related traffic fatalities per capita in the state. In total, there were 16 fatal accidents in 2021.
How Are Road Infrastructure and Bridges in Amarillo?
As is the case with any city, infrastructure is a constant challenge for the City of Amarillo. In 2021, the City Council grappled with the poor condition of the local infrastructure coupled with the below-average tax receipts brought in by the city.
Statewide, Texas received an overall infrastructure grade of "C" on its Infrastructure Report Card. The report card gave mixed scores when it comes to transportation. While the state scored a B- on bridges, its highways and roads scored a D+.
Get a Quote for Car Insurance in Texas Today!
Minimum Car Insurance Requirements in Amarillo
State law mandates that Amarillo drivers carry a minimum level of liability coverage, and these laws apply to all Amarillo residents who drive a motor vehicle. These requirements involve liability insurance, which protects drivers from claims from other motorists involved in a collision. With enough liability coverage, you will not be personally responsible for the damage that occurs from an accident you have caused.  
In Texas, the state minimums are:
$30,000 for bodily injuries per person
$60,000 for bodily injuries per accident
$25,000 for property damage per accident
There are times when you might be required to carry more than the minimum level of insurance. For example, the loan agreement you sign when you buy a vehicle could require you to carry full coverage on your new car. Full coverage includes not only liability insurance but also collision insurance that covers your own damages. While these policies cost more, they can protect you in the long run.
How to Get Cheap Car Insurance in Amarillo
Obtaining affordable car insurance in Amarillo, Texas, is a possibility for residents and visitors alike. To secure cheap auto insurance in this area, there are 9 factors and steps to consider. 
Research and Gather Information

: Start by gathering information on the average cost of car insurance in Amarillo. Understanding the local market will help you identify what constitutes a good deal.

Explore Different Agencies

: Contact various insurance agencies in Amarillo to get quotes. Each agency may offer different rates based on factors such as your age, driving history, and the type of vehicle you own.

Compare Quotes from Multiple Companies

: Obtain quotes from several car insurance companies operating in Amarillo. Comparing these quotes is essential to identify the cheapest car insurance companies in the area.

Consult an Insurance Agent

: Consider consulting an experienced insurance agent in Amarillo. An insurance agent can provide valuable insights and help you navigate the complexities of choosing an insurance policy.

Prioritize Coverage Over Price

: While finding the lowest price is important, don't compromise on coverage. Adequate coverage is a critical factor, especially in the state of Texas, where accidents can be costly.

Evaluate Customer Service

: Assess the customer service provided by the insurance companies you're considering. Good customer service can make the insurance experience smoother and more satisfying.

Understand Coverage Options

: Familiarize yourself with the different coverage options available. Customizing your policy to suit your needs can help you save money while ensuring essential protection in the event of a car accident.

Consider Discounts

: Inquire about available discounts. Insurance companies often offer discounts for factors such as safe driving, bundling policies, or being a loyal customer.

Review the State of Texas Requirements

: Be aware of the minimum insurance requirements set by the state of Texas. Ensuring you meet these requirements is not only legally necessary but also an important aspect of responsible car ownership.
Securing cheap car insurance in Amarillo, Texas, is a good idea, but it requires careful consideration of various factors, including coverage options, the reputation of insurance companies, and compliance with state regulations. 
By following these steps and conducting thorough research, you can find a cost-effective insurance policy that suits your needs while prioritizing both affordability and protection.
Discounts for Car Insurance in Amarillo
One of the best ways to save money on car insurance is through the use of discounts. Numerous discounts could help lower your premiums, including:
What are the Penalties for Driving Without Insurance in Amarillo?
The penalties can be steep for driving without car insurance in Amarillo. In addition to potential jail time or fines, you could also be required to maintain SR-22 insurance.
Get a Quote for Car Insurance in Amarillo Today!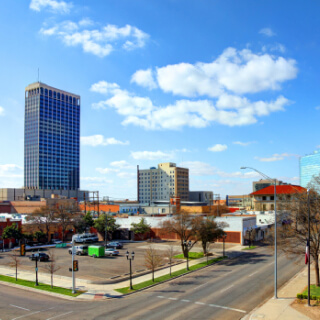 The best way to keep yourself safe while driving in Amarillo is by securing the right level of car insurance protection. Finding the right policy for you could be easier than you think.
Freeway is here to help you find the best policy in Amarillo. You can get started with a quote online or visit us at an Amarillo office near you. You can also call us at (800) 777-5620 for a quote.