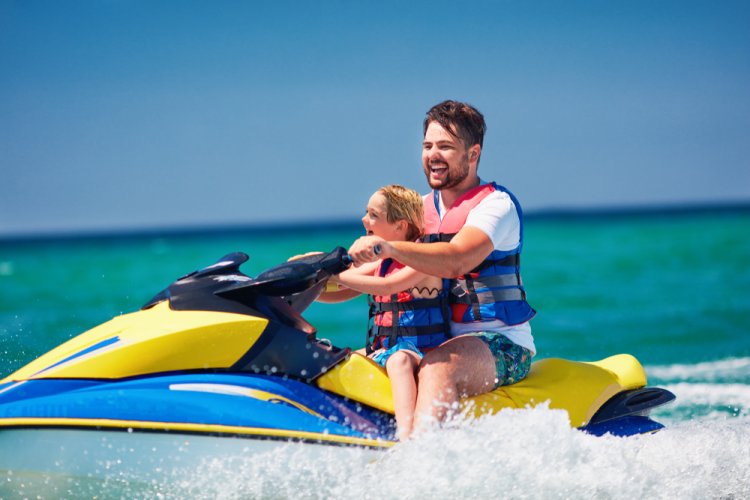 While the word "watercraft" includes any vessel that floats on water, when we look at personal watercraft (PWC) insurance coverage, we're talking about insurance on a smaller personal vessel — one that's 13 feet or shorter. Brands like WaveRunner, Sea-Doo, and Jet Ski come to mind.
Personal watercraft insurance is critical. You've got a lot of decisions to make when considering what we might call Jet Ski insurance, so let's hit the waves, so to speak.
What Does PWC Insurance Cost?
Typically, PWC insurance costs can range from $80 to $200 per year, depending on what coverage you choose, what deductible you have and other factors. This insurance is much like car insurance in that your individual premium will be based on factors such as make and model, your age and gender and more.
Take time to study any coverage offers you get – some insurers want a high deductible, some won't bundle this policy with other policies you have and some have a max amount of coverage they offer.
Your PWC Can Suddenly Get Expensive in Lots of Ways
Your personal watercraft is a pricey toy, and it could quickly get even more expensive. It could hit a dock or suffer a collision with a boat or another PWC.
Unsafe operation of your PWC can cause bodily injury or even death. Passengers, towed water skiers, or wakeboarders could be injured. The resulting legal action could get incredibly expensive.
Your PWC could also be damaged by the uninsured drivers of other vessels. Or, it might not even make it into the water before needing costly repairs. For example, it could be involved in a collision with an automobile while you're towing it to your dock. That doesn't even count loss by theft or damage by vandalism, or the cost of replacing items stolen from inside your personal watercraft.
The point is, you have so many sources of financial concern with your PWC that comprehensive personal watercraft insurance is as important as your water safety practices. You also need to know exactly what your personal watercraft insurance policy covers and what it doesn't.
Know What Every Personal Watercraft Insurance Policy Should Cover
The basics of personal watercraft liability coverage are these three items:
Bodily injury
Property Damage
Medical Coverage
You want to cover the cost of damaging your vessel, whether it's in the water or on dry land, as well as the medical expenses of yourself or others.
If collisions with other property and individuals are your fault (or that of whoever was driving your PWC), you want and need protection against legal action. That's where liability insurance coverage comes in.
These are the basics of your personal watercraft insurance coverage. You should have some coverage assistance for towing on the water, as well as protection against uninsured watercraft users. Ask your insurance agent for an explanation of the full menu of coverage options.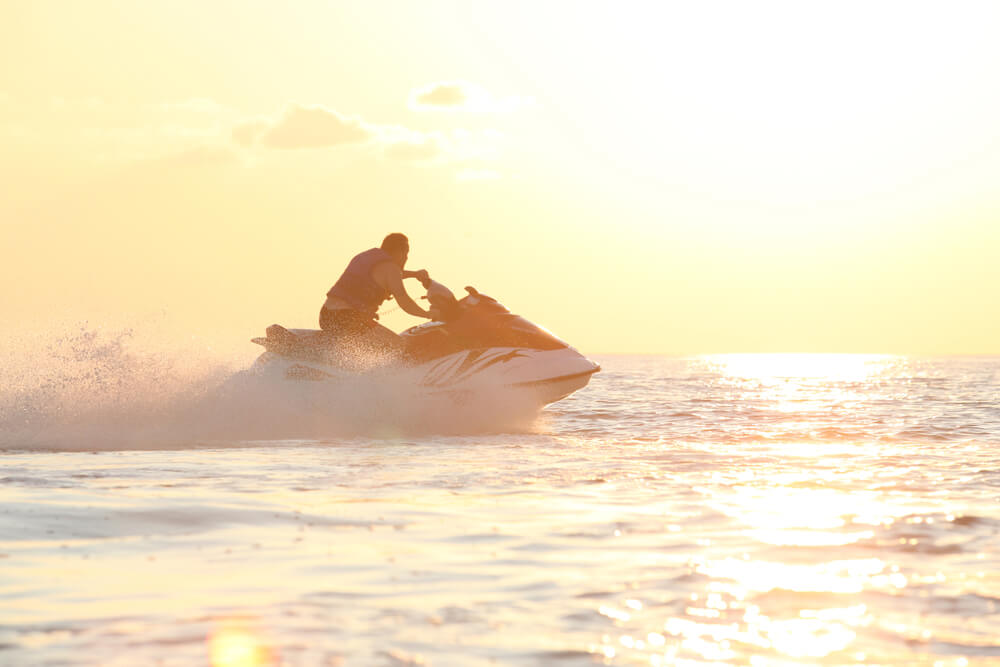 And Know What Your Policy Doesn't Cover
You'd hate to sustain major PWC damage and then have your insurance agent point to the paragraph in your policy that clearly prohibits the activity that resulted in the damage. That's why it's always important to know what's in your policy and avoid conduct that can incur expenses your insurance won't cover.
Many policies, for example, don't cover "dusk to dawn" activity. That means that your personal watercraft insurance won't kick in if damage occurs while you or others are driving it at night.
Other insurance plans are no longer in effect if you modify your PWC to boost power or performance. So be aware of what you're allowed to do before considering modifications.
It's Not Boat Insurance, But You Might Bundle Your Personal Watercraft Coverage with Your Boat Policy
If you're a boating enthusiast, you might have one or several personal watercrafts just to add additional layers of enjoyment to your water adventures. While each PWC in your stable has to be separately insured, you can bundle your personal watercraft insurance coverage with your boat insurance.
If you do this, the insurer that currently provides your boat insurance might give you rate discounts on your personal watercraft coverage when you buy both policies. Ask your insurance agent because this could be a source of significant savings.
Start a Discussion with an Independent Insurance Agent
The point of dealing with an independent agent for your cheap watercraft insurance quote is your agent's ability to seek the best rates from several competing insurance providers rather than just one.
Agents who work for single insurance companies don't have this option. They can only present you with the coverage their company offers. So that's where the discussion begins and ends.
Your independent agent can listen to all of the factors that are of primary importance to you (including cost) and then go shopping for policies and find the best personal watercraft insurance coverage at the best rate for you and your family.
Hit the Waves with Affordable Watercraft Insurance Today
Freeway agents can find you the best low-cost price for your personal watercraft. Find an easy and free quote for personal watercraft insurance online, call us at (800) 777-5620 or find a Freeway office near you to meet with an agent.
Ready to Get a Quick Quote?