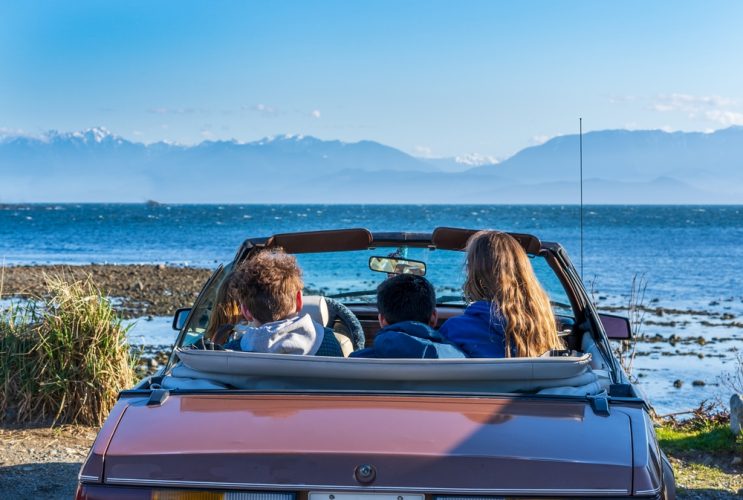 A long and winding road trip along the west coast of the United States is a great way to celebrate a few days off from the daily grind. In the United States, residents can seek their perfect place from the mountains and greenery of the Pacific Northwest to wine country to the dry deserts of Southern California.
Whether you rent a car or drive your own, each spot on this trip offers unique, diverse and endless variation. So, let's hit the west coast and visit 21 scenic spots along the way with tips for safety, places to sleep and, of course, places to eat!
Why Choose a Road Trip?
There's as many road trips as there are preferences. You can make them as structured – or as spontaneous – as you want! Just the act of locking the front door, jumping into the car and driving away is a declaration of freedom. If life throws some curveballs during your trip, maintaining that spirit of adventure will give you the flexibility to adjust. 
Of course, there are things that should be planned:
Give some love to the trusty steed (your car) that is going to take you on these far-flung adventures.
Make sure your car insurance is current, your oil changes are up to date and your tires, brakes and fluids are all ready for the rigors of the road
Pack some extra chargers, some entertainment and good music, snacks and water! Many of the spots on our list are parks, so find the most affordable package before you leave. You can purchase annual or one-time passes that will get you in every park.
Safety First on Your Adventure
Although you and your passengers are on a carefree adventure to indulge and imbibe, one of the best things you can do is to keep safety first and foremost. Here's a handy list of things to keep in mind.
On-the-Go Protection
If you will be driving in strange places, you'll want to be safe if something happens. For example, your 6-year-old (or your grown spouse!) may lock the keys in the car. If you drive over the wrong thing you may end up with two flat tires. Even having your car overheat as you make your way through stunning desert vistas is not impossible…
The way to make sure your trip isn't interrupted by an event like this is to add roadside assistance to your policy. This coverage is cheap compared to the peace of mind it can provide when you are driving through unfamiliar places. Your roadside assistance should cover you even in a rental car.
One other possible coverage to add is travel club and hospital indemnity. This cheap package will help you pay for medical costs, aside from your health insurance and auto insurance, if there is an accident and you wind up in the hospital.
Car Rental
If you don't want to use your car, you may end up choosing a rental. Rentals are in short supply these days, so be sure and get a reservation so you don't end up trying to fit 6 people in a compact!
Make sure you go in with a clear understanding of what your personal auto insurance will cover. For example, does your policy offer some of the same protections the rental company is asking if you want to add? No reason to duplicate.
If something happens along the way to your personal vehicle, such as an accident, you may want to continue your trip if everyone is OK. In that case, having rental care reimbursement on your policy will come in handy.
Strangers in a Strange Land
OK, we borrowed that title a little bit, but keep in mind as you travel that as carefree as your time on the open road is, you still need to use some common sense. If you must bring valuables, don't flaunt them. Take good care of your credit cards and cash. Be cautious with strangers who seem overly friendly. And if you overdo it in wine country, make sure you are in a safe place with people you trust and that someone not drinking has the keys
21 Scenic Spots on the West Coast
Of course, there are more than 21 scenic spots on any west coast jaunt. Use this guide as a starting – or finishing – point and add your own best places to visit as you go along.
1. Whidbey Island, WA
We are going to begin on Whidbey Island. There are several ways to get to this seahorse-shaped island. You may choose to take a longer ferry from a different point, but we'll be on the Mukilteo ferry, which is a 20-minute ride over to Whidbey Island. The Mukilteo ferry is just north of Seattle – about an hour's drive depending on traffic.
Most tourists want to check out Deception Pass State Park and take in the sweeping views.
Duration: You may want to devote a day to exploring Whidbey Island. If you just want to eat at a really good seafood spot, it could be a 3 to 5-hour trip there and back.
Hint: Ferry lines on the weekends can be long. There is a concession stand and a restaurant, but if at all possible, begin your journey on a weekday. Ferries run every half hour. There are also alternate ways to get to Whidbey, as well as other ferry points, that you can explore.
2. Seattle
When you wake up on Day 2, you'll want to wander around the famous Pike Place Market to get your morning cup of joe from the original Starbucks. Find some breakfast and hit the Space Needle, a thrill with breathtaking views of the Cascade Mountains and Mount Rainier.
You can easily spend a day exploring the charms of Seattle, but if you are ready to hit the road after a few hours, take off for Olympic National Park.
Next stop: Olympic National Park (about 2 hours north and west).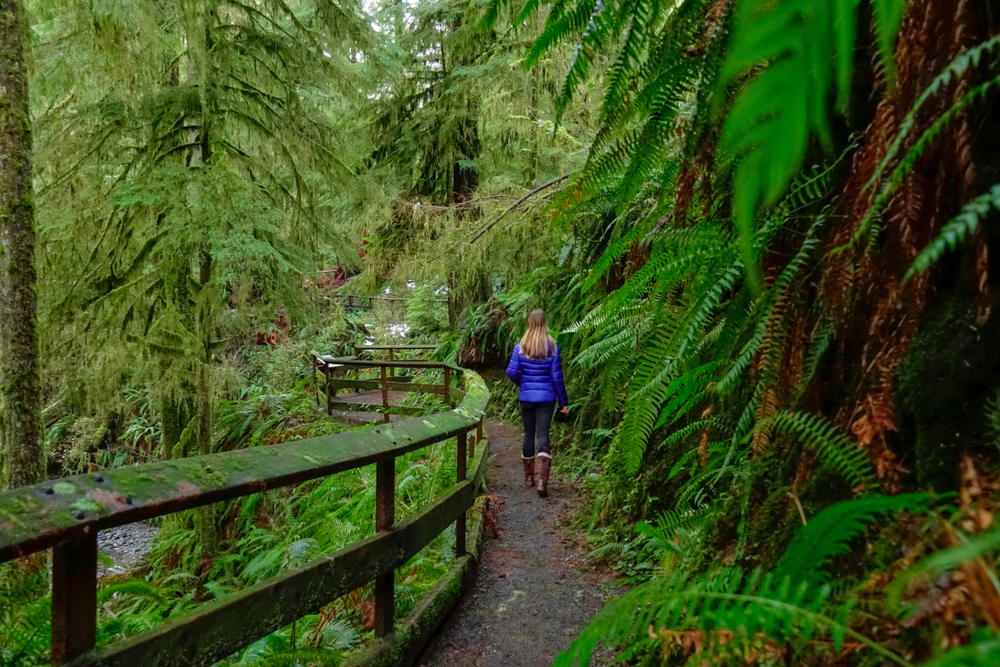 3. Olympic National Park, WA
There is much to see and do inside Olympic National Park and a variety of ecosystems to check out, including subalpine, coast, rain forest, and lowland forest. Located inside the Olympic Peninsula, you can spend what remains of the day after driving over from Seattle and then stay at one of the lodges (reservations are highly recommended). The park is huge and since there is no one road linking it all, you can plan your activities based on your interests or just hop in the car and start driving around.
Summer months are the busiest, so plan accordingly.
Next stop: Mount Rainier, roughly a 4-hour drive.
4. Mount Rainier, Washington
If you've always wanted to see an active volcano, then Mount Rainier is the perfect place for you. Depending on the time of year, you can hike, camp, ski and sled. There are several beautiful places to visit inside the park system, including Paradise, one of the most popular. There is a hotel in Paradise for those who want to make a day and night of it, as well as other overnight options.
Hint: Paradise has some great trails for those who want to see the glorious offerings of the wildflower meadows. Keep in mind the area has an elevation of 5,400 feet and some trails will offer quite a workout.
Next stop: Columbia River, about 3 hours west.
5. Columbia River Gorge, Oregon
The majestic Columbia River Gorge is a must-see spot. Waterfalls, wildflowers, hikes and leisurely strolls, all combined with spectacular scenery add up to a memorable piece of American beauty. You can also take advantage of a hand-crafted beer and farm-fresh food at the Gorge, too. Since your next destination is 7 hours due south, you may want to find a lodge and sleep off some of those potent potables!
Next stop: Crater Lake, 7 hours due south.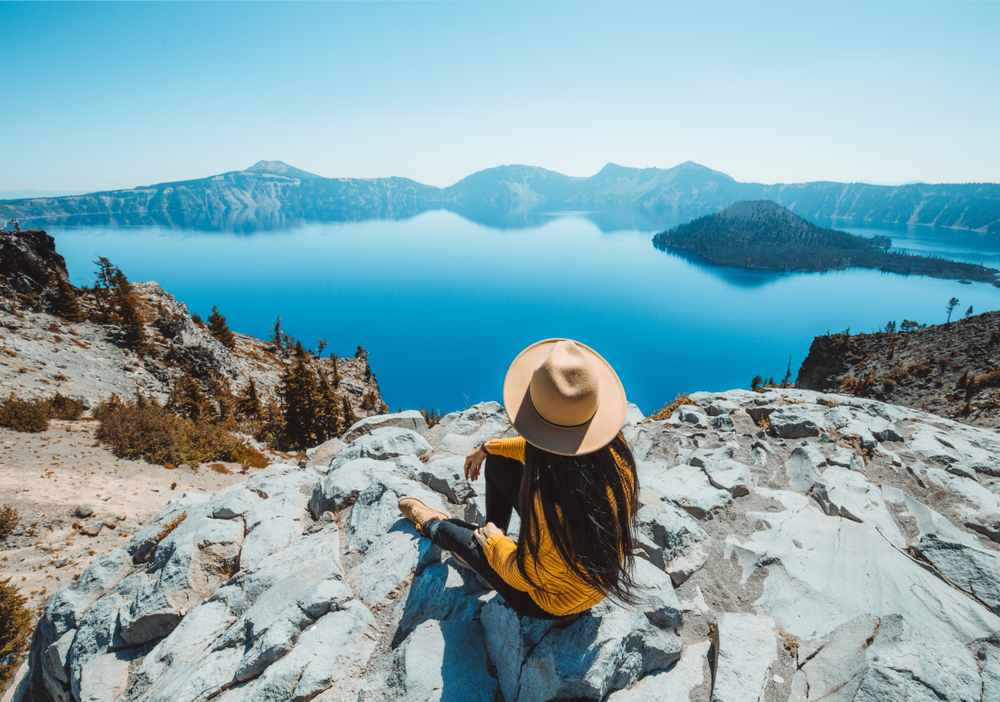 6. Crater Lake National Park, Oregon
Traveling in summer? You may still want to bring some winter coats if you plant to make Crater Lake a stop. The park was formed by a volcano causing the collapse of a mountain top. There is snow on the ground for much of the year, but the deepest lake in the United States is a pristine and awe-inspiring color of blue you won't soon forget.
Next stop: It's a 4 hour drive due west to reach the next scenic stop, Redwood.
7. Redwood National Park, California
If you are going to take a west coast jaunt, it's obligatory to get a picture at the base of one of the tallest trees on Earth at Redwood National Park. Since you are coming off at least a few hours at Crater Lake and 4 hours on the road, you may want to find accommodations and tackle Redwood the next day. However, if you just want the picture as proof that you stopped, you can take a 5-minute walk to the Big Tree Wayside, snap your photo and be on your way.
But there are places to stay all around Redwood and plenty of restaurants. If you want to get your picture, have dinner and tuck in for the night, you can spend a few hours the next day exploring a little more of this beautiful attraction.
Next stop: Lake Tahoe, Nevada – 8 to 9 hours
8. Lake Tahoe, Nevada
Depending on the time of the year, you can have fun with water sports or ski the slopes. Lake Tahoe has been experiencing drought in the last few years, as has much of California and Nevada. At this point, significant snowpack shows encouraging signs that Lake Tahoe will rebound and at least get to its fill line.
Lake Tahoe offers a 72-mile gorgeous drive, called the Most Beautiful Drive in America, which offers food, shopping, paddleboat rentals, casinos and a large variety of other attractions. There are plenty of places to spend the night so you can be totally refreshed for your next stop: San Francisco!
Next stop: San Francisco – 4 hours
9. San Francisco, CA
No west coast journey would be complete without a stop in San Francisco. There is so much to do and see here, we can't possibly list it all. Some highlights, however, would include:
Alcatraz – a short ferry ride will take you over to "The Rock." Be warned that lines are long in peak tourist months. You can purchase tickets in advance.
Fisherman's Wharf – between the awesome food and street musicians, there's something for everyone at this iconic landmark. Stroll down Pier 39 for a first-hand look at all things San Francisco.
Chinatown – If you are feeling brave (and you don't speak Chinese), visit a Chinatown restaurant with a menu in Chinese. And even if the menu is in a familiar language, you may not recognize all the ingredients. But take heart – you won't walk away hungry after sampling the delights available here.
Tip: It never really gets warm at the waterfront. So, pack a light jacket or you'll be buying one from one of the vendors who sell light fleece jackets to teeth-chattering visitors.
Next stop: It's in the same city but deserves its own mention.
10. Golden Gate Bridge, San Francisco
On your way out of San Fran, take a stop at the Golden Gate Bridge. There's a welcome center where you can buy souvenirs and learn about the history of this iconic landmark.
Next stop: Santa Cruz, CA – Due south for almost 2 hours
11. Pacific Coast Highway
On this particular journey, we'll be picking up the Pacific Coast Highway as we head out of San Francisco for points south. The Pacific Coast Highway is almost a destination in its own right and heading north to south gives the driver the absolute best views while motoring along this marvel of modern road building (see there is a method to our madness).
12. Santa Cruz, CA
There are many things to do and see in Santa Cruz. Besides great beaches, food and wine, the legendary Santa Cruz Beach Boardwalk is a must see for anybody traveling with children – or anybody who loves an amusement park over the stunning Pacific Ocean. Spend the day exploring nature or shopping for one-of-a-kind artisan crafted treasures.
Next stop: An hour-and-a-half down the scenic PCH to Big Sur.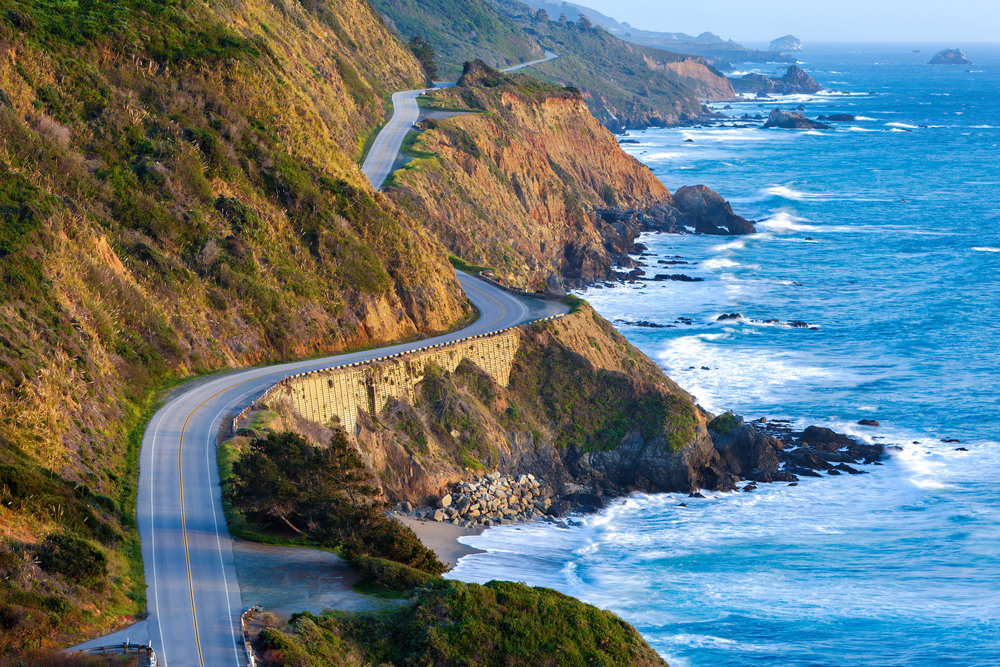 13. Big Sur, CA
Just like many of our unique destinations, Big Sur can be a drive-through or a longer stay. It's an iconic place that you may recognize from plenty of movies, TVs and commercials. You can simply drive through Big Sur on the PCH and pull over now and then to gaze at the Pacific Ocean splendor. Or you can choose a longer stay and visit Big Sur State Park or stop to shop and eat at Nepenthe, a landmark place that comes complete with Southern California's good vibes.
You'll probably want to leave early to arrive at your next stop (hint, it's a biggie) in time to rest up for the following day's adventure.
Next stop: Yosemite, 5 hours east
14. Yosemite National Park
Visiting this quintessential of America's parks is a must do on your itinerary. However, spontaneous won't work here as you need reservations just to enter Yosemite National Park. If you want to make a day and night of it, you'll also need to reserve your lodging, camping and backpacking. Park officials advise to pack your patience as millions of people visit here in the peak months between April and October.
There's so much to do and see, you'll want to explore the website and make some plans.
Tip: Start early to avoid the crowds. Get a good night's sleep before embarking on the next leg of the trip, which involves driving through Death Valley and into Sin City.
Next stop: Death Valley and into Las Vegas – 5-8 hours to Death Valley and 3 hours past that to Las Vegas
15. Death Valley
With temps hitting above 130 degrees in the summer, you'll want to make sure you have plenty of water before hitting the road through Death Valley. It's called the hottest place on Earth for a reason! For those who want to adventure into the desert fun, stop by Furnace Creek Visitor Center for some tips and suggestions. If you plan to hike, take precautions.
Next stop: Vegas, baby – 3 hours.
16. Las Vegas, NV
If you are a newbie to Sin City, decide on a few things to do to mark your trip and come back again if you don't check everything off your list. Las Vegas has too much to do and see to get it all in one trip. However, there are a few experiences you shouldn't miss, including:
Taking in a show. Las Vegas is known for its live entertainment. From the Beatles Cirque du Soleil "Love" show to famous magician David Copperfield, there's a show happening somewhere, anytime!
Visiting Fremont Street Experience. You'll marvel at the spectacular display of lights and technology overhead while grooving to live music. It's an all senses experience you won't want to miss. And it's free! The adventurous (and patient) can buy tickets and get in line for the zip line that takes you above the crowds.
Nothing is cheap here. From traveling around the city (buying a bus pass is the best way to go) to playing the slots to finding entertainment and a place to sleep, save up for this spot in your trip.
Next stop: Santa Barbara, 6 hours.
17. Santa Barbara, CA
After the whirlwind of Las Vegas, Santa Barbara is the perfect next stop to catch your breath. Also known as the American Riviera, Santa Barbara offers 7 beautiful beaches if it's time for that sun-kissed glow, museums, restaurants and, of course, wine.
Next stop: Santa Monica, 1.5 hours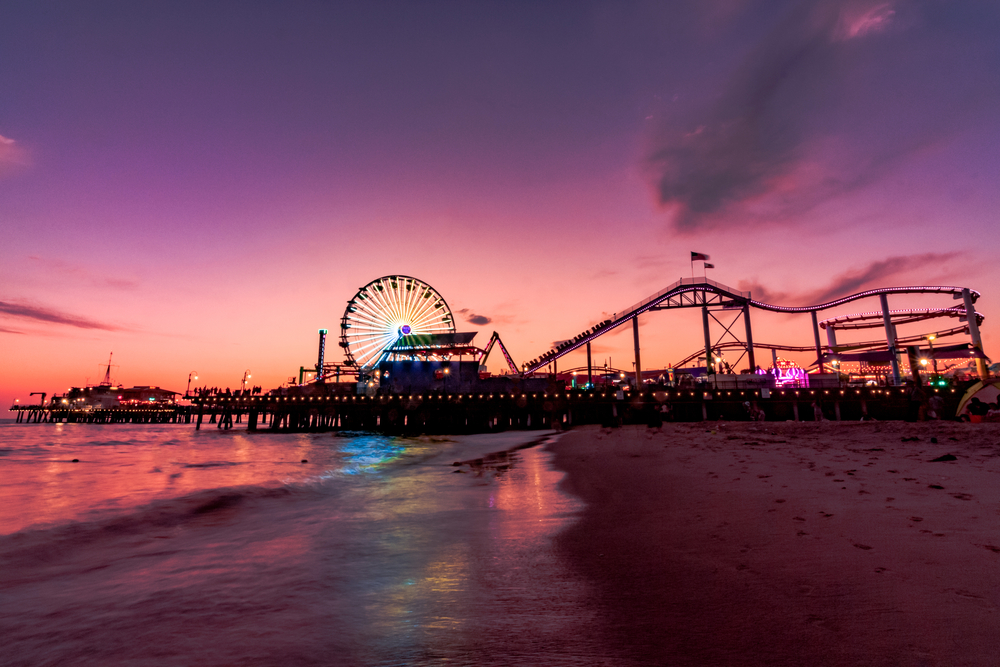 18. Santa Monica, CA
Continue down the lovely PCH, through infamous Malibu and into Santa Monica on your way to Los Angeles. There are plenty of beaches, food and nightlife for those who want to immerse themselves in the SoCal lifestyle.
Next stop: Los Angeles, 30 minutes
19. Los Angeles, CA
After your leisurely drive down the PCH through cities that illustrate the absolute stunning beauty of the Golden State, it's time to tackle Los Angeles, the City of Angels. As with Las Vegas and San Francisco, deciding ahead of time what you want to do while here will save you some time, angst and probably money. Some of the major attractions include:
Disneyland – Get there early, pack your patience and take lots of money. The park is a day-long adventure of iconic rides and attractions that everyone should visit at least once.
Universal Studios Hollywood – There's everything from Harry Potter to Super Mario at Universal Studios. It's a little more laid-back than Disneyland, so a possible respite for mom and dad while still being fun and exciting.
Next stop: Joshua Tree, between 2 and 3 hours
20. Joshua Tree National Park, CA
For those who want to bask in the desert sun, Joshua Tree offers not one, but two desert ecosystems in the Mojave and the Colorado. Strong winds, gusty rainstorms and the darkest of nights will provide you the desert memories you crave. The park is always open and there are 4 visitors centers open during regular business hours.
Since there are no restaurants, hotels or gas stations, you'll want to pack in some water and food if you plan to stay for any length of time. The park has limited cell phone reception, but if you want to do some stargazing before your last stop and unwind from the hustle and bustle of Los Angeles, Joshua Tree is the destination.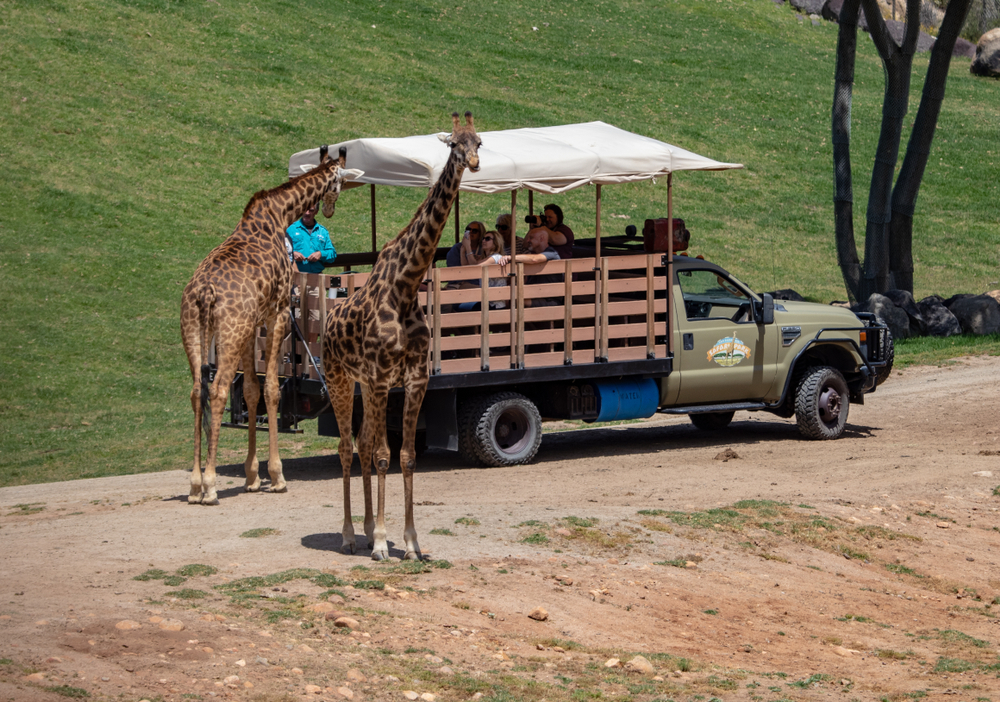 Next – and last – stop: San Diego, between 3 and 4 hours
21. San Diego, CA
This is the quintessential southern California destination city, with rolling surf and waves in impossibly blue water on one side to horse country in the hills above on the other side. Learn to surf, take a yoga class on the beach, take a whale watching tour, visit a real live post-WWII ship at the USS Midway Museum, take in the world-renowned San Diego Zoo and Safari Park or just eat the freshest of seafood to your heart's content.
San Diego is a wonderful place to relax and unwind after your wild and crazy, action-packed west coast road trip.
Take Freeway Insurance Along with You on Your West Coast Journey
Now that you know where to go and what to do on this fun-filled trip along the west coast of the United States, don't forget to take along the best and most affordable car insurance. At Freeway Insurance, we are happy to give you a fast and free quote online. You are also welcome to stop in the nearest location or just give us a call at 800-777-5620.
Ready to Get a Quick Quote?