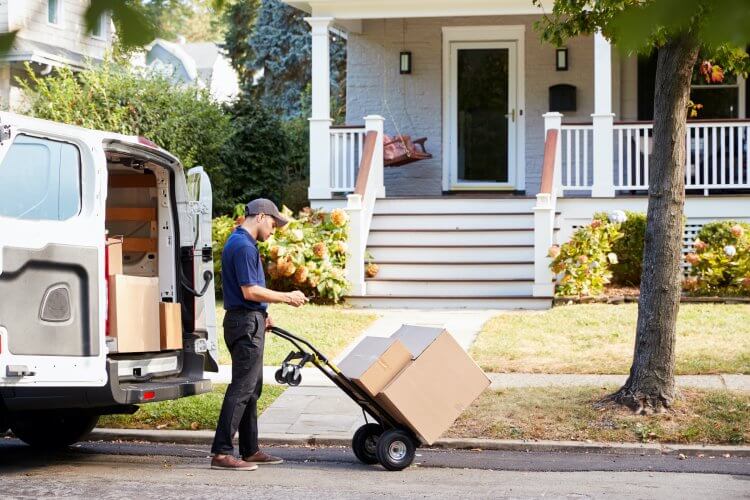 There are few things better than coming home to find a package at your doorstep and these days that can be pretty frequently. More online shopping and more deliveries also mean more of another thing: porch pirates.
A porch pirate is a thief who takes packages left outside doors by couriers. Porch pirates are a year-round problem but tend to become even more prevalent around the holidays. A porch pirate can hit anyone in any home, but there are ways to deter them and fight back.
Don't Leave Packages Unattended
This may seem obvious, but the main reason thieves steam from front doors and porches is because no one is there to stop them. If you are expecting a delivery, try and find someone (like a trusted neighbor) who can secure the package so you know it is somewhere safe, especially if you are out of town. Amazon has even recently begun offering Key by Amazon In-Garage Delivery, which gives drivers temporary, one-time access to deliver packages inside your garage.
One of the best options is to have your packages delivered to where you are during the day rather than to an unattended porch. If your employer allows, consider having your packages mailed there, so you know it's somewhere safe.
Track Your Shipment
Take advantage of shipment tracking to know exactly when your package will arrive to avoid letting it sit unattended for too long. Tracking technology has advanced and become the standard with nearly any kind of delivery. Some retailers allow you to actually follow a dot on a map as your delivery heads your way (though this is usually more for food delivery). Amazon has delivery drivers snap photos of your package at your front door, showing you that your package was delivered safely and shows you the exact location of your package.
Customize Your Delivery
Retailers hate porch pirates just as much as we do, so many have allowed for customizable delivery instruction to help thwart thieves. FedEx, for example, offers a free Delivery Manager that lets you direct your deliveries to where and when you want them. This tell the courier the exact time and location you'd like your package delivered. For example, you may have them leave it out of sight behind a potted plant just before you arrive home.
Monitor Your Front Door
Home security camera systems are a great option for those ready to take it to the next level. Today, you can get a high-quality motion-activated camera for under $100. To help stop porch pirates, you can get smart video doorbells, outdoor security cameras, light and security camera hybrids.
Not only do cameras deter thieves, but they can also even lead to their arrest. Many thieves have been identified and arrested thanks to video surveillance and some social media sharing.
Use Smart Padlocks and Package Storage
The next level above customizing your deliveries is using lockboxes and/or package storage containers. These are like lockers for your packages, only accessible by you and the courier. One company that offers this service exclusively, Boxlock, sells the boxes and smart padlocks through Amazon.
Alternatively, you could purchase your own package storage container and keypad or lockbox and include the entry instructions with your delivery address details.
Sign For It
If you're expecting a pricey delivery, you may request the courier to require a delivery signature. This option isn't always recommended, especially for those who are already not home during the day to receive the package but it is an old standby way to make sure your package isn't left unattended. Be aware that after too many missed connections, some couriers will return the package to the sender.
Watch for Suspicious Activity
According to the Better Business Bureaus, some thieves follow delivery trucks waiting for the opportune time to steal packages. They recommend reporting to the proper authorities with specific details if you notice something out of place in your neighborhood.
Get Creative
Though this is not necessarily something we recommend, it should be noted that some have gotten rather creative with fighting off porch pirates. Former NASA and Apple engineer Mark Rober is for his porch pirate glitter bomb videos. His first video, Glitter Bomb 1.0 vs Porch Pirates, has been viewed over 86 million times and features him getting revenge on a would-be thief with a box that (surprise) dispenses some of the finest glitter you can get all over the pirate's car.
Replace The Items
This may seem like letting the thieves get away with it, but since we can't all build robotic glitter dispensing machines, it's often in our best interest to let the courier and retailer know your package did not arrive. Most retailers today have policies and processes in place to make sure you receive your item one way or another.
Make a Claim
Most homeowners or renters insurance policies cover stolen packages. However, it makes the most sense to file a claim for stolen items that are worth more than your deductible.
Whether you get hit by a porch pirate or not, your things have value and should be protected. Check your homeowners insurance or renters insurance policy to learn how much coverage you have for your prized items. And, if you'd like to see how much you could save by switching insurers, why not get a free online homeowners insurance quote from Freeway Insurance today?
Ready to Get a Quick Quote?