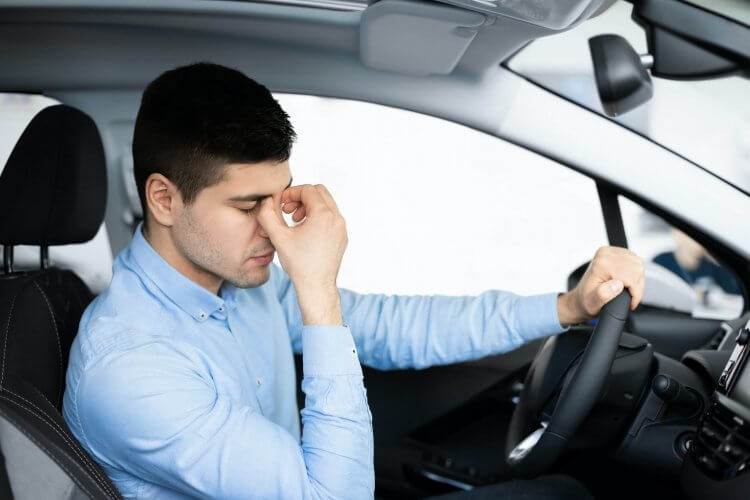 Not only is it legally required to have an active car insurance policy in order to drive your vehicle, but driving with an expired insurance policy, also known as being an uninsured driver, can lead to costly tickets, civil penalties, and even jail time. Furthermore, if you are involved in a car accident, you may be responsible for paying for medical expenses and other damages out of pocket if you don't have liability insurance. A police officer can issue a ticket for driving without insurance and the fines can be quite high. The lack of financial responsibility in the event of an accident can result in the restoration fee for any damage to your vehicle being your responsibility.
While it can depend on the state law, the consequences of driving without insurance can include an expensive ticket, license suspension, a lack of financial protection in the event of an accident, or a denial of insurance coverage. There are many options available for car insurance, so it's always a good idea to research and choose a policy that provides the coverage you need.
Costly Tickets
The actual dollar amount in penalties for an expired insurance policy varies widely based on many factors:
State
Number of offenses
Length of time insurance has been expired
Length of time taken to pay fine
In Georgia, for example, the vehicle owner/lessee is fined $25 for any lapse of coverage while the vehicle is actively registered. However, that fine goes up to $160 in addition to the $25 fine if the lapse of coverage fine is not paid within 30 days.
Most states charge hundreds of dollars for the first offense. In Arizona, the first offense results in a $500 fine, second offense is $750, and third is $1,000. It should also be noted that in both Georgia and Arizona, these fines come with a suspended license as well.
Suspended Driver's License
Drivers cannot legally drive with a suspended license. Nearly every state will suspend your credential without proof of insurance, with the exception of Alabama, Arkansas, Louisiana, Maryland, and New Mexico.
Some states will suspend your license definitely, meaning the suspension will end on a definite date. For example, in Missouri a driver's 1st suspension is for 0 days, the 2nd suspension in two years results in a 90-day suspension, and the 3rd and subsequent suspension is for 1 year.
Some, however, apply indefinite suspensions, which means that your license will remain suspended until you take some action, such as paying for a traffic ticket. In Georgia, they have the right to refuse to renew or reinstate vehicle registration if fines have not been paid.
It's rarely free to reinstate a suspended license. In Florida, the reinstatement fee for a suspended license is $45. In some situations, such as if your suspension is due to a false or fraudulent insurance claim, you may be charged an additional $180 for reinstatement. If you are charged with driving during suspension in Florida, your first conviction may be a second-degree misdemeanor, punishable by a maximum fine of $500 and a maximum of 60 days in jail.
Lack of Financial Protection in an Accident
If you are involved in an accident that was deemed not your fault, you may still be on the hook for the damages. Missouri law, for example, says that if you fail to carry auto insurance and you are involved in a motor vehicle collision, you will not be able to collect non-economic damages, even if someone else was 100 percent at fault.
In Louisiana, on the other hand, their No Pay, No Play statute says that victims of another driver's negligence are prevented from collecting the first $15,000 of bodily injury damage and the first $25,000 of property damage if they're uninsured or at the time of the accident.
Denial of Insurance Coverage
With expired insurance, if you are involved in an at-fault crash it would likely result in you being designated as a high-risk driver in the eyes of an insurance company — even if it's your first offense. In this case, premiums can become higher if you're reapplying for coverage. Rates can go back down over time, but it can take six months or more for your policy premiums to decrease.
It's Not Worth It
The cost of letting your insurance expire is nearly always more than the cost of your policy, not to mention the time and hassle involved in paying fines, restoring your license, and reapplying for coverage.
In fact, if you let your insurance policy expire, you may face a registration suspension, a driver's license suspension, and even a legal requirement to pay a restoration fee.
The above reasons don't even mention the domino effect that a suspended license can have on your ability to get to and from work, meaning it could affect your income.
In addition, if you are involved in an auto accident as an uninsured driver, you may be held responsible for paying for the medical bills of others involved and legal penalties in a court of law. If you are found to be the at-fault driver in an accident and you don't have insurance, you may also be held personally responsible for damages, which can include personal injury and property damage, which can be extremely costly.
There is also a lot of time that goes into the process of reapplying for coverage, paying fines, and reinstating your license. It's important to provide accurate information when applying for insurance coverage and to work with a reputable insurance provider. With their assistance, you can be confident that you have the coverage you need to protect yourself, your vehicle, and others on the road. In this way, you can ensure that you are in compliance with the law and that you are protected in the event of an accident.
Our insurance experts at Freeway Insurance can help! Get a free car insurance quote today online, over the phone by contacting Freeway Insurance at (800) 777-5620 or visit an office near you. They can also provide you with a free consultation to help you determine the best coverage options for you as a vehicle owner and driver. What does it all add up to? Don't let your insurance expire!
Ready to Get a Quick Quote?