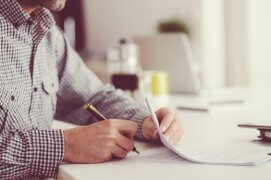 Running a business is full of risks. Day in and day out, your company and your staff face challenges that have the potential to become catastrophes. That's why it's so important to have commercial business insurance.
Despite the importance of this kind of coverage, many business owners neglect to purchase it or only purchase the bare minimum. Here are three reasons you should consider commercial business insurance and how your company can benefit from it.
1. Many Types of Business Insurance Are Available, Allowing You to Pick and Choose the Additional Coverage Your Business Needs.
Business insurance packages can be customized for your company. There are several subsets of business insurance, and each have the goal of protecting companies from catastrophic loss. For example, most business owners like to get property insurance, which can protect their company from property damage due to fires and major storms.
Business insurance can include liability insurance, which protects your business in case a customer gets injured on your property or if your staff acts negligently and causes the company to lose a significant amount of capital. It also can include replacement insurance, which allows your company to recuperate expenses in the event that your inventory is stolen.
Depending on the industry you're in and the location of your business, you may need everything from professional liability to product liability to workers' compensation to business interruption insurance. You get to pick and choose additional coverage according to your company's needs.
2. One Catastrophic Event Can Put You Out of Business.
In October 2012, CNN Money estimated that the economic loss from Hurricane Sandy was between $10 billion and $20 billion. A significant, often overlooked cause of that monstrous economic impact estimate was business interruption. With streets flooded, customers unable to purchase goods, and employees unable to arrive at work, businesses couldn't operate.
If your company can't open its doors to sell your products and services during a storm's aftermath, then your business' profitability drops immediately. The longer your doors stay shut, the more money you'll need to cover the cost of business operations.
The permanent financial loss resulting from business interruption can threaten your business' profitability. Commercial business insurance can help you recover these lost funds, and prevent you from going out of business.
3. Commercial Business Insurance Can Cover Damages If You Get Sued.
Lawsuits are common, costly, and inconvenient. Even if a former employee or customer brings a ridiculous claim against your business, you may still need to pay a lawyer to get it dismissed. That's a best-case, low-cost scenario.
If the claim is legitimate, then you'll face a court battle. Litigation not only will require you to pay a substantial amount of lawyer fees, but a loss may require you to pay damages. Liability insurance and malpractice insurance, in the event that you do suffer a loss in court, can cover those damages.
Don't let your business go unprotected. Learn the ins and outs of commercial business insurance from the experienced specialists at Freeway Insurance. Our team is available to answer any questions you may have about coverage. Call us today at 1-800-777-5620. We also encourage you to visit www.freeway.com to obtain an insurance quote online.
Ready to Get a Quick Quote?