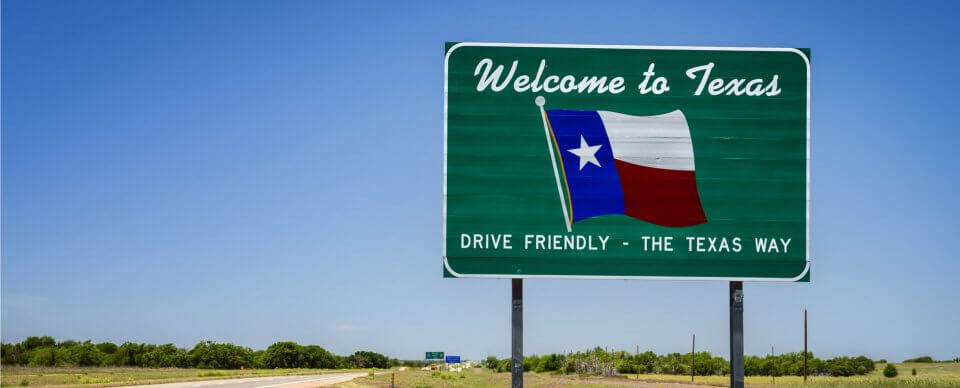 Whether you are a new to the state of Texas or a resident that is planning on buying a vehicle for the first time, you will need to know the auto insurance requirements for the state before you hit the road. Since requirements vary across the country, it is important to understand the coverage necessary to cruise the Lone Star State.
TX Car Insurance Basics
States across the country are generally divided into two categories of "fault states" and "no-fault states" when it comes to insurance. Texas is considered a "fault state," which means drivers are held financially responsible for accidents they cause.
The easiest and most common way to protect yourself financially in the event of an accident is to invest in car insurance. Texas requires the minimum liability of at least $30,000 of bodily injury coverage per person and $60,000 per accident. You are also required to have $25,000 of property damage coverage. You will often see these limits listed as 30/60/25.
While any Texas car insurance agency can tell you what the minimums are – it is important to know what these numbers mean. These limits are the most your insurance company will pay if you cause an at-fault accident. The two types of liability insurance are:
Bodily injury liability, which will help pay for the other drivers medical expenses, emergency aid that responded at the scene or any loss of income that results from the accident.
Property damage liability, which will help to pay for damage you caused to another vehicle or piece of property such as a fence or a home.
Getting the Best Rates for Car Insurance in Texas
If you want cheap car insurance, TX state minimum liability limits will be the most affordable, but affordability isn't always the main factor to consider when getting car insurance quotes. Texas liability limits of 30/60/25 are higher than most states in the country, but you should make sure you have the right coverage for your personal needs.
For example, if you caused an accident that injured three people and each of their medical bills were $25,000 ($75,000 in total), your policy would pay $60,000. Would you be able to afford the remaining $15,000? If not, you may want to consider higher liability limits.
What Happens if I Drive Without Car Insurance?
TX law requires that you show proof of financial responsibility when you are asked for it by a police officer, if you are involved in an accident, when you register your car, when you have your car inspected and when you renew your license or registration. The most common way to show proof of financial responsibility is with an insurance card. You can face serious consequences for failure to do so.
An initial citation will likely results in fines while a second citation can result in the suspension of your driver's license. If your driver's license is suspended then you may be required to file an SR-22 form with the Texas Department of Public Safety.
You may also be required to file an SR-22 if you have multiple traffic offenses, were convicted of a "Driving Under the Influence" or DUI charge or if your license was revoked.
What is an SR-22?
An SR-22 is proof to the state of Texas that a driver has the required amount of liability insurance. If the driver cancels their policy, terminates their insurance or fails to pay their premium, then their insurance provider will notify the state.
SR-22 insurance typically must be maintained for a two-year period, which begins once the driver regains their driving privileges. While the cost to file an SR-22 is relatively low, drivers who are required to file one are considered high-risk and as a result their Texas auto insurance premiums will be higher than the average driver in the state.
The cost of maintaining a Texas auto insurance policy is certainly not worth the risk of driving without proper coverage. Connect with an insurance provider today to secure the best policy for your needs.
If you're shopping for Texas car insurance, look no further than Freeway Insurance. Freeway offers the cheapest car insurance in Texas, with the coverage you need. Request a Texas car insurance quote online or over the phone at 800-777-5620.
Ready to Get a Quick Quote?