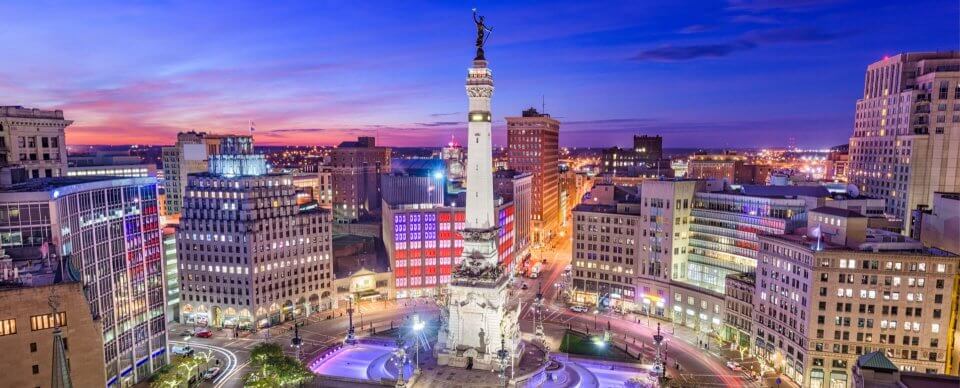 In Indiana, car insurance is required for anyone who wants to drive in the state. The good news is that, if you're looking for cheap car insurance, Indiana has some of the lowest average rates in the country, ranking 45th highest out of 50. If you're shopping for a new policy, it's important to know what kind and how much car insurance Indiana requires. Here I'll cover the minimum requirements, although you should always consider purchasing more.
Indiana Auto Insurance Minimum Requirements
As you're getting car insurance quotes, Indiana insurance companies will know the state's requirements, though it will help you to make a better buying decision if you know these requirements as well.
Liability
Arguably the most important type of auto insurance, Indiana requires you to carry the following, at minimum:
Bodily Injury – at least $25,000 per person/$50,000 per accident
Property damage – at least $25,000 per accident
Uninsured Motorist
This important coverage is designed to cover you and your vehicle if you're ever in an accident with a driver who has no liability insurance or who doesn't have enough to cover your expenses. The minimums are similar to those for liability coverage:
Bodily Injury – at least $25,000 per person and $50,000 per accident
Property Damage – at least $25,000 per accident
Under-Insured Motorist bodily injury – at least $50,000
While it's always a good idea to have this relatively cheap auto insurance, Indiana does allow you to reject the coverage if you do so in writing.
SR-22
This form is not required for every driver, but for problem drivers such as those convicted of DUI or with a recently suspended license, this form must be filed with the state by the insurance company. Since these high-risk drivers may have difficulty acquiring insurance, this is an extra measure of protection to ensure that the required coverage is in place. If you require an SR-22, Indiana's BMV may require the form to be filed in order to renew or reinstate your license. If you need it, you'll find when shopping for SR-22 insurance, Indiana has many options.
What If You're Caught Driving Without Insurance?
Despite the state's requirements, there will inevitably be some Indiana drivers who opt to take their chances and go without insurance. Aside from the obvious problems if those drivers are ever in an accident, the state also imposes penalties if they're stopped by police.
First Offense
If you're found to be driving without insurance, you will lose your license. For the first offense, it will be suspended for at least 90 days. Not only that, you'll also need to pay $250 to reinstate your license, and you'll be required to file an SR-22 for three years.
Second Offense
If you don't learn from the first offense and are caught a second time, your penalties are increased. This time, you lose your license for a full year. Not only that, but your vehicle registration could be suspended for a year too. It's going to cost more to reinstate your license as well — $500 this time. And once again you'll need to file an SR-22 for three years.
Third and All Subsequent Offenses
Those who still haven't learned their lesson after the first two offenses will end up paying $1,000 to get their license back, after another one-year suspension. Again your registration can be suspended for a year. Finally, you'll need an SR-22 for five years this time around.
You were probably already aware of the importance of having good auto insurance in case of accidents. Now you should have a better understanding of what the state of Indiana requires. Armed with this information, you are well prepared to find the coverage that you need.
Now that you've learned the basics about Indiana car insurance requirements, request a free Indiana car insurance quote online by entering your information at the top of the page or by calling 800-777-5620 and find out how much you can save on car insurance. InsureOne can help you obtain low-cost Indiana auto insurance, even if you have tickets, an accident or DUI.
Ready to Get a Quick Quote?