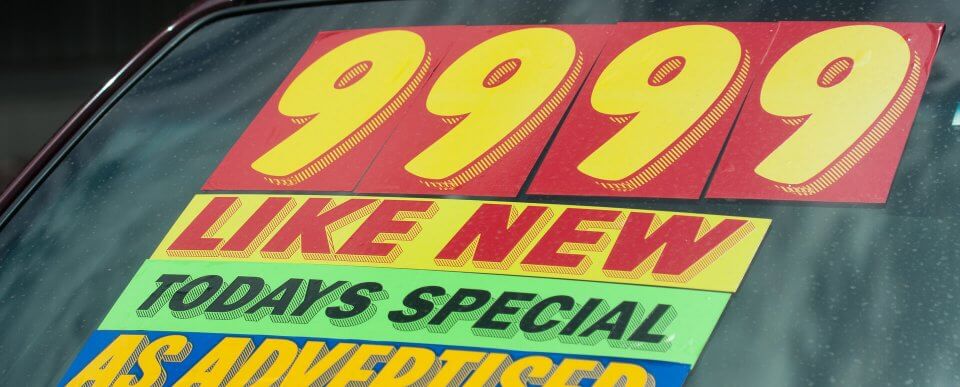 Buying a brand new car with a complete, free, factory warranty is one thing. Buying a certified used car from a dealership is usually a worry-free proposition, too. But buying a used car from someone you don't know is another thing entirely. As a cautious, prudent buyer of a used vehicle, there are important questions you should ask before you finalize any used-car deal.
Before you start asking questions about the car, make sure you are looking at the "right" car for you. Is this right style, in the right color, with the right engine, the right number of doors, and the right wear factor at the right price? Is this the car I really want? Once you've satisfied yourself that this car is "The One," the rest of the questions are for the seller.
Has the Car Been in an Accident?
The first question for any seller is pretty straightforward and very important. Has this car ever been involved in an accident? If it has, determine what kind of accident it was and where the bulk of the damage occurred. Was there an accident report filed? What was the name of the insurance company? What body shop or dealership performed the repairs?
You want to make sure that the damages were properly repaired and there are no after-effects from that damage in terms of ride, steering, handling, or braking. Ask to see the paperwork involving any accidents to assess the extent of the damages and repairs. Doing a Carfax check on the vehicle's VIN (vehicle identification number) is always a good idea. Perhaps the seller already has one to show you.
Why Are You Selling It?
If there is no evidence of an accident or accidental damage, the next thing to ask the seller is: Why are you selling this car? It's just comforting to know, whether it's because of a growing and shrinking family size, or economic realities like a changing job situation and less-than-optimal fuel mileage for the seller's economic circumstances (but not necessarily for yours).
How Has It Been Used?
Some of what you ask of the owner will naturally be specific to the vehicle in question. If it's a pickup truck, you will want to know if it's been used consistently for towing, and if so, what type. If you're shopping at the low end for a second car, a high school or college car, or a commuter car, you'll want to know more about fuel economy. If it's a used sports car, you have every right to ask if it's ever been raced, drag raced, used in autocross events, or taken on road rallies. If so, how competitive was it?
Do You Have Maintenance Records?
You should be persistent in asking to see as much of the paper trail behind the vehicle as possible, including the original bill of sale and all of the bills for its periodic maintenance and repairs. If the seller can't prove to you that the vehicle has been regularly and properly maintained, with oil changes no more than 7,500 miles apart, perhaps you should move on to another seller.
Another important aspect of the paper trail is recalls. You can find out beforehand if the particular make and model under consideration was ever recalled for any safety-related manufacturing or assembly defect by contacting NHTSA. The follow-up would be to ask the owner if he complied with any and all recall letters he received from the manufacturer.
Is There a Warranty?
Still another aspect of the paper trail behind the car is the original manufacturer's warranty. You will want to know the terms of the warranty for bumper-to-bumper coverage, power train coverage, corrosion coverage, how much time or mileage is still available under warranty coverage, and the terms of transfer of the warranty to the second owner, presuming that you're buying from the original owner.
Has Anything Been Replaced?
How much of this vehicle, as it sits, is original equipment? What parts or equipment has the owner had to replace since he's owned it, and why? A straight answer here will be another major clue to the car's reliability and desirability. If the car is a high-miler, you might want to inquire as to the state and age of the tires that are on it. If they are obviously cheap replacements, you may want to lower your offer on the car simply because the tires are not necessarily trustworthy even though they appear new or newer.
How Does It Run?
Ongoing operating costs are going to be important to you as the buyer, so there are a couple of questions you might want to ask the seller. What kind of fuel mileage has it been getting? What brand and grade of fuel do you generally use? How much oil does the engine burn at this point? At the end of your inquisition, you could pose another important question, "Can I have a mobile mechanic come out for a quick check-up before we finalize the deal?" It's a good idea to have a mechanic check it out. Just google "mobile mechanics in [insert city name here]" to find the one closest to you.
Once you find the car that's right for you, why not get a car insurance quote online from Freeway Insurance? Agents are also available by phone at 800-777-5620 to give you a free quote for cheap car insurance. Don't pay more than you need to for car insurance – switch to Freeway today.

Ready to Get a Quick Quote?