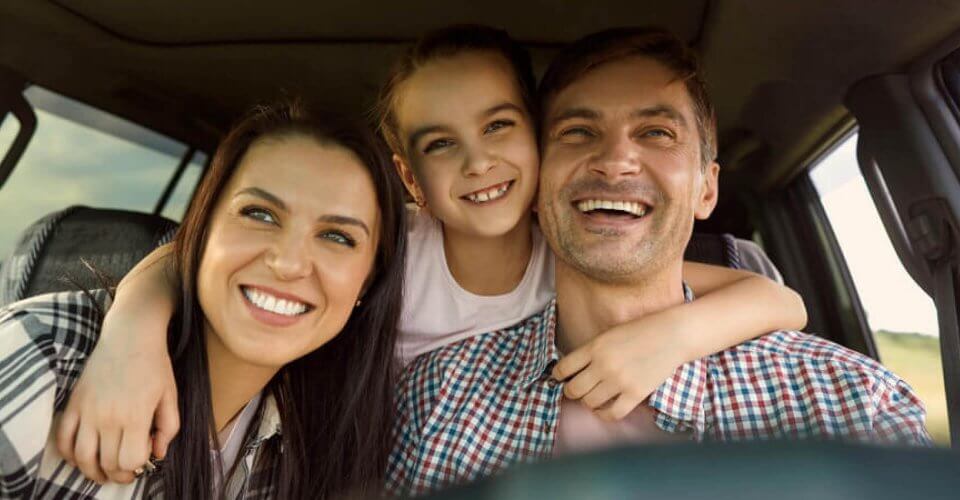 Long car rides can be a fun adventure for adults, but they can be a tedious and boring experience for children. Keeping children entertained on a long car ride can be a challenging task for parents or caregivers. However, with some planning and creativity, it is possible to turn a long car ride into a fun and exciting experience for kids. In this article, we will explore some practical tips and ideas for entertaining children during long car rides, making the journey enjoyable for everyone involved. Here are some tips to help you on how to entertain a child on a long car ride:
How to Entertain a Child on a Long Car Ride
Long car rides can be a challenge for parents, especially when it comes to keeping their children entertained and happy during the journey. Whether you are embarking on a road trip or just a long drive to visit relatives, it's important to have a few tricks up your sleeve to prevent boredom and tantrums. With a bit of preparation and creativity, you can turn your car into a fun and engaging space that will keep your child entertained and make the journey more enjoyable for everyone involved. In this article, we will explore some practical tips and ideas for how to entertain a child on a long car ride.
1. Choosing The Right Destination
Traveling with kids can be a rewarding experience, but it also requires careful planning and consideration to ensure that the destination you choose is the right fit for your family. When selecting a destination, it's important to keep your children's interests and needs in mind. Think about what activities will engage them and what amenities and services are available to make your trip easier, such as stroller rentals, child-friendly menus, and family-friendly accommodations.

Another important factor to consider is the destination's safety and accessibility. You'll want to choose a location that is easy to navigate with kids and has a good track record of safety for families. It's also helpful to research any potential health concerns, such as infectious diseases or extreme weather conditions, to ensure that your family's health is not at risk. By taking the time to carefully consider these factors, you can ensure that your family has a memorable and enjoyable travel experience that is tailored to their unique needs and interests.
2. Take Frequent Breaks
Traveling with kids can be a wonderful experience, but it can also be tiring and stressful for both parents and children. One of the most important things to remember when traveling with kids is to take frequent breaks. Children have shorter attention spans and energy reserves than adults, so they need time to rest and recharge. Taking breaks allows them to stretch their legs, use the bathroom, and get a snack or drink. It also gives parents a chance to relax and regroup. Whether you're on a road trip, flying, or taking a train, make sure to plan regular stops along the way. This will help make the journey more enjoyable for everyone and ensure that everyone arrives at the destination feeling refreshed and ready for adventure.
3. Engage In Conversation
Traveling with kids can be a challenging experience, but engaging in conversation with them can make the trip more enjoyable for everyone. Whether you are flying, driving, or taking public transportation, it is important to keep your children entertained and occupied. One way to do this is by starting a conversation about their interests or the destination you are traveling to. You can also encourage them to ask questions about the trip, the mode of transportation, or anything else that comes to mind. By engaging in conversation, you can help your children feel more involved in the trip and create lasting memories together. Additionally, listening to your kids and showing interest in their thoughts and feelings can help build a stronger bond between you and your children, which can be invaluable in the long run. Remember that children's attention spans are short, that's why we share with you this relevant information on how to entertain a child on a long car ride.
4. Packing Essentials For Kids
Traveling with kids can be a daunting task, especially when it comes to packing their essentials. It's essential to be well prepared and organized to avoid any potential mishaps while on the road. Start by making a list of everything your child needs, including clothing, toiletries, medication, and entertainment. Make sure to include all the essential items, such as diapers, wipes, bottles, and formula, if you have a baby. Depending on the length of your trip, pack enough clothes for your child, including comfortable outfits for travel and any special events you might have planned. Remember to pack extra socks, underwear, and a light jacket or sweater, as the weather can be unpredictable.

It's also essential to pack enough snacks, water, and juices to keep your child hydrated and nourished during the journey. You might want to include some treats, such as candy or a small toy, to keep them entertained during the flight or car ride. Don't forget to bring any essential medication, such as allergy medicine or asthma inhalers, if your child needs them. Lastly, make sure to pack a first aid kit that includes bandages, antiseptic, and any other medication your child may need in case of illness or injury. By being well-prepared and packing all the essentials, you can ensure a stress-free and enjoyable trip with your kids.

When traveling with kids, it's essential to bring along some entertainment to keep them occupied during the journey. Pack a variety of activities, such as coloring books, puzzles, books, and games, to keep your child entertained. If you're traveling by plane, consider bringing a tablet or portable DVD player loaded with their favorite movies or TV shows. Don't forget to pack headphones to avoid disturbing other passengers. For long car rides, consider bringing along a travel pillow and blanket to help your child get some rest.
5. Safety First
Traveling with kids can be a fun and exciting experience, but it can also be challenging and unpredictable. As a parent or guardian, it is crucial to prioritize safety first when traveling with children. Before embarking on a trip, ensure that you have all the necessary safety equipment such as car seats, booster seats, and helmets, depending on your mode of transportation and activities planned. Make sure that your children are wearing appropriate clothing and footwear that is suitable for the weather and activities.

When booking accommodation, opt for places that are child-friendly and have safety measures in place such as pool fences, window locks, and fire alarms. Always keep a close eye on your children, especially in crowded areas such as airports, train stations, and tourist attractions. Talk to your children about safety measures and teach them what to do in case they get lost or separated from you. By prioritizing safety first when traveling with kids, you can help ensure that your trip is enjoyable and stress-free for everyone involved.
6. Importance of Travel Insurance
When planning a family vacation, travel insurance is a must-have, especially when traveling with kids. Traveling with children can be unpredictable, and you never know when an unforeseen event might occur. Travel insurance can provide peace of mind and protection in case of medical emergencies, flight cancellations, or lost luggage. For example, if your child falls ill during the trip, travel insurance can cover the cost of medical treatment, medication, or even hospitalization. Moreover, if you need to cancel or cut short your trip due to an emergency, travel insurance can cover the expenses for the unused portion of the trip, such as airfare, hotel bookings, and excursion tickets.

In addition to medical emergencies, travel insurance can also provide coverage for other mishaps that might happen during a family vacation, such as trip interruptions or delays, lost or stolen belongings, or travel accidents. For example, if your child accidentally damages a rental car or hotel room, travel insurance can cover the cost of repairs or replacement. Furthermore, travel insurance can provide emergency assistance services, such as medical referrals, language translation, or emergency evacuation. By having travel insurance, you can ensure that you and your children are protected and prepared for any unexpected events that might occur during your family vacation.
7. Be Ready for Emergencies
You never know when an emergency might happen when you are traveling with kids. Make sure you keep an emergency kit in your vehicle. It should have blankets, water, food, and other necessities. Then, if you do break down, you'll have everything you need in the vehicle.
8. Bring Basic Medication on the Trip
When traveling with kids, it's a good idea to bring medication to alleviate headaches, upset stomachs, allergies, and motion sickness. Keep these mediations handy in case anything happens.
9. Car Safety Tips
When it comes to traveling with kids, car safety should always be a top priority. Here are some tips to ensure a safe and comfortable journey for everyone. First and foremost, make sure that your child is always buckled up in the appropriate car seat or booster seat. The type of car seat required will depend on your child's age, weight, and height, so be sure to check the guidelines provided by the manufacturer. If you're traveling with an infant, it's recommended that the car seat is rear-facing, and positioned in the back seat of the car. For toddlers and young children, a forward-facing car seat or booster seat with a harness is typically the best option.
Another important safety tip is to keep small children and babies away from airbags. This means that children under 12 years old should always be seated in the back seat of the car, and never in the front seat. If you have an older child who needs to sit in the front seat, make sure that the airbag is turned off. Additionally, never leave your child unattended in a parked car, even for a short period of time. The inside of a car can quickly become hot, which can be extremely dangerous for children. With these tips in mind, you can enjoy a safe and stress-free road trip with your kids.
10. Enjoy The Time Together!
Traveling with kids can be a fantastic way to spend quality time together and create lifelong memories. While it may require more planning and effort, the experience of exploring new places and trying new things with your children can be incredibly rewarding. Taking a family trip can provide a break from the routine of everyday life and offer an opportunity to connect with each other in a different environment. By experiencing different cultures, cuisines, and landscapes together, you can broaden your children's horizons and expose them to new perspectives. From visiting museums and historical sites to hiking in nature and enjoying local entertainment, there are countless activities that can bring the family together and create lasting bonds.

One of the best things about traveling with kids is the chance to slow down and enjoy each other's company. Without the distractions of work, school, and household chores, you can focus on spending time together and having fun. Whether it's playing games, sharing meals, or just talking and laughing together, traveling can provide a space for families to connect and build deeper relationships. While there may be moments of stress or frustration, the shared experience of travel can also strengthen communication skills and problem-solving abilities. With each new adventure, you and your children can grow closer and create memories that will last a lifetime.
Prepare Your Family For a Fun and Safe Trip With Freeway Insurance!
These tips will make traveling with kids easier. You also need to make sure you have ample insurance, so you'll be protected if anything happens on the road, as well as important information on how to entertain a child on a long car ride. For instance, you might want to include roadside assistance to get help if you break down on the side of the road during your trip.
Contact a Freeway licensed insurance agent to learn more about how the right insurance can protect you this holiday season. Start your free car insurance quote online, over the phone at 800-777-5620, or at one of our offices near you.
Ready to Get a Quick Quote?