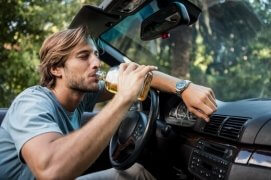 You just booked your spring break trip to the beach. Now your mind is swirling with thoughts of sunbathing, socializing, and sipping big, delicious drinks adorned with little, pink umbrellas. What you're not thinking about is what happens after you've had one too many of those delicious drinks.
Unfortunately for many travelers, the partying and carefree attitude of spring break create a potentially disastrous combination. They drink too much, get behind the wheel, and end their trip with the red and blue lights of a police car flashing, a failed field sobriety test, and an uncomfortable night in jail.
To help prevent a DUI from ruining your vacation, we've outlined 3 tips for avoiding a DUI this spring break. Read on to learn more.
1. Assign a Designated Driver for Every Night of Spring Break.
Let's say you're going to Florida for five days and staying with a group of friends. It's not fair, or realistic, for one non-drinking friend to shoulder the responsibility of being a designated driver throughout the entire trip.
It is reasonable, however, to ask that every person involved in the trip volunteer one evening to be the designated driver. Not only does everyone in your group share the driving responsibility, each person maintains a vested interest in making sure other members of your group follow through on their responsibility as well.
2. As a Backup, Use Public Transportation or Take an Uber.
Sometimes people go on spring break in areas where rental cars aren't an option. For example, they travel to a foreign country or they travel with people who are too young to rent a vehicle. In those circumstances, it's best to investigate what public transportation options are available to you and to keep a schedule of local buses, trains, and light rails on hand.
Check to see if Uber is available in the city and country you're visiting, and make sure your data plan allows you to use your Uber app while you're abroad. An Uber or a taxi ride may save you from having a long walk home if you stay out after the buses stop running.
3. Drink Plenty of Water, Eat Food, and Set a Drink Limit.
Everyone's alcohol tolerance is different. If you're headed out with a group of five people, it's likely that each of those people will require a different amount of alcohol to feel buzzed.
Instead of trying to keep up with heavy drinkers, try to moderate how much alcohol you consume by setting a drink limit, alternating drinks with water, and eating food to help absorb the alcohol. Though you may not experience a major buzz, you may prevent yourself from getting into a car and turning the ignition key after several cocktails.
If you do get pulled over for a DUI this spring break, it's likely you'll lose your driver's license for at least a short period of time. To get your driver's license back, you may need to attend alcohol education classes, install an ignition interlock device, and get what's called SR-22 coverage as part of your auto insurance.
To learn more about purchasing DUI insurance, call one of the friendly insurance specialists at Confie at 201-880-7902. Based in northern New Jersey, Confie specializes in providing risk management, personal insurance, and small to mid-size commercial insurance. Contact us to get a quote for SR-22 insurance coverage today.
Ready to Get a Quick Quote?