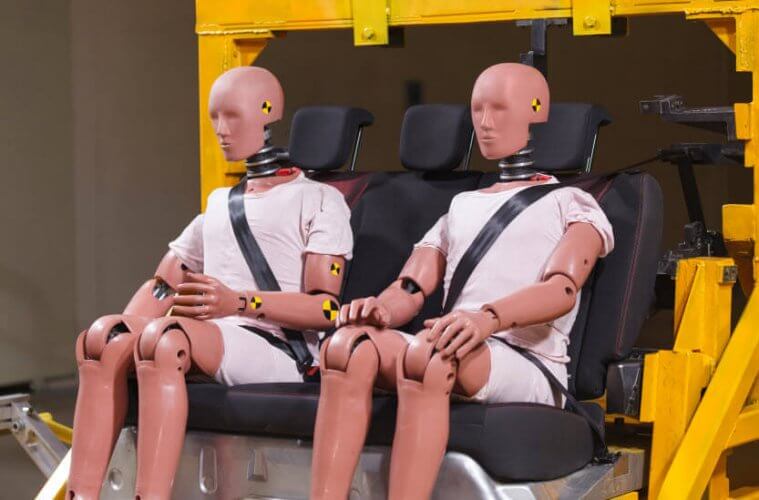 Protecting yourself with auto insurance is an essential aspect of car ownership, but it's not the only factor to consider when purchasing a vehicle. 
With a significant number of car accidents occurring each year, understanding a vehicle's safety ratings can mean the difference between life and death. Evaluating crash test ratings can also help you save on auto insurance rates by choosing a safer car. So, let's dive into the world of crash test ratings and explore their significance.
Understanding Crash Test Ratings
As a driver, understanding crash test ratings is essential when choosing a safe and reliable vehicle for you and your loved ones. Crash test ratings evaluate how well a vehicle can protect its occupants in the event of a crash, taking into consideration factors such as the vehicle's performance in head-on collisions and its effectiveness in crash avoidance technology.
The federal government assigns a "good rating" to vehicles that meet specific criteria and safety standards, ensuring a high level of protection for passengers. In recent years, new technology and safety systems have been added to cars to improve their crashworthiness and reduce the economic losses and fatalities caused by car accidents.
It's important to note that crash test ratings are just one of many things to consider when shopping for a new car. Other factors such as fuel efficiency, maintenance costs, and the particular car's features and design should also be taken into account. However, knowing a vehicle's crash test rating can provide valuable information about its safety and help you make an informed decision. So, whether you're looking at passenger vehicles like SUVs, sedans or other types of vehicles, understanding the real-world performance of a car can help you choose one of the safe cars available.
The Importance of Prioritizing Safety When Choosing a New Car
In 2021, The National Highway Traffic Safety Administration (NHTSA) projected that an estimated 42,915 people died in United States car crashes, with thousands more suffering severe and life-changing injuries. And, it doesn't even account for victims who luckily escaped with just minor bruises and refused medical attention. 
Ironically, when asked how they chose their vehicle, the vast majority of new car shoppers didn't even mention safety as a factor. First and foremost, they said they liked the styling and handling as well as its utility features. But, there was virtually no mention of occupant safety, crash test ratings, or purchasing a safer car to save money on their car insurance as determining factors. Which, apparently, only goes to prove one thing – the car buying public appears to be content in being a real-life "crash test dummy" by ignoring safety for good looks.
Of course, it's somewhat understandable. No one wants to drive an ugly box on four wheels. However, many of today's cars and trucks are quite stylish and safe at the same time, having scored high in numerous crash tests. But, because many new cars have an impressive list of "so-called" safety features, new car buyers wrongly believe they're fully protected no matter what. The truth is, some cars are a great deal more crash worthy than others in their class.
Who Conducts Crash Test Safety Ratings?
Currently, two organizations are involved in conducting new vehicle crash tests in order to rate them on an individual basis in regard to their relative safety. These organizations are:
National Highway Traffic & Safety Administration (NHTSA) Crash Tests
The National Highway Traffic & Safety Administration (NHTSA) performs 3 different kinds of tests. These are: the flat-out, head-on frontal crash at 35 miles per hour; the side impact crash; and the rollover resistance test. The NHTSA also assigns a star rating to vehicles based on their performance in these tests, with a 5-star rating being the highest. These ratings are available on their website and can be sorted by make, model, and model year. Results of these tests and rollover tests are available for viewing at the page NHTSA.gov.
Insurance Institute for Highway Safety (IIHS) Crash Tests
The Insurance Institute for Highway Safety (IIHS) covers other frequent types of crashes. Funded by the insurance industry, its tests add to the government's safety information.  
Because the insurance industry pays for the deaths, injuries, and property damage resulting from crashes, the outcomes of these tests are vital for proper evaluation of vehicles on the roadways, including IIHS Top Safety Pick ratings.
Four test ratings are used to classify the safety rank of a new car. Those are:
1. (G) Good
2. (A) Acceptable
3. (M) Marginal
4. (P) Poor
In the first seven months of 2014, sales statistics indicated that 2,004,692 of the 24 most popular models sold were rated as Marginal or Poor in the test. This accounts for about 21% of the total 9,604,700 cars sold in the period. To find out how your car rated in the "small overlap frontal test" you can view the results at the site iihs.org.
The Small Overlap Frontal Crash Test and Its Importance
The IIHS introduced a new test in 2012 referred to as a "Small Overlap Frontal Test", which, in simple terms, means about 25 percent of the car's width is rammed into a barrier on the driver's side at 40 mph. Since a car's main crash-zone, the area absorbing the majority of the impact in a crash, is located in the mid-50 percent of the front end, damage from such a hit can be devastating. The reason – there's no significant "crumple zone" near the outer edges of the headlight sections of most cars, leaving the driver more prone to injury in an overlap crash where someone crosses over the centerline.
Importance of Crash Test Safety Ratings for your safety 
Next time you're in the market researching a new car, just be aware that safety test results are out there to help you decide on a safer alternative for you and your family.
If you want to make sure you're getting the best possible rates on your car insurance for your new safe car, contact Freeway Insurance today. Our experienced agents can help you find the right coverage at the right price, and make sure you're fully protected in the event of a crash. 
Remember, understanding crash test ratings and choosing a safe car can not only save lives but also save you money on car insurance. Don't wait, contact Freeway Insurance today to get a free quote and start driving with confidence.
Ready to Get a Quick Quote?