How Much Is Auto Insurance for a RAM 1500 Classic?
The average annual premium for a RAM truck is $527 for minimum and $1,697 for full coverage. That's very close to the average car insurance paid by most Americans, which comes in at $1,771 for full and $565 for minimum. Your premium will depend on many factors, such as the state where you live, your age, gender and driving record, among other considerations. 
Since Dodge and Ram full-size pickups are sixth on the list of most stolen vehicles in the U.S., you may consider adding comprehensive insurance to your policy, which will help you pay for your truck if it gets stolen.
Talking to a Freeway Insurance agent can help you decide what coverage you need to best suit your budget.
Getting a Free Auto Insurance quote with Freeway is easy!
Comparing Insurance Costs for Your RAM 1500 Classic to Other Vehicles
RAM 1500 drivers pay higher or lower premiums than competing makes and models, such as the Ford F150 and the Chevrolet Silverado, thanks to varying parts/labor costs, safety records, and similar variables.
| Make/Model | Annual Full Coverage Insurance |
| --- | --- |
| RAM 1500 Classic | $1,697 |
| Chevrolet Silverado 1500 | $1,682 |
| Ford F-150 | $1,442 |
| Toyota Tundra | $1,716 |
| GMC Sierra 1500 | $1,555 |
Types of Car Insurance Coverage for Your RAM 1500 Classic
RAM 1500 drivers can benefit from multiple options, including state minimum liability and full coverage. If your truck is new, you might consider gap coverage, which will pay the difference between your truck's value and your loan balance if your pickup is stolen or totaled.
Full Coverage
Full coverage provides drivers third-party benefits with bodily liability injury and property damage and first-party benefits for repairs to your vehicle, regardless of fault.
Full policies typically include collision and comprehensive coverage. Keep in mind that full coverage does not cover all possible scenarios. For example, it does not include normal wear and tear, stolen personal belongings, or optional selections such as roadside assistance or rental car reimbursement.
State Minimum Liability
State minimum liability refers to each state's minimum required bodily injury and property damage limits. These liability-only policies cover third-party benefits due to an accident you cause up to maximum specified limits. For example, California mandates a 25/50/5 policy, requiring 25,000 per person for bodily injury liability, $50,000 per accident for bodily injury liability, and $5,000 per action for property damage viability.
Property damage liability covers the cost of repairing damage or replacing entire vehicles belonging to third parties.
As you can tell, the property damage liability for California is minimal. However, the average price of a new vehicle is nearly eight times that figure. Therefore, purchasing a policy above the liability limits is recommended. A 100/300/100 policy may be an excellent place to start and offers greater peace of mind in the event of an accident.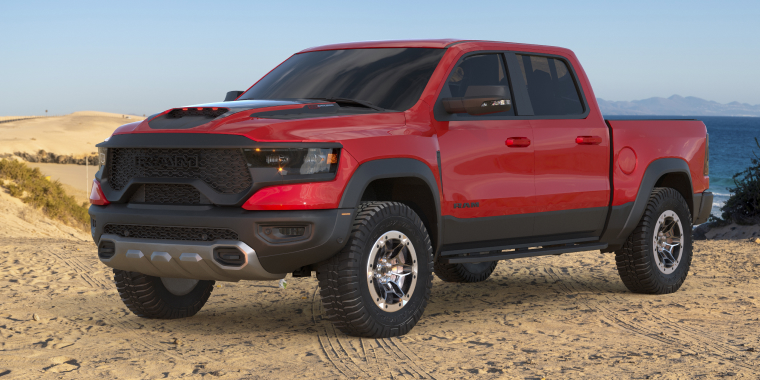 How Does a DUI Affect Insurance Rates for a Dodge Truck?
Unfortunately, RAM 1500 drivers should expect a lot of headaches and aggravation after getting convicted of a DUI.
For starters, expect your premiums to rise (as much as triple depending on the severity of the offense and the time past your last conviction). Additionally, you may be required to file an SR-22 that lets the state know you carry the minimum required coverage. With this, you may pay higher premiums for at least three years.
Under the worst circumstances, companies reserve the right to deny or cancel your policy, especially with repeated offenses within a short period. You may need to shop around to find DUI insurance you can afford.
What Are Some Auto Insurance Discounts?
There are many discounts that pickup drivers can qualify for, depending on your insurer and what they provide. Expect your auto provider to offer a safe driver discount, awarding those with clean driving records for the past 3 to 5 years. This means no claims, at-fault accidents or moving violations.
Other types of discounts revolve around how you structure your policy. For example, a

multi-policy discount

allows you to purchase multiple policies under one insurer, offering a savings percentage off each policy. As a result, applying for a multi-policy discount is much more cost-effective than paying for each policy separately.

Another popular type of discount RAM 1500 drivers can qualify for is multi-vehicle discounts. Ensuring two or more vehicles under a single policy could also offer you saving similar to multiple discounts. 

Other discounts are available for safety features, where insurers reward you for installing

anti-theft devices

.

Discounts can also be found for demographic sets, such as former and current members of the

military

.
Remember that every auto insurance company has its rules for awarding discounts. Check for discounts every time you renew or if your circumstances change.
Find an office near you to help with your auto insurance
What Are Some of the Characteristics of the RAM Truck?
It is a vehicle in the full-size pickup truck segment.
It is available in one of eight trims: Tradesman, HFE, Big Horn, Laramie, Rebel, Limited Longhorn, Limited, and TRX.
It also has a choice of a 305 horsepower 3.6-liter V6, 395 horsepower 5.7-liter V8, 260 horsepower 3.0-liter V6, and a 702 horsepower supercharged 6.2-liter V8.
Features include a 5-in touch screen, six-speaker stereo, and USB ports. Upgrading to higher level trims will feature performance engine cooling, 19 speaker premium stereo, and a 12-inch touch screen.
Main competitors are the Chevrolet 1500, Ford F-150, GMC Sierra 1500, and Toyota Tundra.
Find the Best Car Insurance Rates for Your Ram 1500 Online Today
If you are in the market for a new auto policy, then Freeway Insurance will help you explore all your options.
Get in touch with us in one of three ways. You can request an online quote, visit one of our offices in person, or speak with one of our agents by calling 800-777-5620 for a free no-obligation consultation. We look forward to hearing from you.