Located in upstate New York, Syracuse offers a lot for residents and visitors alike, with fantastic experiences in the arts, sciences, and nature. For example, the Beaver Lake Nature Center is home to a 200-acre glacial lake, 200+ bird species, and 800+ plants. For more urban fare, everyone can visit the 100-year-old Clinton Square in downtown Syracuse, home to dozens of annual festivals.
Other fantastic finds include the Erie Canal Museum, Salt Museum, Everson Museum of Art, and the Milton J. Rubenstein Museum of Science and Technology, the state's first "hands-on" museum.
All Syracuse drivers are required to have car insurance. All active and lapsed New York car insurance policies are monitored using a real-time database, so it is important to stay covered.
Quick Facts
There were 10 fatal crashes in Syracuse in 2020.
Syracuse is the fifth-most populous city in New York.
How Much Does Car Insurance Cost in Syracuse, NY?
Compared to New York City, Syracuse offers more affordable car insurance. The average Syracuse resident pays $144 per month for full coverage car insurance. Alternatively, the state-required minimum, or liability car insurance averages about $63 in Syracuse. In the state of New York overall, full coverage car insurance averages $193 per month and liability is $88 per month. Nationwide, the average for full coverage per month is $138 and for liability, it's $40.
These figures tell you that Syracuse as a whole has fewer claims than the state of New York as a whole, but that it's still more expensive than the nation as a whole. New York is a no-fault state, which means that each driver's insurance pays for their own injuries and damage, no matter who caused the wreck.
It also means that part of the state-required minimum car insurance package is Personal Injury Protection (PIP), which adds to the total bill.
See the breakdown below for how much insurance you can expect to pay monthly in nearby cities:
| City | Full Coverage Insurance | Liability Insurance Coverage |
| --- | --- | --- |
| Syracuse | $144 | $63 |
| Albany | $136 | $59 |
| New York | $280 | $118 |
| Rochester | $133 | $59 |
| Buffalo | $186 | $91 |
Syracuse Affordable Car Insurance Rates by Zip Code
Each zip code in Syracuse, N.Y. pays a different average monthly premium than the next due to several factors, including but not limited to the number of accidents, thefts, acts of vandalism, and other situations that increase the likelihood of claims in a certain area.
Here is a breakdown of the monthly average car insurance rate by zip code in Syracuse, NY:
| Zip Code | Full Coverage Insurance | Liability Insurance Coverage |
| --- | --- | --- |
| 13057 | $125 | $54 |
| 13202 | $144 | $62 |
| 13203 | $143 | $63 |
| 13204 | $144 | $63 |
| 13205 | $143 | $62 |
| 13206 | $140 | $61 |
| 13207 | $143 | $62 |
| 13208 | $141 | $61 |
| 13209 | $128 | $56 |
| 13210 | $141 | $61 |
| 13211 | $131 | $58 |
| 13212 | $127 | $56 |
| 13214 | $134 | $59 |
| 13215 | $136 | $60 |
| 13219 | $129 | $56 |
| 13224 | $138 | $61 |
| 13244 | $142 | $61 |
Low-Cost Car Insurance Rates by Age in Syracuse, NY
Along with zip code, age is a major deciding factor when calculating the cost of car insurance. Younger Syracuse residents pay higher monthly premiums than older residents due to a more active claims record as a group.
Remember, if you accumulate a large number of traffic citations, you may be labeled a high-risk driver – which will increase your car insurance substantially.
Here is a breakdown of the average monthly car insurance rate by age in Syracuse, NY
| Age | Full Coverage Insurance | Liability Insurance Coverage |
| --- | --- | --- |
| Teenagers | $382 | $159 |
| 20s | $211 | $84 |
| 30s | $142 | $61 |
| 40s | $136 | $61 |
| 50s | $132 | $59 |
| 60s | $135 | $61 |
| 70s | $162 | $74 |
Unless otherwise specified, we use the following methodology to arrive at our average cost: male, age 30, lowest possible legal coverage allowed by state. Your rates will be determined by several factors, including your age, your gender and the amount of coverage you want to purchase.
Driving Conditions in Syracuse
How Many Fatal Accidents Happen in Syracuse?
There were 10 fatal crashes in Syracuse in 2020. Of these, two people killed were drivers, three were passengers, four were pedestrians and one was a bicyclist. One of those fatal accidents involved alcohol and two involved distracted driving.
How Are the Road Infrastructure and Bridges in Syracuse?
Syracuse's Department of Public Works, Water Department, and Engineering Department are all active, focusing on infrastructure projects throughout the city. They are responsible for everything from filling thousands of potholes a year to repairing 100-year-old water pipes accountable for hundreds of water main breaks a year. With freezing winter temperatures, both issues are more common than in other cities.
For more information on Syracuse infrastructure projects, including neighborhood data, visit Syracuse Open Data.
Get a Quote for Car Insurance in New York Today!
Minimum Car Insurance Requirements in Syracuse, New York
All New York car insurance policies must carry a minimum of 25/50/10 of coverage, plus uninsured motorist (UIM) coverage and PIP.
Here is the breakdown:
$25,000/$50,000 in bodily liability insurance per person/per accident
$10,000 in property damage coverage per accident
$25,000/$50,000 UIM
$50,000 PIP
Remember, New York is a no-fault state. No-fault status means all drivers in a wreck file a claim through their own insurance provider, no matter who is determined to be at fault. All drivers are responsible for their medical bills, paid for using PIP first and bodily injury liability second.
What Are the Penalties for Driving Without Insurance in Syracuse, NY?
We highly recommend driving with car insurance in New York.
Failure to carry an active insurance policy in New York assesses fines anywhere from $150 to $1,500 on top of possible vehicle impoundment, an up-to-15-day jail sentence, and revocation of your driver's license and registration. Plus, there is a $750 fee to the DMV to reinstate your license.
Factors Allowed in Determining Syracuse Car Insurance Rates
There are many factors used to determine car insurance rates. For example, younger age groups traditionally pay higher average monthly premiums than drivers in their 30s and 40s due to a riskier, collective driving profile and more active claims record.
Here are additional factors that can affect car insurance rates:
Vehicle make and model
Age
Gender
Occupation
Credit Score
Discounts for Car Insurance in Syracuse
Syracuse drivers can save money on car insurance in many ways. Some of the most popular car insurance discounts include:
Good student discount

Anti-theft discount

Multi-policy discount

Senior discount

On-time payment discount

Automatic billing discount
We also highly recommend completing a DMV-approved New York defensive driving course. Upon completion, drivers may be eligible for a four-point reduction and 10% discount good for three years. Check for any discounts you may be eligible for by calling your agent at least once a year.
Get an Online Quote for Low-Cost Car Insurance in Syracuse Today!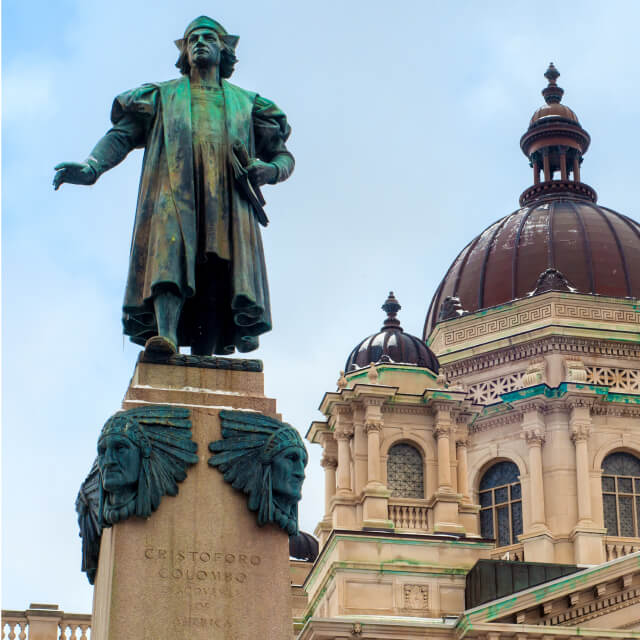 Remember, all drivers are required to carry minimum levels of liability insurance in New York. So protect yourself and your family with affordable coverage from Freeway Insurance. Freeway Insurance can offer you several options designed to fit your budget and your needs.
To learn more, feel free to request a car insurance quote online, visit us at a Syracuse office near you, or call 800-777-5620 to speak with one of our friendly agents.
Select a Product or Service to request a quote
Ready to Get a Quick Quote?