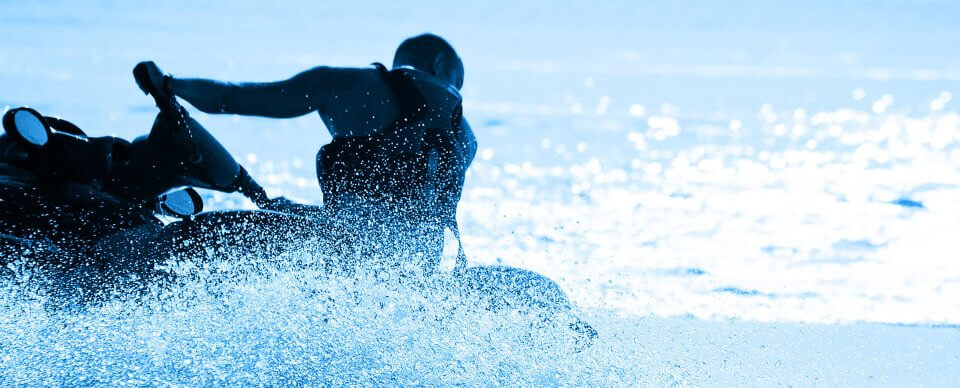 A day of surf and sand is your kind of day; especially if it's on your personal watercraft. Whether you're on a fishing boat or a private yacht, know that you're one of about 17 million or more Americans that enjoy being out on the waves on a water vessel or personal watercraft (PWC). As always, safety must come first, even on vacation days out at sea. Although the regulations for PWCs aren't nearly as stringent as they are for larger water vehicles, there are still rules that need to be followed when out at sea. PWC safety is just as important as boat safety. Whether your ride is 6 feet wide or 16 feet wide, every rider and passenger needs to follow the rules, regulations, and safety precautions that come with riding a PWC.
What to Wear
If you've found the perfect jet ski, you may have thought about how fun it'll be riding the waves and maybe jet ski safety wasn't exactly on your mind at the time you bought it. But watercraft safety is important, especially regarding what you wear while riding. What you wear on a personal watercraft is just as important as what you do on a personal watercraft. Making sure you've got the right gear and protection while you're out on the waves is an important part of PWC safety. Some of the items you should be wearing include:
A life vest
A pair of water shoes
A pair of gloves
Waterproof sunscreen with high SPF
A pair of sunglasses
A wet suit
You may feel that wearing some of these items on your Sea Doo or Waverunner may make the ride less fun, but safety simply must come first. By wearing these items while riding your PWC, you minimize your safety risks, including sunburn, personal injury, drowning and more. Don't blow off these safety items; they could potentially save your life.
What to Bring Onboard
If you have a watercraft larger than a jet ski (such as a sailboat, paddle boat, or fishing boat), there are a number of items you should carry onboard for the safety of you and your passengers. Some of the items you should have onboard at all times include:
A First aid kit
An Anchor
A Fire extinguisher
A pair (or two pairs) of oars
A length of mooring line
A safety lanyard for the ignition
A Compass
A visual signaling device
Some PWC Safety Don'ts
Don't ride airborne within 100 feet of another watercraft or boat
Don't weave through congested waterway traffic
Don't ride within 100 feet of another watercraft or boat at greater than slow/no wake speed
Some PWC Safety Do's
Do read and understand the features of your watercraft within the Operations Manual
Do ensure that your ride is compliant with Coast Guard regulations
Do follow the weather forecast and ride with discretion
Regardless of how you choose to ride the waves, always put safety first. Take heed to the tips and advice provided here. Make sure you also read up on your state's watercraft safety laws. The best way to have fun on your PWC is by having fun on the water with your safety intact.
Insuring your watercraft is another important safety measure you can take toward PWC safety. Freeway Insurance can help you obtain affordable watercraft insurance and it only takes a few minutes. Request a free watercraft insurance quote online or over the phone at (800) 777-5620 to get started.

Ready to Get a Quick Quote?