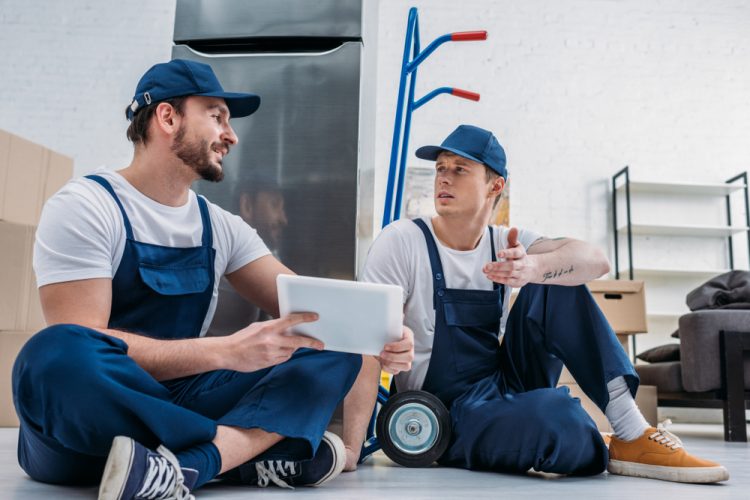 Moving a heavy appliance, such as a refrigerator, can be not only a hassle, but dangerous if done incorrectly. On top of that, you could inadvertently damage your fridge by not following the proper steps. The easiest way to accomplish such as task is with careful planning. You'll need to plan for a flight of stairs if that's in the mix, as well as moving a long distance.
If you've bought a new home and you are transporting most of your belongings in your pickup truck, you should figure out how to protect both the belongings and your truck bed. Is it better to hire professional movers or maybe consider a truck rental, such as a U-Haul?
Remember, if your fridge drops off your appliance dolly, it could injure you or a helper, as well as potentially ruining the refrigerator. You'll want to do this in the safest way possible.
Preparing the Refrigerator for Transport
Refrigerators should be kept in an upright position during a move. You'll need to unplug it several days in advance and drain water out of any hoses. Heavy appliances should be wrapped in a moving blanket. This process can help avoid damage.
Other steps should be removing the shelves and wrapping them up for safety. Another option you should seriously consider is cleaning the refrigerator and freezer after all food is removed and it has defrosted. Refrigerators tend to get smelly if they are unplugged and left with the doors shut for too long.
Measuring the Refrigerator
It's a good idea to measure your fridge before you move it. You'll need a tape measure. The reason for this is making sure the fridge will fit in its new location, whether that's a new home purchase or a new rental unit.
Measure the height, width and depth of the unit.
Measure the width and height of nearby doors and openings.
Emptying and Cleaning the Refrigerator
Make sure the fridge is emptied of all food. Remove the shelves, let it defrost and then clean it. You can wash the shelves separately. The main thing is to make sure your fridge won't develop nasty smells from old food debris.
Defrosting the Refrigerator
Defrosting a freezer is not hard. Because there will be water dripping out, you'll want to protect your floors. You can use flat sturdy cardboard boxes or towels to help soak up any water.
Securing Internal Parts
All appliances have internal parts that need to be protected during moving and installation. You can use straps, bungee cords and tape to secure any permanent parts.
Taping the Doors Shut
Don't forget to tape the doors shut or remove them entirely. If you have a side-by-side refrigerator, you may need to remove the doors entirely. However, if you choose to leave them on, secure them with tape, bungee cords or some other method.
Preparing the Pickup Truck for Transport
If you'll be using your pickup truck for transport, it's a good idea to get a bed liner to mitigate damage to the truck bed. If you cannot use a bed liner, the best way is to flatten boxes for protection.
Gathering Necessary Equipment
You can find a lot of the things you need to move a refrigerator at Home Depot. You may consider an appliance dolly or a hand truck, ratchet straps (or even just basic straps).
Loading the Refrigerator Onto the Pickup Truck
You should get some friends or helpers before trying to load appliances into your pickup truck. The first step is to back your truck up as close as possible to the curb. Use a hand truck or dolly (and a ramp, if possible).
Walk backward and pull the load up the ramp instead of attempting to push it up the incline. Have your helper guide and assist from the opposite side of the dolly.
Enlisting Help or Renting Equipment
If you are wary about using your personal truck to move a fridge, hire a moving company with professional movers, if possible. If not, enlist some friends and rent a moving dolly and some straps to make it safer and.
Positioning the Refrigerator
The best way to accomplish this is to follow some extra precautions and be prepared. Getting the fridge positioned right for the move is important. If it falls over or isn't positioned correctly, it could be damaged.
If you have the manufacturer's instructions, follow these for best results and to answer any questions.
Use a dolly to move the fridge. One of your helpers can either tilt the fridge while you place the dolly underneath or vice versa. Tighten your ratchet straps around the fridge.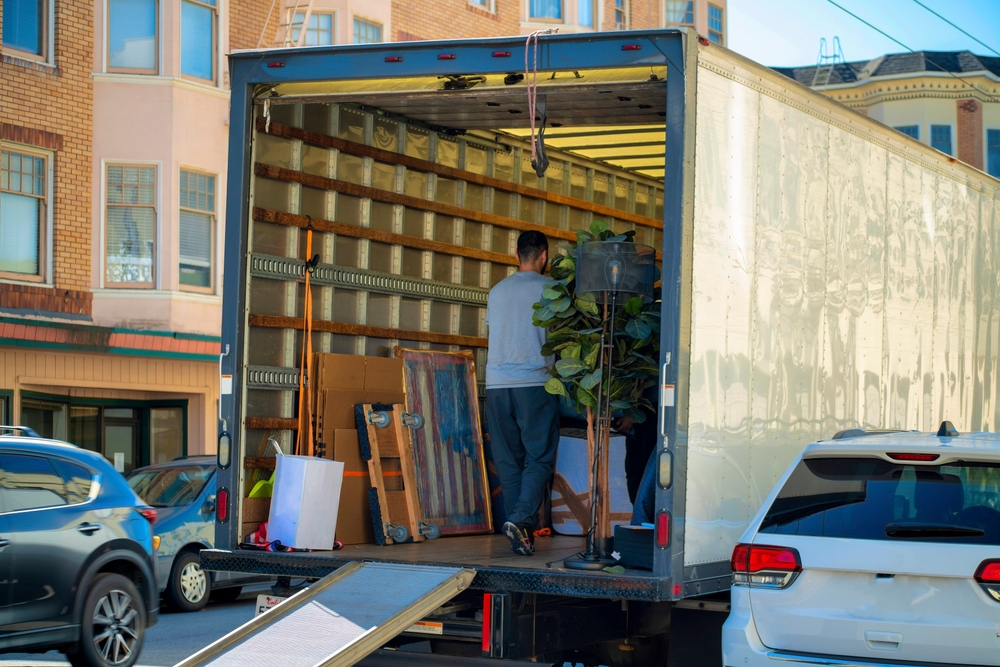 Lifting the Refrigerator Safely
A ramp and other things can make moving your fridge up and down much easier. To lift it safely, follow these tips:
Tilt it back and ensure that it is evenly balanced on the dolly.
Take stairs slowly and carefully, one at a time. Your helper should be guiding from below.
Use a ramp to make loading it easier.
Secure the dolly and refrigerator to the truck.
If your new apartment is up a certain number of stairs, be sure and follow these tips. Don't forget to sign up for renters insurance to protect your belongings.
Placing the Refrigerator on the Truck Bed
Remember, never place your appliance on its back. The weight of a refrigerator can damage parts and fluids, such as the oil in the motor and refrigerant, may settle and damage the entire system. Side-by-side models can weigh 285 pounds, while a regular top freezer model averages 166 pounds.
Securing the Refrigerator
The process for securing your fridge – or any heavy appliance or furniture – includes using ratchet straps or moving straps to keep items in place, especially over a long distance. Some ways or tips include wrapping things in moving blankets, reading the information in the owner's manual or storing items in boxes where possible.
Transporting the Refrigerator Safely
Anytime you must transport heavy – and valuable – items, you should drive more slowly and carefully. After all, you want your things to get to your new residence in good shape. Remember to take corners slowly, so the weight in the back doesn't shift.
Make sure you have the best car insurance, as well, so if there are any mishaps, you'll have financial protection.
Unloading the Refrigerator from the Pickup Truck
Unloading is basically the reverse of loading. Carefully tilt the fridge while a friend inserts a dolly in the center. Back out of the truck and let helpers work with you to maintain it while taking it out of the truck or bed. A ramp may help avoid damage to you, your friends and the fridge!
Let your appliance settle for a few hours before plugging it in.
Protect Your Pickup Truck for a Safe Transportation
As we mentioned, installing a bed liner can really protect your truck from damage. Most people agree a spray liner may not be up to the challenge. However, using sturdy cardboard to line your truck bed will go a long way to preventing scratches.
Protect Your Vehicle With Affordable Options
Now that you information you need for a task like moving a fridge, we can help you protect your truck, car or home with affordable insurance options. Just give Freeway Insurance a call at 800-777-5620, reach out for a quote online or stop by one of our convenient locations.
Ready to Get a Quick Quote?