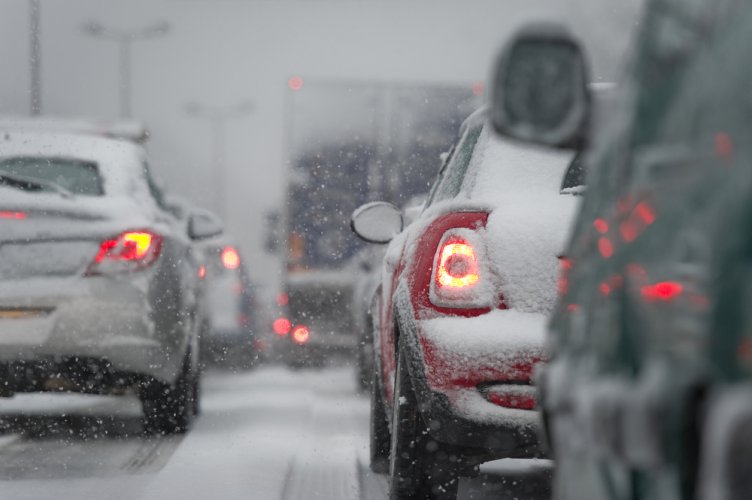 You've got enough to think about every time you get behind the wheel. There's traffic congestion, risks posed by reckless drivers, and maybe even distractions in your own vehicle, especially if you have kids. To all of that, add the unique hazards of winter driving. In most of the U.S., that can include at least the occasional threat of snow, ice, sleet, and blizzards, which is why it's important to have auto insurance to protect you and your vehicle in case of an accident or damage caused by these hazards.
That's why we present this winter safety driving checklist. If you follow these basic tips, you and your passengers will stay safer.
Safe Drivers Pay Less for Their Car Insurance
A couple of the prime considerations underwriters look at when they determine what you'll pay for your car insurance are your driving record and claims activity. If you've managed to avoid tickets for speeding or other offenses, and you haven't had significant claim activity, you'll pay less.
That's another way of saying that if you drive safer this winter, you'll most likely be rewarded with more affordable coverage. That's in addition to keeping loved ones out of danger and your ride out of the shop.
Now let's review our safe winter driving checklist.
Make Sure Your Vehicle is Ready for the Season
Make taking your vehicles to be winterized in preparation for the season ahead an annual, late fall activity.
This is a matter of topping off your fluids and making sure you have antifreeze if it's called for where you live. Make sure your battery won't quit you when you need it most, that your brakes are in good operating condition, and that you have a set of tires under you that are appropriate to winter conditions.
Don't Leave Home Without a Fully Charged Phone
This is good advice 365 days a year. But it's especially pertinent during the winter months. You don't want to have to leave your stranded vehicle in the bitter cold in search of a repair facility, police station, or tow truck somewhere up an unfamiliar road.
Always Know What You're Up Against
This is especially important if you live in a part of the country where winters are usually crisis-free. Drivers caught by a surprise snowstorm of even mild proportions can find themselves in trouble if it comes as a shocker.
No matter where you live, check out the weather forecasts before getting in your car. If you know ahead of time about an impending late afternoon storm, maybe you can take care of all of your errands in the morning. Or postpone your travels altogether until you get a break in the weather.
There are plenty of free or low-cost travel apps, including Waze and Traffic Spotter, that can steer you around congested cities if the weather brings major slowdowns. Finding a quiet bypass road with a motel for the night is a better idea than being stalled with everyone else in a trouble spot.
Prepare to Be Stranded
No, we don't really think that's likely to happen — but it could. And if it's ever going to happen, chances are it will be during a winter snowstorm that snarls traffic or sends your vehicle slipping and sliding into a snowbank.
If such an event happens during a huge storm, it might affect hundreds or even thousands of vehicles on long stretches of local roadway. Police and tow truck operators will have their hands full — you'll be on your own for a while.
That's why you need to make sure you keep a "survival kit" in your car, at least during the winter months. Its exact contents are up to you, but the basics should include bottled water, dry foods, a flashlight (and extra batteries), road flares, and heavy blankets for warmth if you can't keep the heater going full-time until rescue.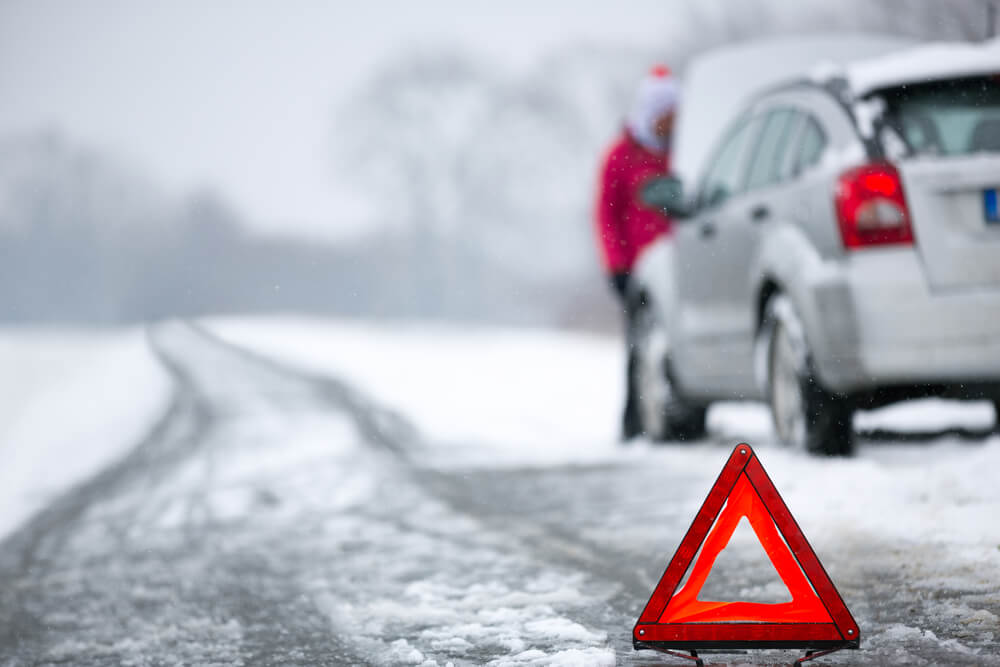 Consider Full Coverage Insurance, Including Roadside Assistance
Drivers can save money with minimal car insurance coverage in most states. That's a good thing in terms of cutting costs. But your coverage can come up lacking if you get into a winter driving accident. That minimal liability coverage might pay for the damage of another vehicle if you slide into it on a patch of black ice, but it won't pay for the damage to your own car in such situations.
Full coverage includes collision and comprehensive, which will help you pay for the damage to your own car during winter mishaps and other events.
Also, ask your insurance agent about roadside assistance. This coverage pays for the delivery of gasoline, a battery charge, tire change, or a tow — whatever service you need when you run into trouble this winter or any time you're on the road. With roadside assistance, the help comes to you during those frightening times.
While full coverage costs more, a good independent insurance agent will be able to help you shop around to find the most affordable coverage that fits your needs.
How to Use Anti-Lock Brakes
A small guide on How To Use Anti-Lock Brakes: Anti-lock brakes (ABS) are an important safety feature in modern vehicles that can help prevent accidents by allowing drivers to maintain control and steer while braking on slippery or uneven surfaces. To use ABS effectively, it is important to apply firm, steady pressure to the brake pedal and not pump the brakes, as the system is designed to automatically modulate the pressure to prevent skidding. If you have Freeway Insurance, it is important to understand the specific coverage and benefits of your policy, including any discounts or additional services that may be available. It is also a good idea to review your policy regularly to ensure that it still meets your needs and provides adequate protection.
Contact Freeway Insurance
Your independent insurance agent at Freeway Insurance is eager to help you find coverage that will bring you financial security and peace of mind — always at a cost you can afford.
Call Freeway Insurance at (800) 777-5620. You can also meet with an agent at a Freeway Insurance office near you or get a quick online quote.
Ready to Get a Quick Quote?